How Much Did Hulk Hogan Lose In His Divorce?
John M. Heller/Getty Images
Color us surprised — we really thought Hulk Hogan and his wife Linda Hogan were in it for the long haul. Their marriage became the centerpiece of the television show "Hogan Knows Best," where it seemed like they had it all: two thriving children, a marriage that persisted despite Hogan's grueling wrestling tours, and millions of dollars to boot. Unfortunately, like so many Hollywood couples, they didn't get the happy ending they were after. VH1 canceled the show in 2007, the same year Linda filed for divorce from Hulk. Allegations of infidelity would ultimately prove to be the couple's undoing, and what followed was a very messy and very public separation.
The couple tied the knot back in 1983, and as you might have guessed, they didn't bother getting a prenup. During their contentious divorce proceedings, both Linda and Hulk used the media to sling mud at each other. The wrestling legend accused his wife of seeking attention, while she alleged that he once had a homosexual affair. At the end of the day, one party walked away from the divorce with a lot more than the other — and you won't believe who.
Linda Hogan walked away with 70% of the couple's cash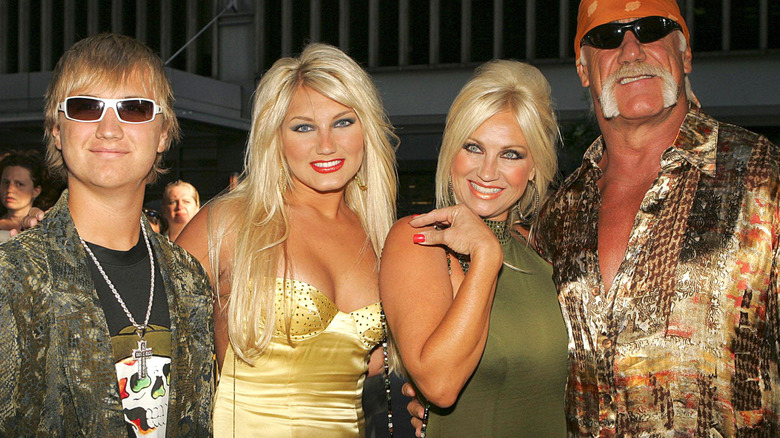 Everett Collection/Shutterstock
In 2009, Hulk Hogan and Linda Hogan finally reached a settlement in their bitter divorce, with Linda reportedly walking away with a lion's share of the former couple's liquid assets, along with a substantial share of her ex-husband's business endeavors. According to the Daily Mail, the mother-of-two walked away with $7.44 million of the $10.41 million held in the former couple's bank accounts, a property settlement valued at $3 million, and a 40% share of Hulk's companies.
The wrestler was left with the remaining $2.98 million that the couple had in their accounts but, per Bleacher Report, he lost many of his luxury cars, including a Mercedes-Benz, a Corvette, a Cadillac Escalade, and a Rolls-Royce.
An interesting point of note — after Linda scored 40% ownership in Hulk's companies, as per their divorce settlement, she now owned 40% of her ex-husband's public image. So, after the wrestler won a $115 million lawsuit against Gawker after the outlet publicly released a sex tape that involved him and his friend's wife, she was entitled to a share of the cash.
Both sides lost in the end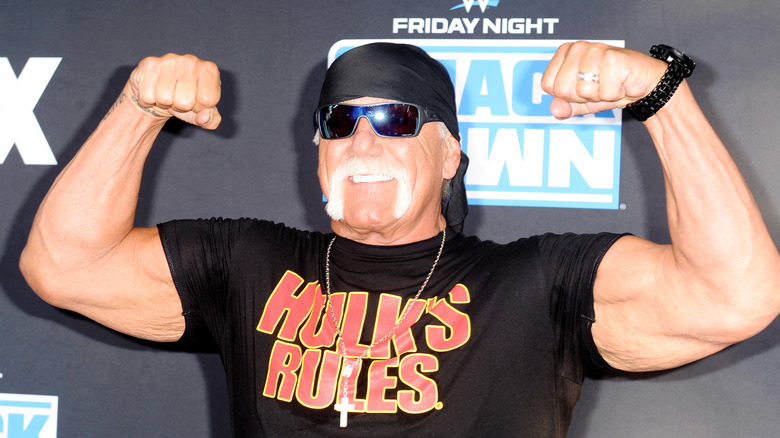 Jerod Harris/Getty Images
Neither party walked away from the divorce unscathed. While Hulk Hogan lost the bulk of his fortune, his ex-wife Linda lost the future that she had envisioned together with the WWE superstar. The divorce was so grudge-bearing that Hogan told Rolling Stone (via CNN), "I totally understand O.J. I get it." Hogan was especially resentful when Linda began dating a 19-year-old, telling the outlet, "You live half a mile from the 20,000-square-foot home you can't go to anymore, you're driving through downtown Clearwater [Florida] and see a 19-year-old boy driving your Escalade, and you know that a 19-year-old boy is sleeping in your bed, with your wife"
Linda didn't mince words when she called out her ex-husband following their split (via Us Weekly): "You have single handedly ruined our 25-year marriage and our family ... my trust, my love, my future, our future family with grandchildren, holidays, weddings, our kids' lives, homes, their ability to trust, our poor animals, friends, neighbors, your career, finances, trademarks, retirement, your legacy, your reputation, your health ... even your soul. You lost it all."