The Little-Known Meaning Behind Ben Affleck's Unique Middle Name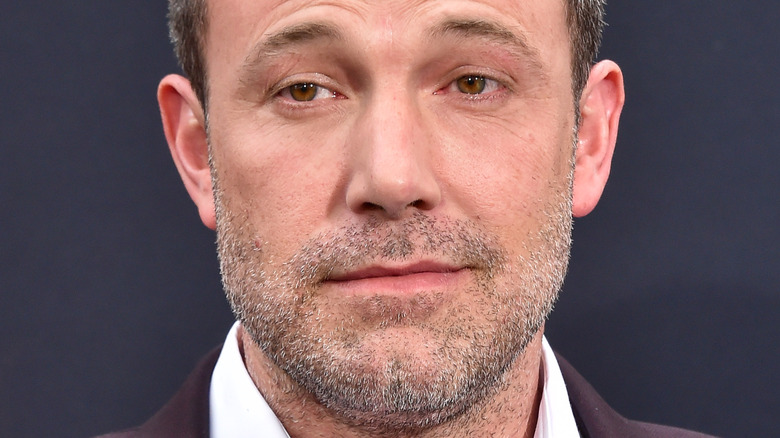 DFree/Shutterstock
Do you know the interesting story behind Ben Affleck's unique middle name? The actor has hit the headlines more for giving away his last name, as his rekindled romance with former fiancée Jennifer Lopez had everyone talking. The two moved pretty quickly after getting back together in 2021, tying the knot the following year not once, but twice.
Lopez and Affleck's first wedding went down in Las Vegas in July, with the couple having a very low-key affair before the much bigger ceremony JLo and Affleck had in Georgia in August. Lopez shared plenty of details from their Sin City big day via her "On The JLo" newsletter, per Us Weekly, confirming she'd taken Affleck's last name in her personal life by signing off Jennifer Lynn Affleck. Aww!
While the star is still using Lopez professionally, the name change was certainly a long time coming. As you'll probably remember, Lopez and Affleck were first supposed to wed 20 years earlier but called off their wedding, though she admitted before they went their separate ways that she planned to reflect her marital status in her name. In a 2003 "Access Hollywood" interview that resurfaced in July, Lopez replied when asked what her name would be after marriage, "Jennifer Lopez. But my name will be Jennifer Affleck, obviously." One thing Lopez didn't do though is take the more unique route of taking Affleck's middle name — though that would have been a fitting move for such an uncommon moniker.
Ben Affleck's middle name has a touching story behind it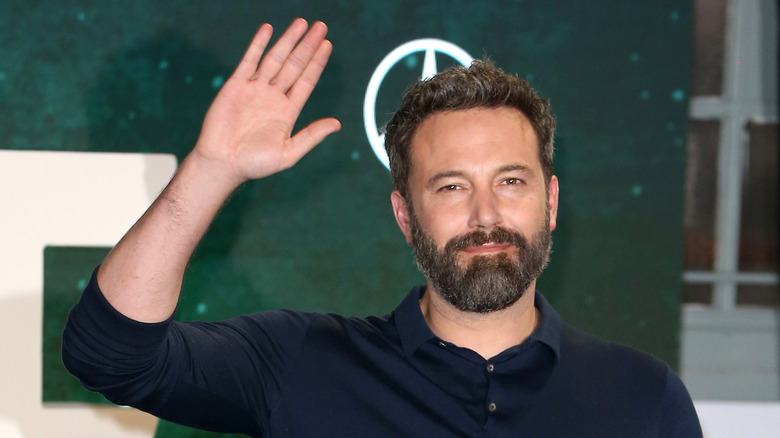 Cubankite/Shutterstock
It turns out Ben Affleck has quite the sentimental middle name; Géza. Yep, the name is certainly pretty unique — and it has an important story behind it. Affleck opened up about his parents' choice back in 2015 while speaking to the Writer's Guild of America when he was honored with the Valentine Davies Award.
He explained that they chose the name Géza because it was the name of a friend of their from Hungary who survived the Holocaust but died when Affleck was born. "He was the most exceptional person she knew. He had leapt from a train during the Holocaust taking Jews to the death camps, and he went back to save several other people to try to break them out," Affleck shared (via Boston Herald). "That name has never been anything short of a tremendous honor to me since that day. I came to understand and better identify with the suffering of others," he added, but he wasn't exactly the biggest fan when he was young. Affleck actually hated the name before he really understood the sentiment behind it. "I was like, 'You are the worst namer of people in the world!' ... Everybody calls me, 'Ben-Gay' ... This was way before being gay was as cool as it is now," he shared.
According to Forebears, Géza is actually more commonly used as a surname and translates to mean prince or duke.
What fans had to say about Ben Affleck's middle name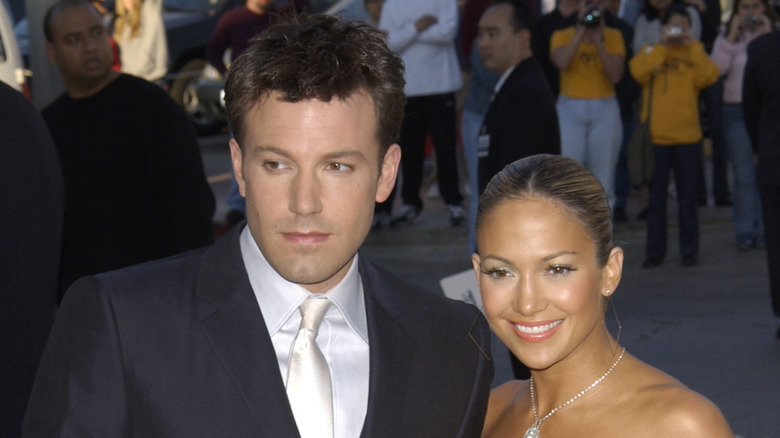 Featureflash Photo Agency/Shutterstock
Ben Affleck's poignant middle name hit the headlines again in July when plenty of fans learned about the uncommon choice for the first time when he and Jennifer Lopez obtained a marriage license. TMZ reported that the twosome filled in all the necessary paperwork before their first big day in Sin City, confirming Affleck was named as Ben Géza Affleck on the papers, while Lopez went by her full maiden name, Jennifer Lynn Lopez.
Of course, Twitter being Twitter, fans had plenty to say after they learned of Affleck's unexpected moniker. "Ben Affleck's middle name is what now," one person tweeted after learning of Affleck's mom and dad's choice via the marriage license, while another wrote on the social media site, "Wait, hold the phones, Ben Affleck has a Hungarian middle name?" Another social media user, a Lopez fan from Hungary, added, "i can't get over the fact that @BenAffleck has a Hungarian middle name (Géza) so weird to see it."
With such a poignant backstory, we love Affleck's unique middle name!