The Touching Reason Valerie Bertinelli Is Gushing Over Her Son Wolf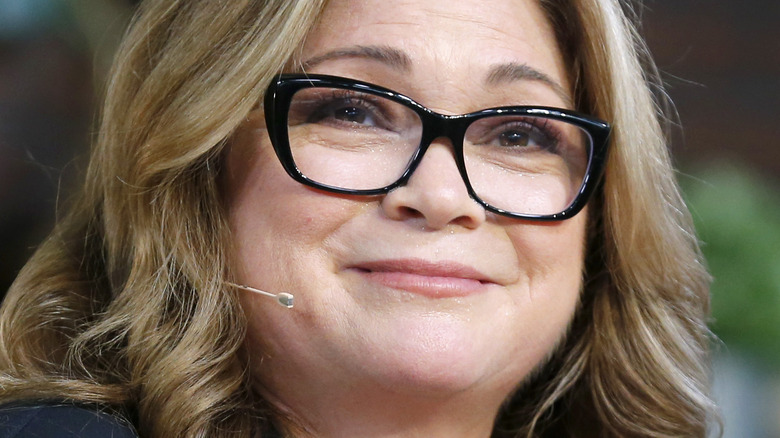 John Lamparski/Getty Images
Valerie Bertinelli shares a close bond with her son, Wolfgang "Wolf" Van Halen, and the "One Day at a Time" star never passes up an opportunity to let the world know just how proud she is of her progeny.
Wolf's dad is late Van Halen guitarist Eddie Van Halen, whose 26-year marriage to Bertinelli ended in 2007. While the couple endured many rough patches during their relationship, they eventually became friends after their divorce. In her book, "Enough Already: Learning to Love the Way I Am Today," Bertinelli recalled sharing a sweet family moment with her ex and their son one year before Eddie's tragic 2020 death from lung cancer. Wolf, whom Bertinelli affectionately calls "Wolfie," is a talented musician in his own right, and was hard at work on his debut album. She had his music blaring in the kitchen when Eddie came over for a visit. "[Eddie's] face turns into one big smile. 'How about this kid?' he says to me as we hug," Bertinelli wrote. "'I know,' I say. 'My heart is melting.'"
In an interview with "Today," Bertinelli revealed that she considers Wolf and Eddie her soulmates and said of her late ex, "I'm so happy that we were able to come to a beautiful place by the end of his life. I wish he was still here." While he may be gone, Eddie certainly hasn't been forgotten, and Bertinelli loved how her son paid tribute to him during one tearjerker of a musical event.
Wolf Van Halen performed during the tribute to Taylor Hawkins
When a group of rockers took the stage during a tribute show for late Foo Fighters member Taylor Hawkins, the drummer wasn't the only musician whose memory was honored. Per People, Wolf Van Halen played his father's guitar parts for performances of the Van Halen classics "Hot for Teacher" and "On Fire." Wolf was accompanied by drummer John Freese, Foo Fighters frontman Dave Grohl, and The Darkness lead singer Justin Hawkins.
Valerie Bertinelli tweeted a video of Wolf playing Eddie Van Halen's "Hot for Teacher" guitar solo and wrote, "WOLFIE KILLED IT So proud of you @WolfVanHalen."
Bertinelli has always been extremely supportive of Wolf's decision to follow in his father's footsteps. When his band, Mammoth WVH, performed on "Jimmy Kimmel Live" in 2021, she made sure to let her Instagram followers know exactly when they could see him in action. She also couldn't resist taking advantage of an opportunity to share an adorable baby photo of her beloved Wolfie. And when the Mammoth WVH song "Distance," which is about Eddie, received a 2022 Grammy nomination for best rock song, Bertinelli teared up while walking the red carpet with her son. "The song that Wolfie wrote is just such an absolutely stunning, gorgeous song, and it's really beautiful that he was honored for it," she told Entertainment Tonight, before joking, "In spite of me and Ed, we got this. And I am so proud of him."