Inside Valerie Bertinelli's Close Relationship With Her Son Wolf Van Halen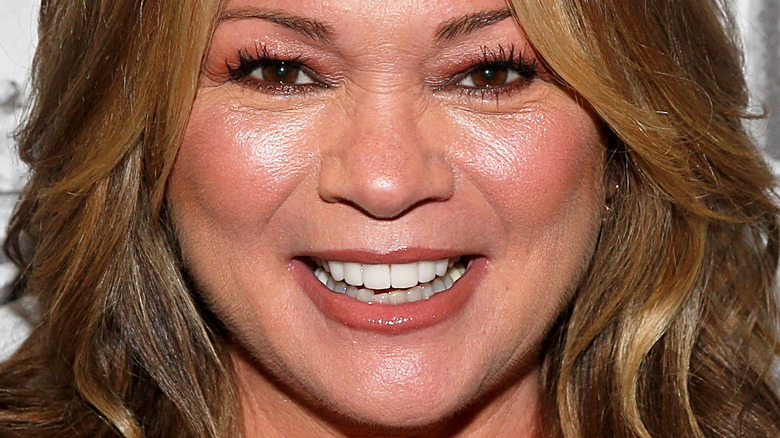 Dominik Bindl/Getty Images
Even when she was acting in hit shows, including "Touched by an Angel" and "Hot in Cleveland," Valerie Bertinelli has always remained a supportive mom over the years. 
The actor has one child, Wolfgang Van Halen, widely known as Wolf, from her previous marriage to late musician Eddie Van Halen, per Closer Weekly. During a 2014 interview with "The Meredith Vieira Show," Bertinelli spoke about Wolf, who at the time was 23 and playing bass in his father's band while performing with another group, Tremonti. 
"Wolfie has made some really, really good choices in his life, so I'm not too worried about him," the proud mom explained when asked about Wolf being around the rock star lifestyle. "I really like the people that he hangs out with ... I trust him. I have to," she later added. Wolf's music career has continued to flourish, as he was nominated for a 2022 Grammy. He took both his girlfriend and mom to the awards ceremony as his special guests. "It is really emotional," Bertinelli shared with Entertainment Tonight about her pride in seeing Wolf receive the nomination. The tight-knit connection of this famous mother-son duo has only grown stronger in time.
Valerie Bertinelli and Wolf Van Halen connect over big laughs
Valerie Bertinelli and Wolf Van Halen have maintained their beloved bond following the 2020 death of Wolf's father Eddie Van Halen. The late Van Halen co-founder tragically passed away as a result of throat cancer at the age of 65. Eddie, who was Wolf's father, was married to Bertinelli for over 25 years before they separated in 2007, per Today. 
Bertinelli and Wolf staying close through this tough loss can be in part attributed to their shared ability to look at the bright side of life. In a June 2021 interview with People, Wolf described his relationship with his mom as "sarcastic" and filled with humorous moments. Bertinelli echoed a similar thought while speaking to the magazine. "I think we both like to find humor in the absurd," Bertinelli said before adding, "This world is a seriously crazy place and it's easier to get through it by finding it funny and absurd. Sometimes laughing is better than crying." 
Not only do Bertinelli and Wolf possess a similar sense of humor, but they also show each other a strong amount of support.
Valerie Bertinelli and Wolf Van Halen publicly show their admiration for each other
Valerie Bertinelli and Wolf Van Halen have continuously documented their mutual support of one another publicly, showing little chance of stopping. In late April 2021, Van Halen gave Bertinelli a shoutout on social media to celebrate her birthday. "The happiest of birthdays to the best mother I could ever ask for. Love you, Ma," he wrote on Instagram alongside a photo of him and his mom.
In equal cuteness, when Bertinelli posted a birthday tribute to Wolf on Instagram in March 2021, she told her son, "I'm so ridiculously proud of the man you are. You've been through so much (more than anyone will ever know) and you are still kind, thoughtful, thankful, and gracious — with a wicked, sarcastic sense of humor. I know your father agrees that the happiest day of our lives was the day you were born."
In a February 2021 Ask Anything Chat, Wolf praised the important values his mother passed along to him as he was growing up. "Something she instilled in me at an early age was to treat people how you'd like to be treated," he explained. "And I think that is a really important tenet to live by."