Meghan Markle Had A Big Influence On Alexandra Daddario's Wedding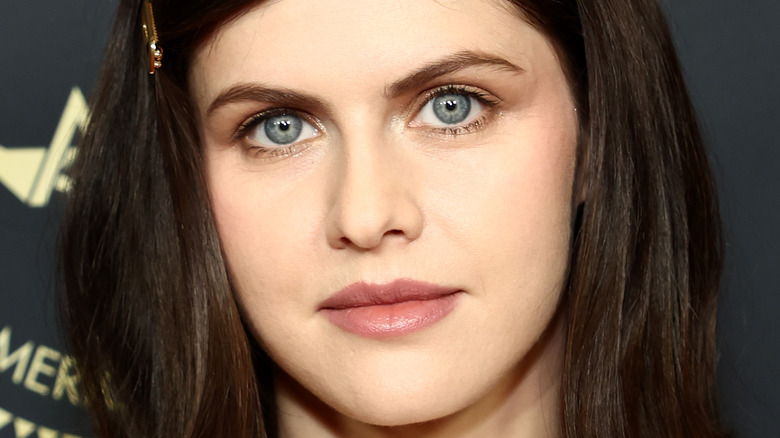 Emma Mcintyre/Getty Images
Alexandra Daddario was first spotted wearing an engagement ring in December 2021 after her husband-to-be, Andrew Form, popped the question. Previously, the movie producer was married to Jordana Brewster for 13 years, per E! News. The "Baywatch" star and Form tied the knot on June 30, and Daddario announced the nuptials on Instagram, sharing a few snaps from their wedding day that showed off their elegant yet laid back outfits.
The lovers had their ceremony in New Orleans, but that was not always the plan. "We were originally going to get married in Italy because I wanted to drink Italian wine for three days straight," Daddario told Vogue in an interview that was published on her wedding day. Eventually, the pair decided to scale back and opted for a more casual affair. "We wanted it to be about music, drinking, and authentic New Orleans," she told the outlet. Having the wedding in NOLA not only impacted the vibe of the reception, but influenced the "White Lotus" star's wardrobe. "I chose my dress because it felt like it belonged in New Orleans and was the right choice for the Louisiana heat," she told Vogue.
The actor went to designer Danielle Frankel to pick out a wedding gown, and settled on the third one she tried on. "I don't want to obsess over clothes too much," Daddario told People in July. However, there was one particular detail of her wardrobe that was influenced by Meghan Markle.
Alexandra Daddario copied Meghan Markle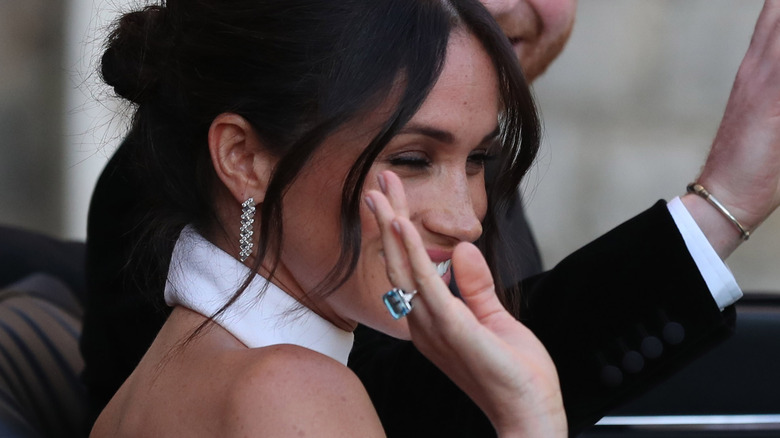 Wpa Pool/Getty Images
For her wedding, Alexandra Daddario wore a silk wool gown that perfectly complemented the New Orleans backdrop. To help pull her outfit together, the "San Andreas" actor accessorized with "something blue" that was inspired by a royal wedding. "I'm obsessed with Meghan Markle," Daddario told People in July. "She wore an aquamarine ring I believe from Princess Diana's collection," the actor said, reflecting on the Duchess of Sussex's wedding attire. "Mine was less fancy, but I had a large blue, aquamarine ring copying Meghan Markle," she added. The royal-inspired ring that Daddario wore was prominent in the wedding day post she uploaded to Instagram on June 30. In the second slide, the "Percy Jackson" actor shared a smooch with her husband while making the ring very visible as she held an umbrella in that hand.
As Daddario mentioned, Meghan Markle's aquamarine ring was part of Princess Diana's personal collection, and was passed down to her sons after her untimely death. Markle wore the eye-catching ring as her "something blue" during her wedding to Prince Harry in 2018. "Designed by Asprey, the ring is set in 24-carat gold and features a massive emerald-cut aquamarine of potentially over 30 carats, flanked by smaller solitaire diamonds," diamonds expert Daniel O'Farrell told Express in July.
Although a ring of that caliber would usually cost high five-figures, Markle's ring — that was passed down from Princess Di — would be priceless due to its historical value. Daddario was not the only one impressed by Markle's dazzling ring, either.
Alexandra Daddario's previous Meghan Markle fixation
Meghan Markle's aquamarine ring that was originally worn by Princess Diana, and sported by the Duchess of Sussex at her wedding, caught the eyes of plenty of spectators besides Alexandra Daddario. In fact, chatter about the ring was so high that Hello! published an article with a guide to tracking down cost-effective facsimiles of the renowned ring.
Long before Daddario's wedding, and even before she was engaged, the "When We First Met Star" had spoken about her adoration for Markle. Apparently, the former "Suits" actor once potentially disrupted Daddario's workout routine. "She came into New York last weekend and she went to a yoga place called Modo Yoga, which is my yoga place," Daddario said on "The Late Late Show with James Corden" in 2019. The actor worried that word of mouth would ruin her yoga sanctuary. "Now that she went there, everyone's gonna want to go there." That said, Daddario added that she would gladly share a workout space with the royal family member. "She can sweat on me. I don't mind ... That would be okay."