The Meaning Behind Ariana Grande And Pete Davidson's Matching Tattoos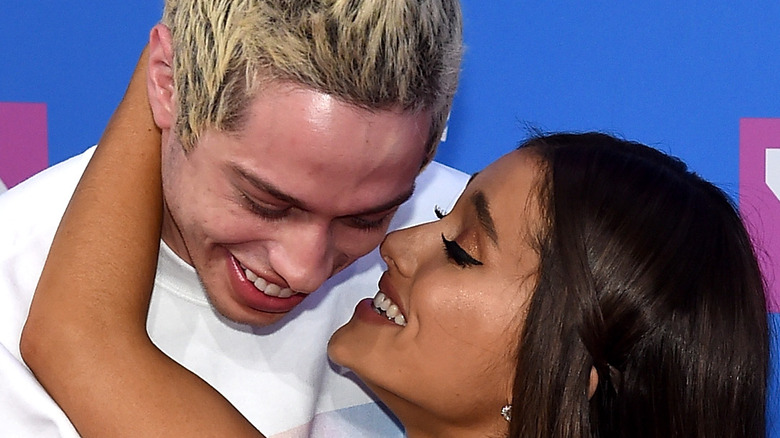 Jamie Mccarthy/Getty Images
Given the intense focus and drama surrounding Pete Davidson's whirlwind romance with Kim Kardashian, it can be easy to forget that the former "SNL" star was once linked to a string of other celebrity women. 
Most famous of them all is none other than Grammy Award-winning singer, Ariana Grande, whom Davidson dated for about a year. Similar to Kardashian and Davidson, much of their relationship was documented across social media and in tweets that can easily be classified as TMI, via Elle. The songstress even released a sweet, romantic track entitled "Pete Davidson," as part of her 2018 album, "Sweetner." Grande also name-checked Davidson in her hit song, "Thank You, Next."
Despite the couple's PDA, Grande and Davidson's relationship didn't last very long. TMZ reports that Grande broke up with Davidson in October 2018.  Around that time, a source close to the "Honeymoon Avenue" singer spilled the relationship tea to People. "It was way too much too soon," said the source. "It's not shocking to anyone."  Fortunately — or unfortunately, depending on your outlook — the pair, who was once engaged, got several tattoos during their relationship to commemorate their time together. Due to the couple's propensity for sharing (and sometimes oversharing), we know what they mean.
This is what Ariana Grande and Pete Davidson's tattoos mean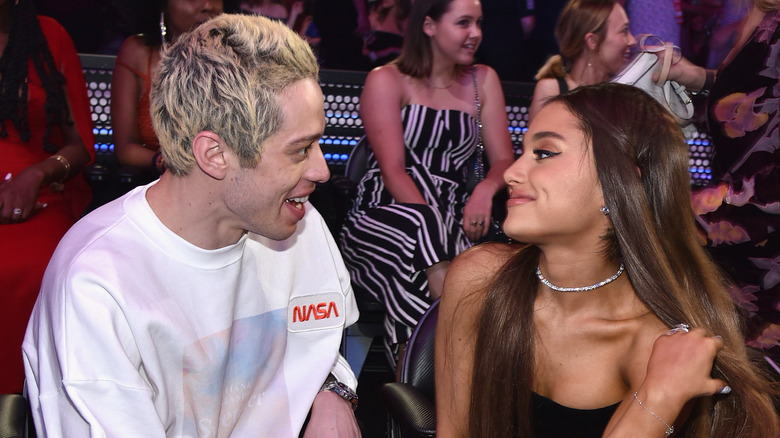 John Shearer/Getty Images
Ariana Grande is no stranger to a tattoo gun, as the singer has over 55 tattoos according to Insider. However, she only got a few of those with Pete Davidson in mind. According to a roundup by People, Grande and Davidson shared a few matching tattoos. They included a set of clouds, the acronym, "HTGKMO," which means "honest to God, knock me out," and the word, "reborn." The former couple also both got "Millie Tendresse," a phrase made poplar by "Breakfast at Tiffany's," a movie Grande referenced in her song, "7 Rings." Later, Grande matched Davidson's "4818" tattoo, which was meant to honor his late father, a fire fighter, who died on 9/11. 
As far as their singular tattoos, Davidson also sported the same bunny ears Grande wore to promote her "Dangerous Woman" album. Finally, on Grande's end, she got a "Pete" tattoo on her ring finger and the word "always" — reportedly a nod to their shared love of "Harry Potter" — on her rib cage. 
Despite the sweet sentiment, both stars have gone on to cover some of the tattoos. In December 2018, Grande covered her "4818" tribute to Davidson's late father with the word "Myron" — the dog she adopted with her late ex-boyfriend, Mac Miller, per Allure. As for Davidson, he replaced his "Millie Tendresse" tattoo with "cursed," sending possibly the least subtle message in the history of breakups, per USA Today.
Pete Davidson got a tattoo for Kim Kardashian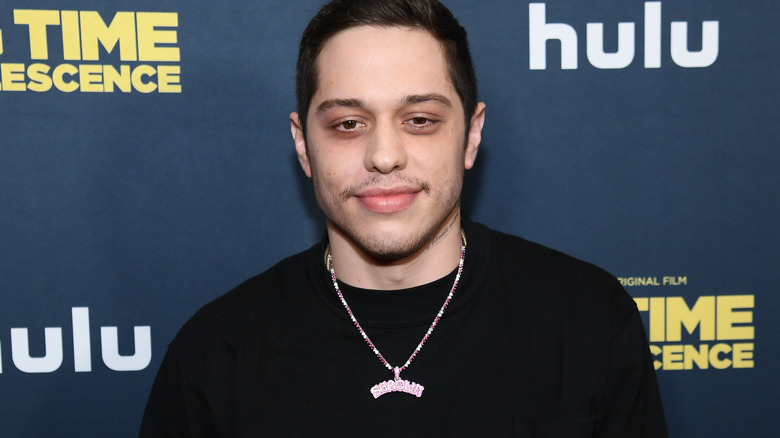 Dimitrios Kambouris/Getty Images
You live and you learn. At least that's what's supposed to happen. Yet, despite Pete Davidson's public breakup with Ariana Grande, after getting several tattoos in honor of her — and previously covering a tattoo in honor of ex-girlfriend "Umbrellla Academy" star Cazzie David, per People, he still gave his latest girlfriend, Kim Kardashian the same treatment. Early in their relationship, Davidson got "my girl is a lawyer" tattooed onto him, via Page Six.  
The "The Kardashians" star also bragged about Davidson's ink during an appearance on The Ellen DeGeneres show. "He has a few tattoos, a few cute ones that he got," shared Kardashian during the show. "I think my favorite one, it says, 'My girl is a lawyer.' And that one's really cute," via Billboard. During the same taping, Kardashian also revealed that Davidson had her name branded into his skin. And even though fans have been wondering if Davidson got his Kardashian-inspired tattoos removed, post-split, Life&Style confirms that, for now, Davidson's shrine to his latest relationship lives on.