Smash Star Megan Hilty Suffers Unthinkable Family Tragedy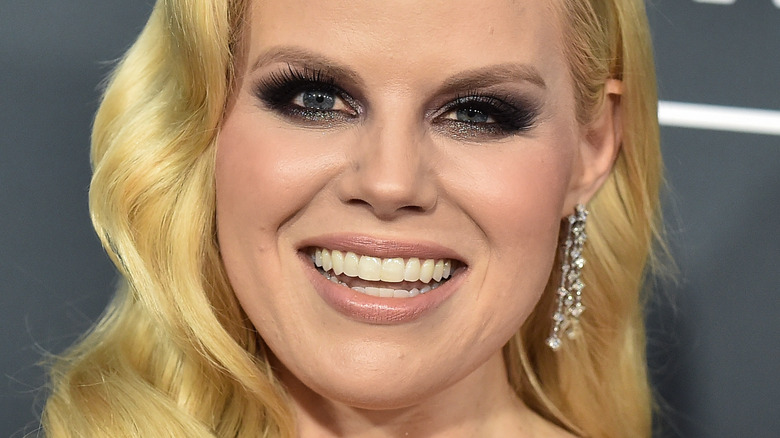 DFree/Shutterstock
Tony-nominated actor Megan Hilty, who also became known to television audiences for her starring role on the short-lived NBC series "Smash" alongside "American Idol" alum Katharine McPhee, is a veritable powerhouse on the Broadway stage and the small screen. With roles in such productions as "Wicked," "9 to 5: The Musical," and "Gentlemen Prefer Blondes," Hilty has maintained a sustained presence in the theater world.
Unfortunately, it isn't positive news that has Hilty in the headlines this time. Sadly, it's a devastating personal update for Hilty and her extended family. As ABC News reported, Hilty suffered an unthinkable family tragedy on September 4 near Seattle, Washington, when her sister, brother-in-law, and young nephew died in a plane crash alongside seven other occupants. "I can't even imagine what she's going through," one fan tweeted about the tragedy, while some one else wrote, "I know the whole broadway community is sending all the force of love it's got." Washington Gov. Jay Inslee even commented on the gut-wrenching situation, writing that he and his wife Trudi were "devastated at the loss of those aboard the plane." He added, "Our hearts are with their families and communities today."
As of this writing, Hilty has not released her own statement on the situation — however, multiple reports have confirmed details of the tragedy, revealing a devastating picture for everyone involved.
Megan Hilty's sister was pregnant at the time of crash
A floatplane (aka an aircraft designed to land on water) carrying Megan Hilty's sister, Lauren Hilty, crashed in Washington's Mutiny Bay — which is nestled about 30 miles outside of Seattle, the city's King 5 reported. Lauren, who was due to give birth to a baby boy named Luca in October, was also accompanied by her husband, winery owner Ross Mickel, and the couple's 23-month-old son Remy, according to The New York Times. Mickel was also father to daughter Lyla, who frequently appeared in pictures on his Instagram account.
A news release from the U.S. Coast Guard 13th District Pacific Northwest confirmed the pilot as Jason Winter, and other passengers as Patricia Hicks, Sandra Williams, Luke Ludwig, Rebecca Ludwig, Joanne Mera, and Gabrielle Hanna. The U.S. Coast Guard noted Remy was the only minor on the plane. At the time of the U.S. Coast Guard's news release, only one body had been recovered but not yet identified publicly, as the victim's relatives hadn't been contacted yet. 
As for the cause of the crash, that remains unknown as of this writing. However, witnesses described an unsettling scene, with one local telling Komo News the aircraft's engine shifted in sound before it nose dived into the water with great force. "It was so loud that it literally shook me at my home," the resident said of the plane's impact. As Komo News reported, The National Transportation Safety has assigned a team of seven to investigate the incident.
The Hilty and Mickel families speak out
A statement on behalf of Ross Mickel and Lauren Hilty's families provided to Seattle's King 5 reads: "We are deeply saddened and beyond devastated at the loss of our beloved Ross Mickel, Lauren Hilty, Remy and their unborn baby boy, Luca. Our collective grief is unimaginable." It continues, "They were a bright and shining light in the lives of everyone who knew them. Although their time with us was too short, we will carry their legacy forward." The family also requested privacy as it navigates this unimaginable news. 
Before their deaths, Ross and Lauren appeared to be enjoying their lives as a growing family. On Mother's Day, for instance, Ross took to Instagram to share a post about treating Lauren to lunch and shopping — and on an even more heartbreaking note, he pointed out how the trip included gifting son Remy with a Hot Wheels toy car. Other posts reveal Ross' love for cooking, his daughter, and of course, wine. As Ross Andrew Winery's website reveals, Ross traveled the globe to "learn all he could about food and wine," before he began an illustrious career in the industry, culminating in the founding of his very own winery in 1999. 
Megan Hilty pointed out in a 2020 interview with King 5 that Lauren still resided in her native Washington, along with their parents and other sister. "I normally come up to the Seattle area several times a year to see my family and just soak up the glory of the Pacific Northwest," Megan said at the time. "A little piece of my heart is always there."