Inside Victoria Pedretti And Dylan Arnold's Relationship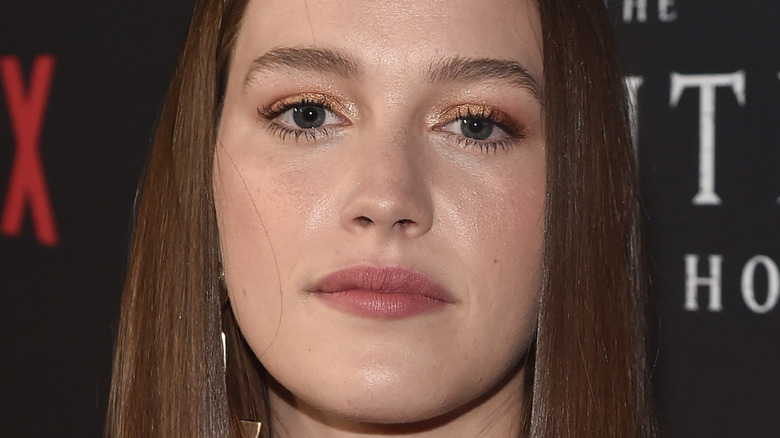 Alberto E. Rodriguez/Getty Images
"You" and "The Haunting of Hill House" actress Victoria Pedretti found her way into the spotlight quickly. Her stardom hasn't faded since, either, with roles in "Once Upon a Time... In Hollywood" and "Shirley," among other projects. Because of her large body of work in the horror genre, Pedretti has even been dubbed "a certified scream queen" by L'Officiel.
Offscreen, Pedretti has expressed her hope to E! News that her "You" character, Love, teaches audiences self-love ("and not [to] date a serial killer"). Less, however, has been reported about Pedretti's real-life love life. Showbiz CheatSheet noted ahead of the release of Season 3 of "You" that Pedretti, unlike her costar Penn Badgeley, is childless and that she found the dolls with which they had to act "terrifying."
One "You" costar with whom Pedretti has been rumored to be especially close is Dylan Arnold, who portrays Theo Engler in Season 3 of the series. Fans, naturally, have wondered if Pedretti and Arnold's chemistry on the show, as discussed by Newsweek, has carried over into real life.
Victoria Pedretti and Dylan Arnold are dating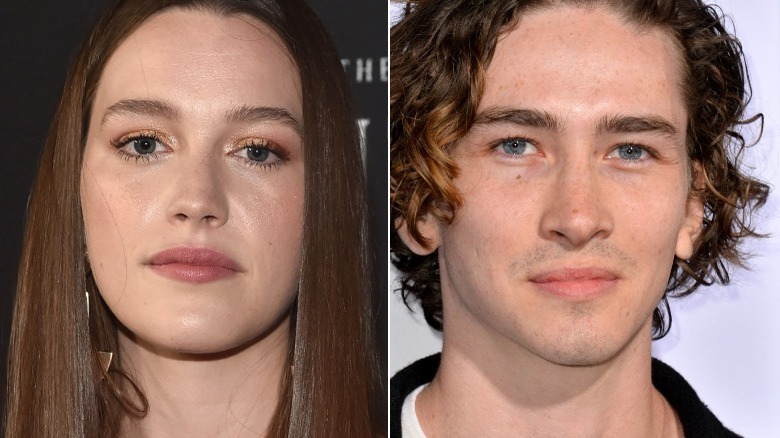 Alberto E. Rodriguez/Getty & Featureflash Photo Agency/Shutterstock
After the two were spotted out and about in early November 2021, rumors began to circulate that "You" costars Victoria Pedretti and Dylan Arnold were more than friends (via Page Six. Other outlets, including People, quickly picked up on the speculation but didn't hear back from representatives of either star.
Fortunately for fans rooting for the pair, it didn't take long for the rumors about Pedretti and Arnold's relationship status to be confirmed. That's right; the news broke that Pedretti and Arnold were, in fact, dating. An unidentified source told Entertainment Tonight in November 2021, "Victoria Pedretti and her You co-star, Dylan Arnold, are dating and have been for about a few months."
Unfortunately, that source is the only confirmation that fans have received that Pedretti and Arnold are dating. Neither actor has publicly confirmed their relationship with one another, nor have they responded to the paparazzi photographs that were taken of the two of them together.
Their You characters were romantically linked
In addition to their reported relationship in real life, Victoria Pedretti and Dylan Arnold's characters, Love Quinn and Theo Engler, were romantically linked in an extramarital affair during Season 3 of "You." Although Arnold plays a much younger character than Pedretti on "You," the two actors are actually only about a year apart in age, with Arnold being older than Pedretti, per Marie Claire.
While Pedretti hasn't spoken about her real relationship with her fellow actor, she has spoken about their characters' relationship. Promoting Season 3 of "You" in an interview with Elle, Pedretti stated of her character Love Quinn's affair with Arnold's Theo Engler, "She does get a glimpse of how maybe she ought to be treated, where somebody is really concerned about her well-being in a way that her parents don't really show a regard for, and her husband doesn't show much regard for, her brother didn't show much regard for."