What Really Happened Between Jordyn Woods And Devin Booker?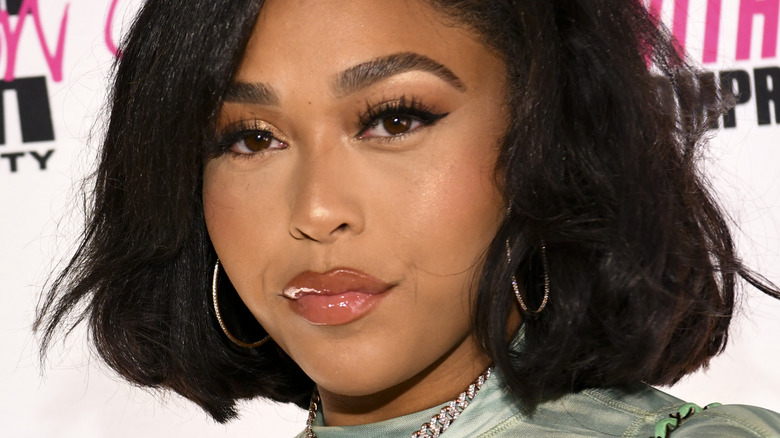 Rodin Eckenroth/Getty Images
Sisters before misters? 
For many years model and social media influencer Jordyn Woods was simply known as Kylie Jenner's best friend and sidekick. "It's become so normal for me that I don't realize how different it is," Woods told The Cut in 2016 when asked what it was like having a famous BFF. "For most people, that's not normal. But because it's just become a lifestyle for me, I can only try to make her as normal as possible," she explained.
Alas, that all came to a screeching halt in February 2019 when it was revealed that Woods was guilty of canoodling at a house party with Tristan Thompson, Khloe Kardashian's on-again-off-again boyfriend and the father of her child. YIKES. Shortly after the news broke, Jenner asked Woods to move out of her home and the friendship was effectively over. "You can do whatever, but when it affects my family, me, then that's when it's a problem," she later said of Woods betraying her trust on an episode of "Keeping Up With the Kardashians." Since then, however, it appears Thompson isn't the only man to drive a wedge between Woods and the KarJenner klan...
Jordyn Woods and Devin Booker double dated with Kendall Jenner and Ben Simmons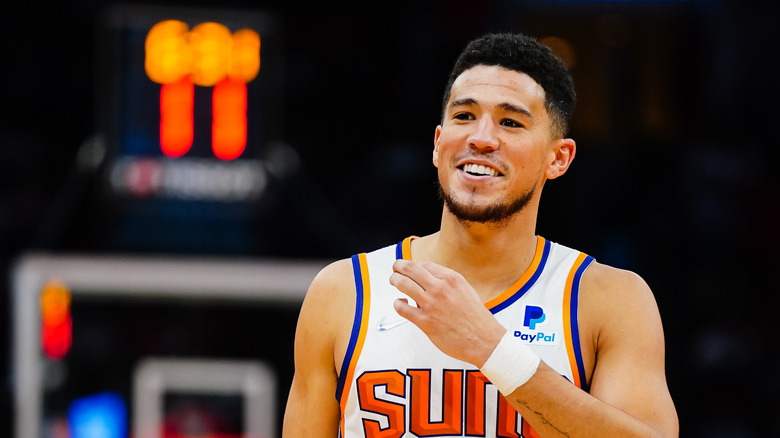 Alex Bierens De Haan/Getty Images
Believe it or not, long before Kendall Jenner and NBA baller Devin Booker were a couple, Devin and Jordyn Woods were a thing... and the two double-dated with Jenner and her fling at the time, Ben Simmons. Talk about a small world!
In 2018, TMZ captured the foursome hanging out together in West Hollywood into the wee hours of the morning. "I'm not going to say that they're getting married because it's still early, but they're definitely a couple," a source later revealed to MTO News (via Hollywood Life). Concurrently, Jenner was going to great lengths to keep the paparazzi at bay during the night out. It's reported that she even faked leaving the restaurant early, only to return through the back door. Stars, they're just like us. 
Sadly, what goes up must come down (especially in Tinseltown) and many sources told US Weekly that Woods and Booker "quietly split" prior to the scandal between Woods and Tristan Thompson. Well, at least that makes one person not completely blindsided by the house Woods/Thompson party hookup heard 'round the world...
Jordyn Woods was seemingly not pleased by Kendall Jenner and Devin Booker hanging out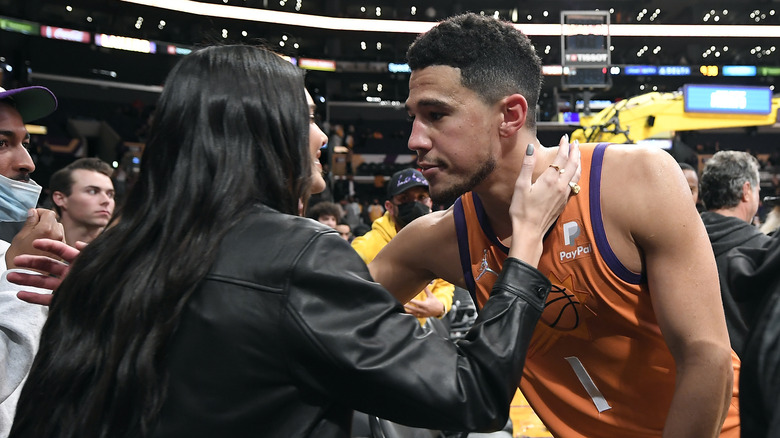 Kevork Djansezian/Getty Images
Perhaps, however, what goes around really does come around...
In April 2020, Kendall Jenner and Devin Booker were spotted together embarking on a road trip to Sedona, Arizona. Shortly after TMZ published the footage, Jordyn Woods seemingly reacted to the news with a vague Twitter post. "Haha good morning," she penned in a since-deleted tweet along with three trashcan emojis (via Us Weekly). Coincidence? We'll let you be the judge. 
As for Jenner and Booker though, sources were still adamant at the time that Jenner and Booker were just friends. "Kendall and friends have a small social circle amongst the group, who have been following the same social distancing and physical distancing guidelines. Devin is a friend and is part of the small group," one insider maintained. Fast forward two years later, however, and it's very obvious that if the relationship was strictly platonic at first, it definitely morphed into something much more romantic.