Zac Efron Finally Breaks Silence On Plastic Surgery Speculation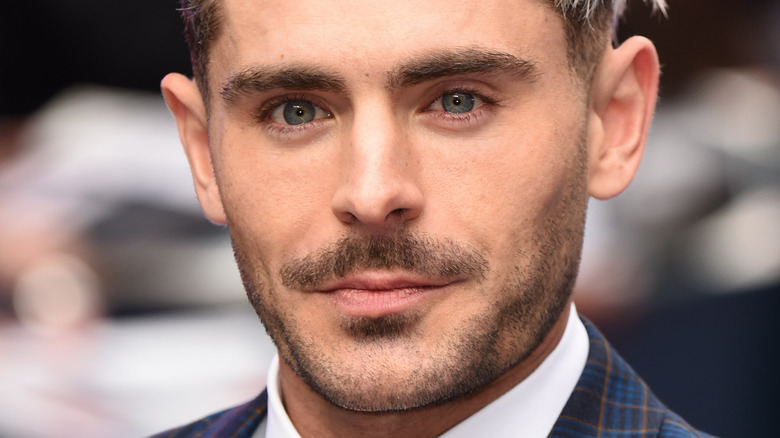 Featureflash Photo Agency/Shutterstock
If you were first introduced to former teen heartthrob Zac Efron via "High School Musical," then maybe you might have trouble recognizing him now. That sentiment reached a fever pitch in April 2021, when Efron gave a promotional short to spread awareness about Earth Day. Unfortunately for Efron, the meaningful environmental message of the interview was lost amid widespread speculation that Efron had surgically altered his famous face.
In the clip, Efron's cheeks appear puffy, and his jaw looks to be about twice the size that it once was. The rumors were especially heightened because, at the time, Efron just made a permanent move from Hollywood to Australia, which some found surprising. Soon, social media was flooded with hot takes about Efron's new look. "Zac Efron is naturally attractive, idk why he keeps messing up his face with cosmetic surgery," wrote one fan. "I don't wanna live in a world where ppl like Jennifer Aniston and zac Efron feel like they need plastic surgery," said another. Efron's good friend Kyle Sandilands came to the actor's defense on his radio show, claiming he'd be aware if Efron had done anything. "It's like getting a Picasso and having a kid finger paint all over it," he said, per Page Six. "Why bother?"
Though it was all anybody wanted to talk about at the time, Efron refused to address the rumors. It would be over a year before he'd chime in on the narrative and what he had to say is sure to raise some eyebrows.
Zac Efron is staying true to himself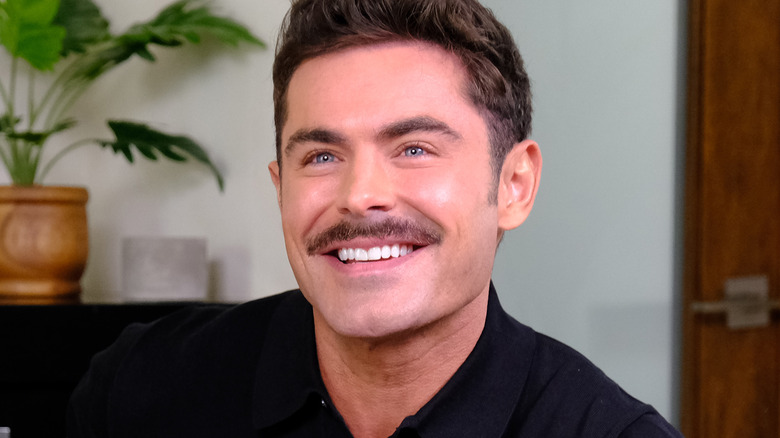 Joe Scarnici/Getty Images
According to Zac Efron, all that speculation about his new look was a waste of time, because he never changed anything about his face. In a September interview with Men's Health, Efron explained that his jawline appeared swollen during his Earth Day bit because his muscles were over enlarged thanks to an old injury — not from some kind of cosmetic injection. "The masseters just grew. They just got really, really big," he said. (Efron was shocked at the public reaction, as he had never given his new look much thought. "If I valued what other people thought of me to the extent that they may think I do, I definitely wouldn't be able to do this work," he said.
Still, Efron isn't immune to the pressure of modern beauty standards. Just because he's never surgically altered his face doesn't mean he hasn't gone to other physical extremes. During the interview, Efron detailed how his "Baywatch" diet nearly destroyed his health. "I started to develop insomnia, and I fell into a pretty bad depression for a long time," he said before giving his opinion that the chiseled "Baywatch" was not a realistic standard. "Something about that experience burned me out. I had a really hard time re-centering."
Since then, Efron has worked hard to "re-center" himself to focus on what's important to him. He's living full-time in Australia and hosts a show on Netflix that spreads environmental awareness. After all, some things are more important than looks.
Zac Efron wants distance from Hollywood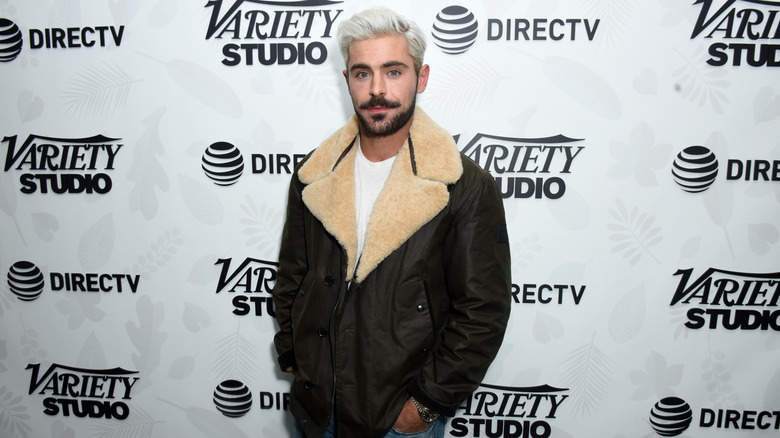 Vivien Killilea/Getty Images
Long before rumors about his jawline swept Twitter, Zac Efron was feeling fed up with Hollywood. Efron had been constantly working since he landed the leading role in "High School Musical" back in 2005. Since then, he appeared in dozens of films and TV shows, and subsequently suffered through controversial diets and fitness regimens for the sake of his work. By 2020, Efron needed a break. He set his sights on Australia and has reportedly never looked back.
"He loves Australia and considers it his home," a source told People in January 2021. "As of now, he has no plans to live permanently in LA again." Efron sold his home in the cozy yet pricey enclave of Los Feliz for a little over $5.3 million when he left for Australia, per The Hollywood Reporter. Although leaving California meant saying goodbye to a four bedroom mansion in the heart of LA, it opened the door for Efron to settle Down Under. The actor is reportedly the proud owner of more than 300 acres just north of swanky Byron Bay.
Efron's home base is now Byron Bay, but since COVID regulations eased, he's leaned into a more transient lifestyle. He returns to LA sparingly for business and personal reasons, per Mens Health. Otherwise, Efron is a nomad. "I'm in a van trying to travel and see as much of the world as I can," he said. "Or just hiking in the woods and camping." So there ya have it — LA and unsolicited opinions about his face are officially in Efron's rearview mirror.