The Armie Hammer Documentary Faces An Eyebrow-Raising Controversy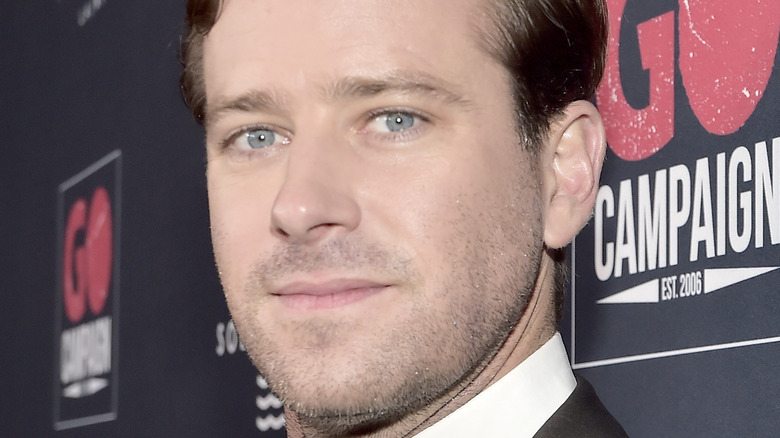 Stefanie Keenan/Getty Images
The following article contains discussion of sexual assault and violence.
"House of Hammer," the Discovery+ documentary detailing the rape allegations against actor Armie Hammer, is causing quite a stir. The three-part docu-series premiered on September 2, 2022, and was met with immediate criticism from one of Hammer's alleged victims. The woman — who goes by the alias Effie — revealed to The Los Angeles Times that she was invited to participate in the television special but declined without question. "It is extremely inappropriate of you to exploit such a tragic, vulnerable time in many people's lives, with no regard whatsoever for our healing process and privacy," Effie said.
Effie was the only victim to take legal action against Hammer after she created an anonymous Instagram account with the hope of exposing the star. During a press conference in March 2021, Effie alleged that Hammer abused her "repeatedly" and forced her to engage in violent sexual acts. "I thought that he was going to kill me," Effie said (per Variety).
And while the allegations of abuse are troubling, the filmmakers behind the project are now facing a bizarre controversy.
The docu-series used a fake injury photo
Discovery+ is facing backlash after viewers noted a major mistake in the first episode of the docu-series. In the premiere episode, Armie Hammer's accuser, Courtney Vucekovich, alleged that the oil heir enjoyed physically violent sex. During Vucekovich's recollection, an image of an alleged bite mark was shown on-screen. "I think Armie took that picture," Courtney recalled (via E! News). "He bites really hard. And he tells you to wear them like a badge of honor, almost like he convinced me I'm lucky to have it."
However, social media users suggested that the photo was not of Vucekovich, and some speculated the image was stolen from the internet. "That's not a 'mistake.' They stole a pic from Pinterest [and] presented it as evidence," one person tweeted. While another Twitter user added, "So the film makers didn't verify the images they put in their film?"
Following the backlash, Vucekovich attempted to provide an explanation for the mix-up and claimed that the image included in the documentary was previously sent to her by Hammer himself. "I believed it to have been a photo of me, given that I have dozens of photos depicting his abuse on my body," Vucekovich said in a statement to People. Talos Films — which produced the special for Discovery+ — confirmed the image was removed following an "investigation." Hammer has denied the allegations and has suggested that every sexual encounter he has had was consensual.
If you or anyone you know has been a victim of sexual assault, help is available. Visit the Rape, Abuse & Incest National Network website or contact RAINN's National Helpline at 1-800-656-HOPE (4673).