Harry Styles Finally Addresses Spitgate Drama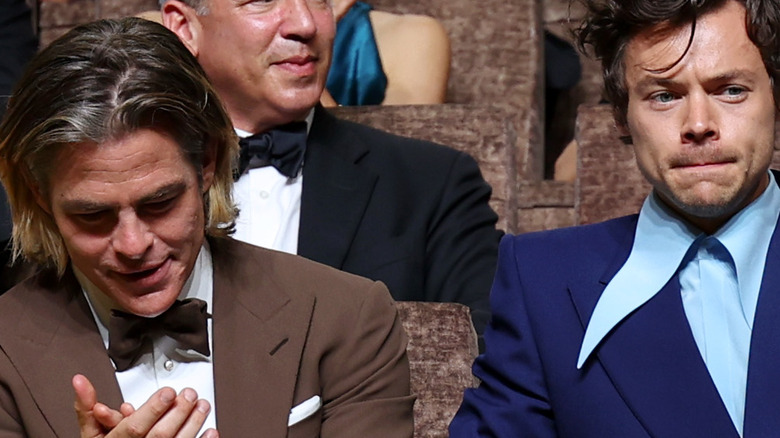 Vittorio Zunino Celotto/Getty Images
The highly-anticipated psychological thriller "Don't Worry Darling," starring Florence Pugh, Harry Styles, Chris Pine, and directed by Olivia Wilde, just had its world premiere at the Venice Film Festival on September 5, and as if this film wasn't mired in enough controversy — will Shia LaBeouf's curse never die? — a small moment at the premiere had the internet up in arms about a possible loogie. That's right, fans are convinced that the "Watermelon Sugar" crooner spat on Pine before taking his seat in the cinema for the screening. One fan wrote, via Twitter, "Someone needs to begin a full fledged investigation into what happened on that don't worry darling set... wdym harry styles spitting on chris pine on NATIONAL TELEVISION?"
Pine's team quickly released a statement, calling the viral moment a "complete fabrication." Speaking to People, the rep said, "This is a ridiculous story — a complete fabrication and the result of an odd online illusion that is clearly deceiving and allows for foolish speculation." They later added, "Just to be clear, Harry Styles did not spit on Chris Pine. There is nothing but respect between these two men."
Now, the "As It Was" singer is back on tour and finally broke his silence on the loogie heard round the world.
Harry Styles mocks the Chris Pine spitting controversy during NYC concert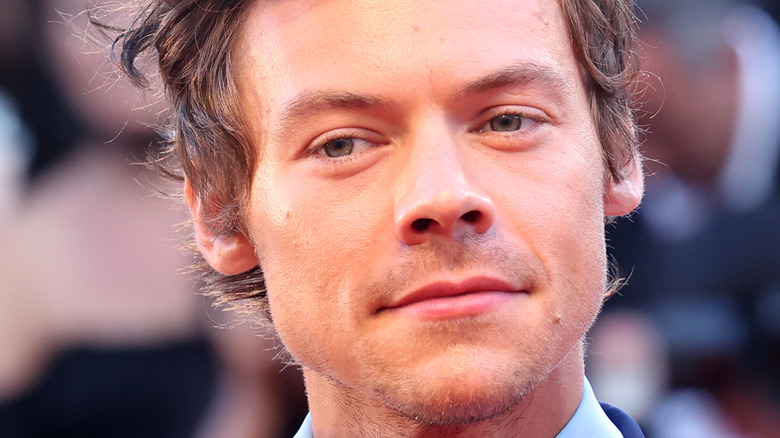 Franco Origlia/Getty Images
After the "Don't Worry Darling" premiere in Venice, Italy over the Labor Day long weekend, Harry Styles quickly flew back to New York City to resume his Love On Tour. On September 7, before an adoring crowd at Madison Square Gardens, he addressed the supposed "Spit Gate" between him and Chris Pine. Luckily, in true Styles fashion, he turned it into a cheeky joke. 
"This is our 10th show at Madison Square Garden," he began. "It's wonderful, wonderful, wonderful to be back in New York. I just popped very quickly to Venice to spit on Chris Pine." Cue the audience roaring with applause and laughter. Even the "Sign of the Times" singer started to giggle at the mere notion of it. Then, with a big smile, he added, "But fret not, we're back!"
This is the first time Styles has publicly addressed the viral controversy, but on September 6, sources close to his camp denied to The Guardian any loogie had ever left his million-dollar lips. "This is not true," an insider told the outlet. However, TMZ reported that a person from Pine's circle told the outlet that the spitting actually did take place. We're starting to get the impression that Olivia Wilde should just change the name of her headline-grabbing movie to "Worry, Darling."