Why Gwen Stefani Didn't Think Her Relationship With Blake Shelton Would Last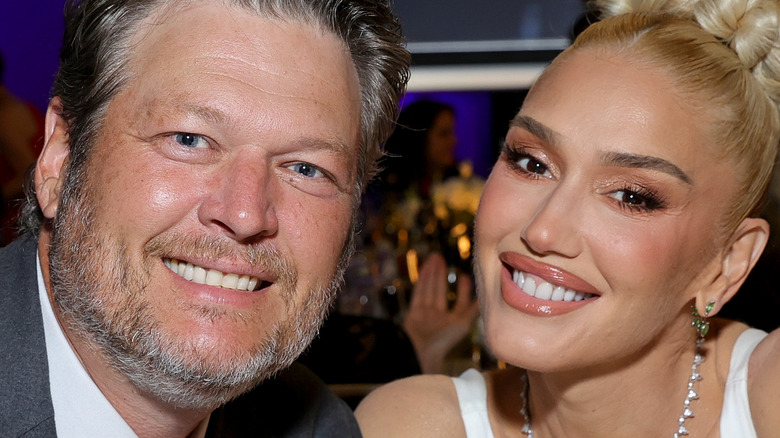 Emma Mcintyre/Getty Images
When it comes to celebrity love lives, Hollywood always keeps us on our toes. From Kim Kardashian's breakup with Pete Davidson, to Olivia Wilde's unlikely coupling with Harry Styles, there's never a dull moment. Yet, one relationship that the entertainment world truly did not see coming back in 2015 might have been Blake Shelton and Gwen Stefani. After all, she's a cool, Cali-born "Hollaback Girl," while he's one of the kings of country music. 
Per Billboard, the pair met while judging "The Voice" and leaned on each other for support in the midst of their respective divorces (Stefani from Gavin Rossdale, and Shelton from Miranda Lambert). In 2016, Shelton spoke about how much Stefani's support meant to him during a difficult time. "When you have a broken heart ... you want people to sympathize with you. I was at rock bottom, in the middle of hell," he told E! News. "Gwen saved my life. Who else on earth could understand going through a high-profile divorce from another musician?"
During the COVID-19 pandemic the duo hunkered down together at Shelton's Oklahoma ranch, with Stefani telling Entertainment Tonight that the whole experience was "magical." Clearly, it must have been, because the "God's Country" singer popped the question to his girlfriend in late 2020. Shelton and Stefani wed in July 2021 and they have been living happily-ever-after ever since. Still, as unlikely as it sounds now, there was a time when Stefani wondered whether her romance with Shelton would last.
Gwen Stefani wasn't sure Blake Shelton would embrace her three sons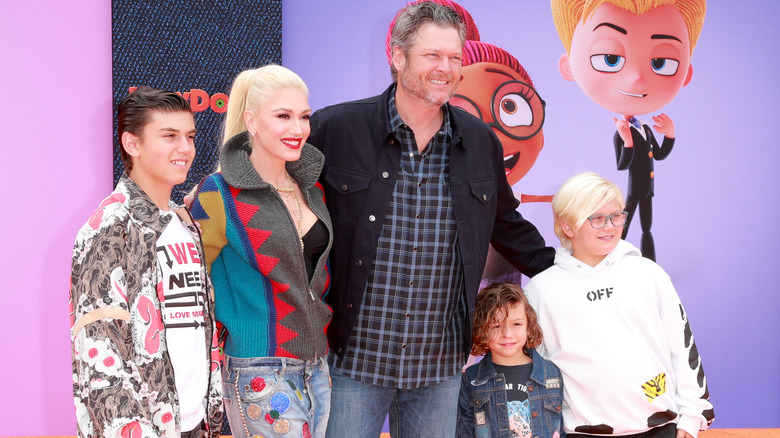 Rich Fury/Getty Images
Fans may have been unsure whether Gwen Stefani and Blake Shelton were compatible given their different worlds, but it looks like this was a classic case of opposites attract. According to Stefani, at least, the real kicker was whether Shelton would accept her three children, whom she shares with ex Gavin Rossdale. "I think Gwen thought, when we first started seeing each other, that it was just gonna be a moment in time because of that," the country crooner told Country Countdown USA's Lon Helton (via People).
However, Shelton had an unusual perspective, given that his father married his mother when she already had a child. Seeing the way in which his dad embraced this little boy taught Shelton to do the same with Stefani's brood, too. "The example that my dad set for me was that [children were] not even a consideration [in a romantic partnership]. You got three boys? Awesome! My dad did it. ...I was all about signing up for it. And every day I've fallen in love with the boys as much as I do with Gwen," he added.
Shelton has also been candid about being a stepdad to Kingston, Zuma, and Apollo. "I don't know if it's as hard or harder or not as hard as being an actual, biological parent, you know?" he asked KFROG's "The Ride With Kimo & Heather." "I have a stepfather in my life who's one of my heroes."
Blake Shelton prioritizes his role as a stepfather
The most important part of Blake Shelton's relationship with Gwen Stefani may be his bond with her children. For Shelton, "I can't imagine my life without these kids now," as he told KFROG's "The Ride With Kimo & Heather." The same goes for Kingston, Zuma, and Apollo, who feel "well-adjusted" to their mom's relationship with Shelton, per InTouch. "They feel like they have two dads," a source told the outlet in 2020. "So far there are no huge issues." Judging by Stefani's Instagram page, which scrolls like a tribute to Shelton's parenting skills, it's clear that all three boys adore their stepdad. From dressing up in camo gear to snuggling up for kisses, Kingston, Zuma, and Apollo think Shelton is their "stars, moon and world," to borrow a phrase from Stefani.
Sweet moments aside, the "Ol' Red" singer recognizes that life is more than just the happy times, and he prioritizes his role as a stepdad. "It's one thing for me to be with the kids all the time and be their buddy, but you do have to consider after a while that they start to listen to things that you say, and there's a lot of responsibility that comes with that," Shelton said on "Today" in 2020. He noted that for a period of time, "it was awkward trying to figure out what my place is," per People, but everything seems to have worked out just fine in the end.