The Truth About Megan Fox And Shia LaBeouf's Relationship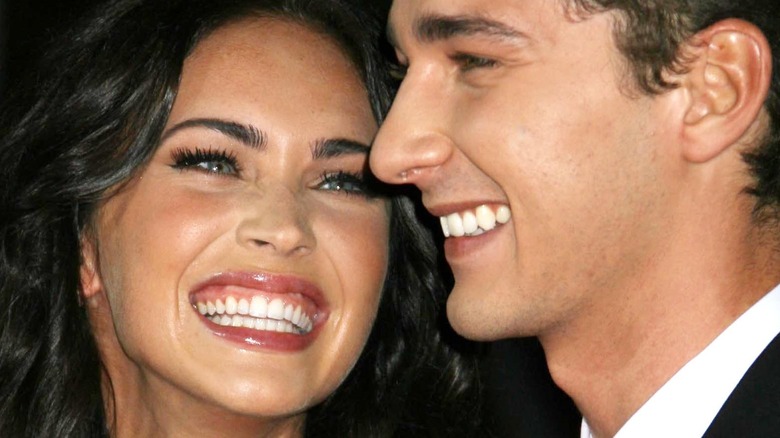 s_bukley/Shutterstock
It's been quite a while since we've seen Megan Fox and Shia LaBeouf in the same room, much less on the big screen.
The two famously starred in two installments of the "Transformers" series back when they were both just up-and-coming actors. The project helped them achieve prominence in the industry, and they soon became household names. Fox and LaBeouf played lovers in the movies, which led to many wonder if any romance sparked between them in real life. It didn't help that Fox once described LaBeouf as an excellent kisser. "Well, he's the best kisser ever," Fox told Metro in 2009 when asked if LaBeouf was her type. "Actor kisser. On-camera kisser," she elaborated. "You wouldn't know. I'm going to stop. He's going to kill me."
LaBeouf also gushed about Fox, saying how he loved working with her. "I love Megan. She was great in the movies she was in," he told E! News in 2011. "Fun to work with, great energy, great personality." With the two singing each other's praises in the media, were they together at some point?
Megan Fox and Shia LaBeouf admitted to having a fling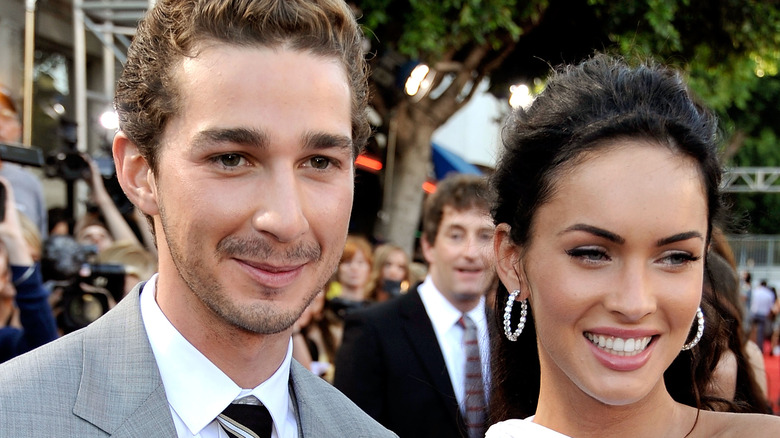 Kevin Winter/Getty Images
As it turns out, Megan Fox and Shia LaBeouf had the hots for each other once upon a time. In an interview with Details in 2011, LaBeouf dished that they had a "thing" while working together on "Transformers."
"Look, you're on the set for six months, with someone who's rooting to be attracted to you, and you're rooting to be attracted to them," he shared (via The Hollywood Reporter). "I never understood the separation of work and life in that situation. But the time I spent with Megan was our own thing." 
It wasn't until 2018 that Fox confirmed they were an item at one point — although she did not elaborate much on what happened. "I mean I would confirm that it was romantic," she said in an appearance on "Watch What Happens Live." "I love him. I have never been really quiet about that, I love him." We're not sure if "love" has a romantic connotation, but it just goes to show that there's no bad blood between them.
Megan Fox and Shia LaBeouf are still on good terms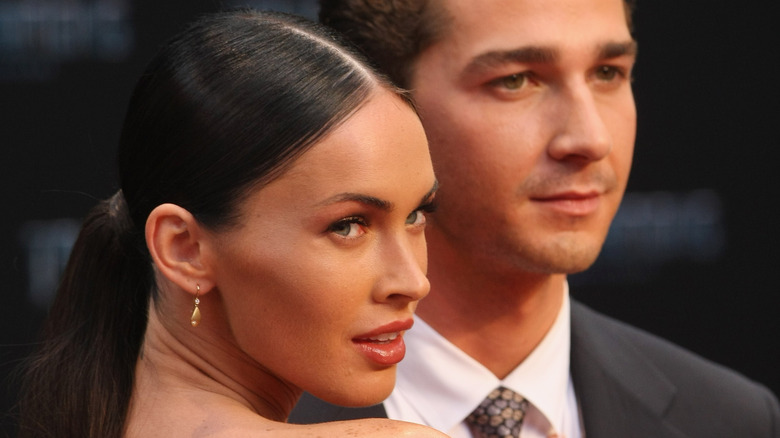 Sean Gallup/Getty Images
After "Transformers," Megan Fox and Shia LaBeouf haven't gotten the chance to work with each other again. When Fox was replaced by Rosie Huntington-Whiteley after having a fallout with director Michael Bay, LaBeouf admitted that he missed having her around.
"I love Megan and I miss the girl," the actor told USA Today, adding that Fox's departure was probably for the best. "But Sam and Mikaela became one character, and here ... you have discovery again from a new perspective." Meanwhile, Fox defended LaBeouf when he made headlines after a series of public meltdowns. "I'm not worried about Shia," she told New York Daily News, coming to his defense (via Entertainment Tonight). "I love my Shia. He's perfectly fine. I haven't talked to him in a couple of years, but I don't worry about him." She also pointed out how "brilliant," "talented," and "funny" he is, so "there's no reason to worry."
And to prove that they're A-OK, Fox even shared a funny throwback photo of LaBeouf on her Instagram in 2019. She posted a young LaBeouf mimicking Fox's pose, leaning over a Camaro with his shirt in a knot to reveal his torso. "Once upon a time 13 summers ago," Fox wrote. Guess we'll take that as a sign that everything is fine!