King Charles' Public Temper Is Sparking Concern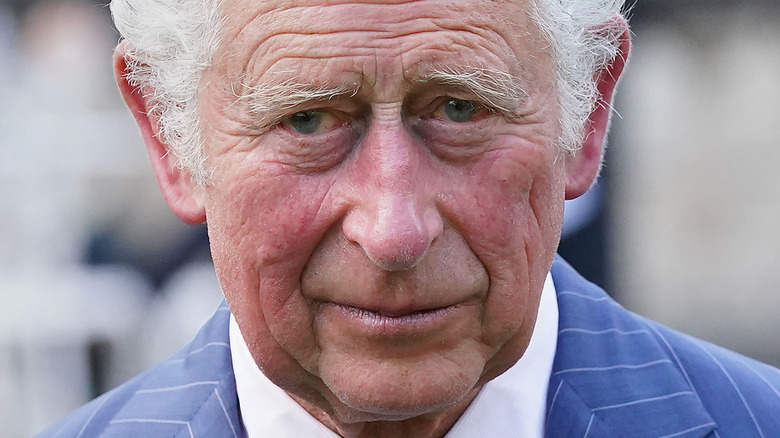 Wpa Pool/Getty Images
It must be difficult to be a monarch, for many reasons. Not only are you overseeing a country, but you've got the eyes of the entire world watching your every move. Particularly at times of difficulty, whether showing anger, dealing with scandal, or in mourning, the last thing you need is social media giving a big reaction to a small movement.
Such is the case with King Charles, who lost his dear mother, Queen Elizabeth II, on September 8. Given no time to mourn, he has already been sworn in as the next monarch, and made an impression with his first official speech, per Town & Country. "Queen Elizabeth was a life well-lived; a promise with destiny kept and she is mourned most deeply in her passing," he said. "That promise of lifelong service I renew to you all today." As he expressed his grief, he promised to uphold his new duties as king, stating, "I shall endeavor to serve you with loyalty, respect, and love, as I have throughout my life." He also stated that his parents, Queen Elizabeth and Prince Philip, will be laid to rest in "a little over a week's time," and he used the speech to give his son William the title Prince of Wales. The King even sent love to Prince Harry and Meghan Markle.
But that was then, this is now. Twitter is abuzz, again, over a small physical reaction King Charles made to some items he apparently didn't expect to see on his desk.
People are concerned about King Charles' handwaving
A video taken during the accession ceremony for King Charles III shows his majesty in what some are concerned is a moment of unbridled anger. In our current social media age, some people are finding the absolute worst in a little hand-wave.
As King Charles prepared to sit at his desk on September 10 and sign the documents marking his momentous ascension to the throne, only two days after the tragic death of his mother, Queen Elizabeth II, he waved his hand in a gesture that some felt was an expression of unnecessary anger. He wanted his aides to clear the desk of an inkwell and pen box that, according to Page Six, were gifts from his sons, Princes William and Harry. Charles pointed and waved at the items repeatedly until someone came and moved them away, so he could sit and sign the necessary documents. But this small gesture is enough for many online to jump on his behavior.
"Charles' brief fury at the pen tray is definitely the highlight of this for me," one commenter tweeted, to which another replied, "What happened to maintaining his dignity? He was like an enraged toddler." Others, however, had his back. When one asked why the king couldn't move the items himself, a commenter replied, "It's almost like he's under tremendous pressure and he's just lost his mother. Grief presents in different ways, but you go off." Another sympathetically tweeted, "I'm glad people didnt watch me as I grieved a huge loss."
Some are comparing King Charles' behavior to the queen's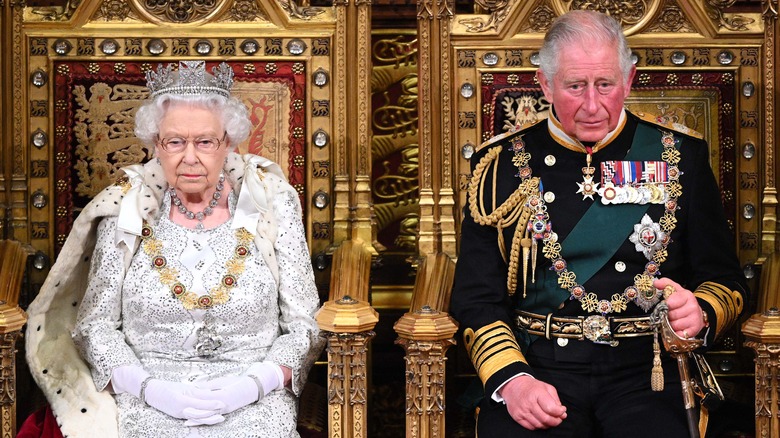 Wpa Pool/Getty Images
While at least one commenter is not surprised by King Charles' behavior in the viral video, tweeting he's "just like his dad," — Prince Philip had a reputation for having a temper — others compared Charles' behavior to his mom's. "The dismissive Royal hand; just couldn't imagine The Queen doing such!" one tweeted. They were surprised to see this potential show of anger given Elizabeth's stoicism, and her unofficial motto (per People), "Never complain, never explain."
"It is no small irony that in this age of mass communication, we have fewer of the Queen's personal opinions and feelings on record than those of her predecessors," royal historian Tracy Borman told People. Though the queen sometimes expressed quiet opinions subtly, often through her fashion choices, professor Pauline Maclaran told People, "She makes sure that she doesn't give too much of herself away."
Fortunately, Charles' first official speech as king on September 9 made an excellent impression, leading experts to think he'll do well on the throne — and at least one credited his emotions for it. "We saw ... that he is more relaxed and emotional with the crowds than either of his parents were, making him more empathetic and responsive," royal expert Ian Lloyd told Newsweek. Many also noted his lengthy training period as Prince of Wales, under the guidance of his mother. "He has had the chance to learn from the most successful monarch in our history," said ex-Tory MP Paul Goodman. "If he follows her example, he will scarcely put a foot wrong."