Inside Kelly Clarkson's Relationship With Her Childhood Best Friend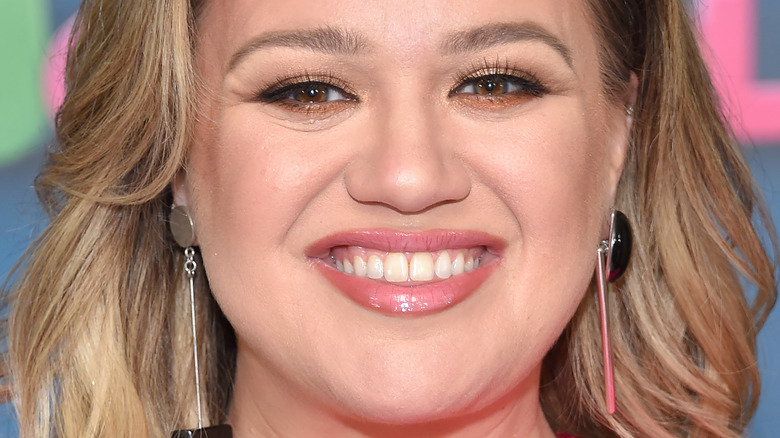 DFree/Shutterstock
If there's one thing we can say about Kelly Clarkson, it's that she's pretty darn popular. The original "American Idol" winner is adored by pretty much everyone, with star after star singing her praises after falling victim to her irresistible openness and down to earth personality.
One of those close besties with a recognizable face? Blake Shelton. "Blake and Kelly are extremely close. Their friendship and bond goes beyond the business," a source told Us Weekly in 2021, and the duo have proven that true on several occasions. Shelton even revealed one of the things he loves the most about his "The Voice" co-star in 2018 when he praised her enthusiasm for, well, pretty much everything. "It's fun to be around Kelly because there's that part of Kelly that I love about her — she's still such a fan of artists," he told E! News, noting he loves to see her freak out over his wife, Gwen Stefani. "[Clarkson] makes everything fun," he gushed. Aww!
But the country star isn't the only celeb Clarkson considers amongst her closest friends. She was on hand to celebrate Simon Cowell getting his star on the Hollywood Walk of Fame in 2018, saying of the man who gave her a helping hand with her career, per People, "He's the best friend you can ever have... He's honest and supportive." But while Clarkson has clearly made plenty of fans in tinsel town, it's actually her bestie from back in the day who's making a splash.
Kelly Clarkson's surprise from her childhood best friend
File this one under super adorable. Proving Kelly Clarkson really is the fun and relatable woman we know her to be, the star is still in touch with her childhood best friend and actually got a major surprise from her on TV when she celebrated her 40th birthday. The sweet moment went down in April on "The Kelly Clarkson Show," with the "Miss Independent" singer admitting she had no idea what was going to happen next... cue Mary's entrance. A clearly shocked Clarkson yelled "Oh my God!" as she ran over to the bestie she met in third grade, embracing her in a big hug before the two reminisced about growing up together. Mary brought along several throwback snaps and shared they went to church and worked at the movie theatre together, as Clarkson revealed they caused such mischief at school that they couldn't be in the same classroom. "I want you to know on your birthday how much you are loved," Mary then told the star. Aww!
But it looks like it's not just Mary who's had a close relationship with Clarkson for decades. The star has also given her fans a peek at a few of her other friends since childhood, including Ashley Donovan who she tweeted was her Maid of Honor in her wedding to Brandon Blackstock. Us Weekly confirmed the two grew up in Texas, worked at the movie theatre, and then lived in Los Angeles together.
Kelly Clarkson's longtime pals
They're not the only two who have stuck by the tatted up Kelly Clarkson's side for years, though. The "Piece by Piece" hitmaker has also introduced us to a few of her other close friends over the years, including her longtime friend and assistant Tricia Farrow. Farrow has made a few appearances on "The Kelly Clarkson Show" over the years after taking on the role of Clarkson's assistant, with the latter even surprising the former during a February 2020 episode as part of her Ambush Thank You segment. "You truly are rare and special," Clarkson told a clearly embarrassed Farrow as she read out a heartfelt thank you note, before surprising her with a trip to the Super Bowl. Kind AND incredibly generous? As if we needed any more reasons to love her!
In a Digital Exclusive for "The Kelly Clarkson Show" shared the following year, Clarkson revealed she'd known Farrow since 2005 as they undertook "The Ultimate BFF Test" — with some hilarious consequences — while they've also done an NFL quiz and the Movie Title Emoji Game. Plus, it was Farrow and Clarkson's Maid of Honour, Ashley Donovan, who joined their bestie for an episode of "Celebrity Family Feud" back in 2017. 
We know she has plenty of options, but where do we sign up to become one of Kelly Clarkson's backup best friends?