The True Meaning Behind Kelly Clarkson's Tattoos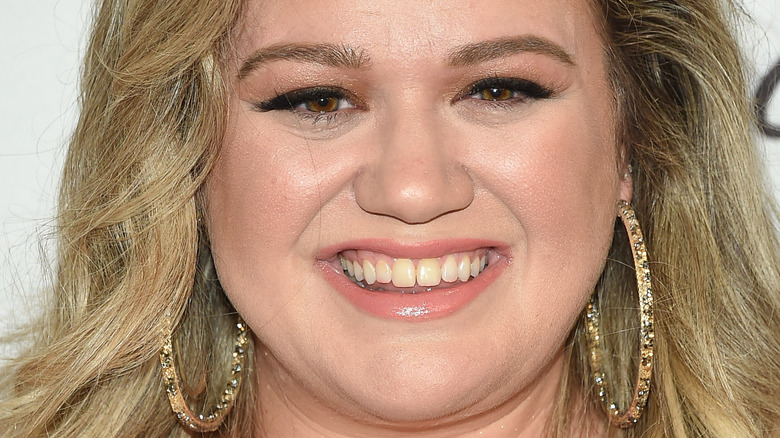 DFree/Shutterstock
Kelly Clarkson may not be the first person you think of when you think of a celebrity with multiple tattoos, but it turns out the original "American Idol" winner is actually pretty tatted up. Yep, the "Miss Independent" hitmaker actually has multiple inkings across her body, and her penchant for body art actually began several years ago in Buffalo, New York. Clarkson revealed that tidbit on "The Voice" back in October 2020 during Buffalo native Cami Clume's Blind Audition, sharing the story as she attempted to get the singer on Team Kelly. "The Kelly Clarkson Show" host explained she was on tour at the time and joked she was well aware her mom probably wouldn't be too happy with her choice. "My body is a temple still, mom," she quipped.
But that was hardly the only time Clarkson had a needle on her skin. According to Body Art Guru, the now mom of two has actually hit the tattoo parlor a whopping further 13-plus times after getting that very first inking and now sports several different poignant designs as well as adding to her existing ones. But what exactly are they and what do they actually mean?
What tattoos does Kelly Clarkson have?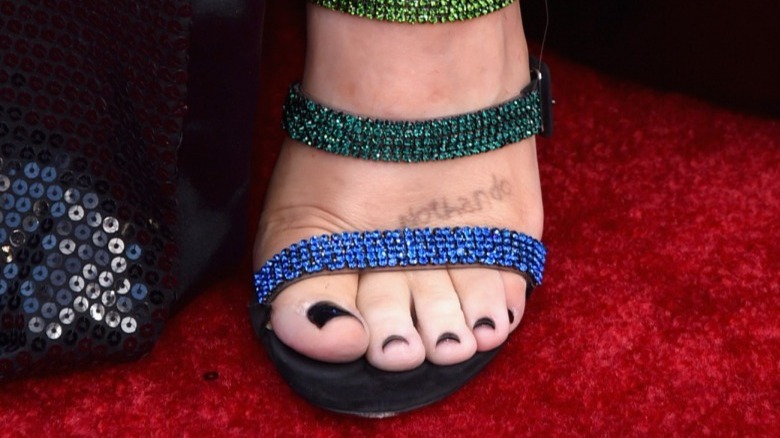 John Shearer/Getty Images
Okay, hold on tight, because there's a lot to get through here. Kelly Clarkson has at least 14 tattoos in total, so we're going to start from her head and work our way down. First off, per Steal Her Style, Clarkson has a snowflake behind her left ear and a hollow crescent moon behind her right, plus the word Blessed as a Japanese kanji symbol on the back of her neck. On her right shoulder, she has a removed puzzle piece shape that displays a scene from "The Wizard of Oz" on the inside, while she's also rocking a crucifix on her right forearm which she added "Love them more" to.
On her left hand, she has a four-leaf clover made of love hearts, plus a kite made of a red heart on that wrist. That actually started out as just the heart, but she added to it twice, including putting a regular kite next to it. Underneath that, she has the Roman numerals XXIV, which means 24, plus the letters dc on her left hand middle finger. On her left foot, she has the word "Nothando," which means "mother of love," per Urban Dictionary, as well as a flower on her inside right ankle.
Clarkson also confirmed to "Access" in 2021 that she has "What doesn't kill you" written in morse code across her rib cage. She got in London, and it's a partial nod to her hit, "What Doesn't Kill You (Stronger)."
What Kelly Clarkson's tattoos really mean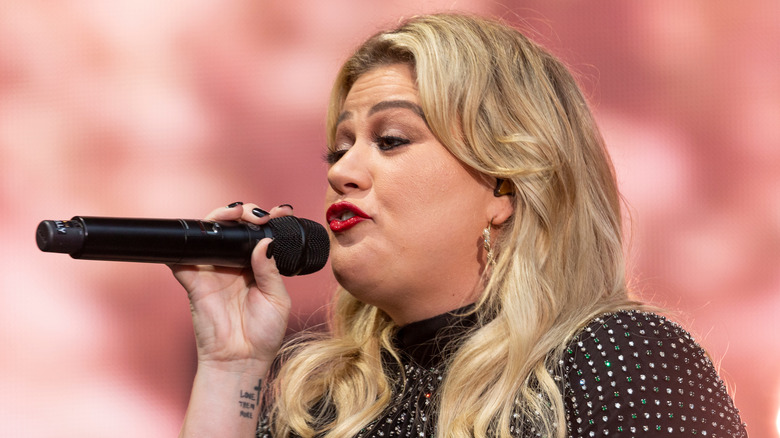 Lev Radin/Shutterstock
So now we know Kelly Clarkson is a tattoo collector, what do they all mean? The talk show host has opened up about a few of her inkings, sharing her "Wizard of Oz" tattoo has particularly special connotations. Clarkson told Gay Times (via Kelly Clarkson Express) in 2015 that she got it in Amsterdam and it actually has quite a dark theme. "It was a childhood thing I loved but also it worked for my life at the time. I feel like when I got this tattoo... no matter how hard I clicked I just couldn't find a home. And by home, I just mean I've always longed for a family. A solid family foundation and I just hadn't had that," she said.
As for that "Love Them More" tattoo, that was based on some advice she got from a preacher when she was growing up. "He told me at a very young age you have to love them more because they weren't loved enough, and that's why they're mean," she explained in 2012, per Taste of Country.
Clarkson's also shared that her moon inking has a family connection, telling BBC Radio 1 (via Stuff) in 2012 that her sister has a star and her mom has a moon and a star, to represent them. "I have no idea how we convinced her. I think she liked having a tattoo with her daughters, so it's kind of cool," she said. Aww!