The Head-Turning Number Of Songs Kelly Clarkson Has Written About Her Divorce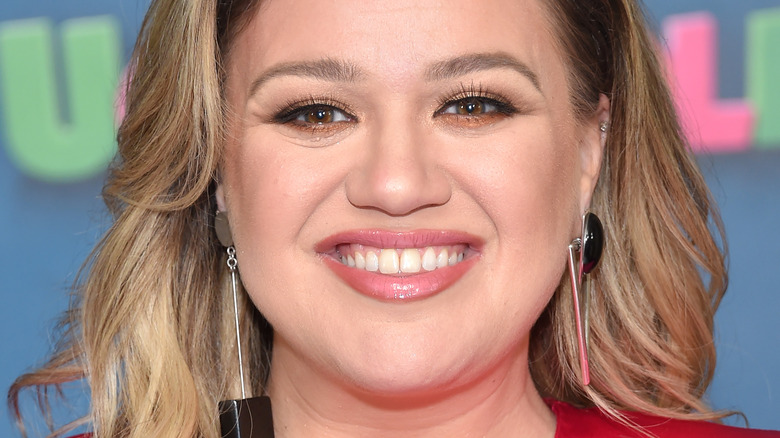 DFree/Shutterstock
Kelly Clarkson cited "irreconcilable differences" when she filed for divorce from Brandon Blackstock in 2020 after almost seven years of marriage. Over the course of a year, the former spouses endured a messy divorce battle, which involved splitting assets and determining custody of their two biological children, River Rose and Remington Alexander. Eventually, a judge ruled that Clarkson had to pay her ex a $1.4 million lump sum, plus $45,000 a month in child support, per People. 
In addition to dealing with the emotional and financial fallout, the divorce also impacted Clarkson's ability to release music. Although Clarkson has released Christmas albums, her last complete body of work, "Meaning Of Life," was released in 2017. "I'm just navigating what I'm comfortable with releasing. So, it's just a hard thing to navigate," Clarkson said of her new music during an appearance on Apple Music's "The Global Chart Show" (via Page Six). "It's coming. I just got to get my crap together. I just got to figure out what I'm going to release. I've never had this difficult of a project." 
Now, months after finalizing her divorce, Clarkson appears to have found her way to the other end of the musical spectrum. During a recent interview, the "Already Gone" singer dished on her upcoming album and the astonishing number of songs that she's written about her divorce. 
Kelly Clarkson has written over 60 songs about her divorce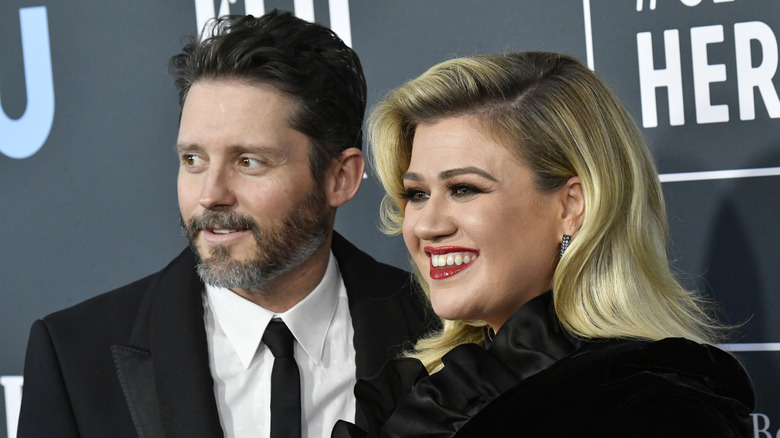 Frazer Harrison/Getty Images
Kelly Clarkson is gearing up to release a new album, and it sounds like it's all about her divorce. While speaking with Entertainment Tonight, the mother-of-two dished on the astronomical number of songs she's written since her marriage ended. "I have written like 60 songs," shared Clarkson. "It is an insane amount of getting it out." The singer continued, "Anytime you go through some life, it's such an awesome thing to have that outlet, regardless of whether people hear it or not." And, while the Grammy award-winning songstress says she's still trying to figure out just how much she wants to share, she's appreciative of the process. "Whatever happens though, it is such a gift. Like, I don't know how anybody, I'll just be real with you, goes through grief like divorce, any kind of grief, any kind of loss, without having an outlet like this."
Clarkson's album isn't due out until 2023, but she's already making plans to tour — if she can fit it into her busy schedule, which includes hosting "The Kelly Clarkson Show." Speaking with Variety, Clarkson shared, "I know there are other guys and girls out there that have been through this kind of breakup who are going to need to scream at the top of their lungs — you can come and join me."
Kelly Clarkson's divorce album helped her heal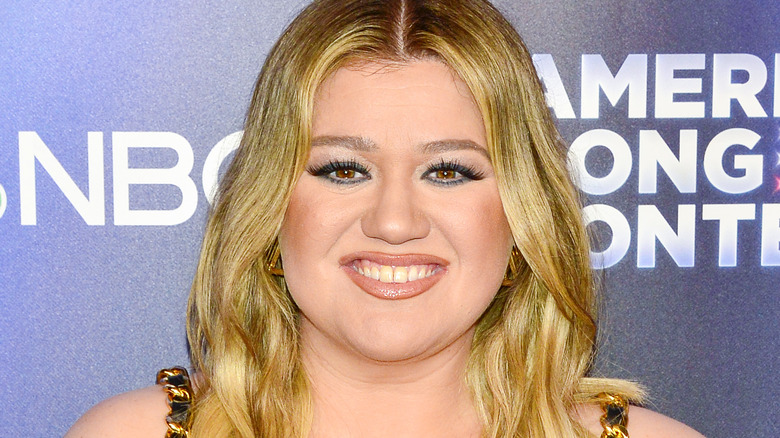 Jerod Harris/Getty Images
There's never any winners in divorce — especially for celebrities who have to endure some of their lowest moments in the public eye. The only silver lining (at least where musicians are concerned), is that heartbreak often spurs beautiful, moving creations that can help them get through their trials and tribulations. (Just ask Adele.) In Clarkson's case, writing her way through her emotions on this album has helped her to cope. "This is an important album," Clarkson shared with Variety. "I'm working on this in therapy: I have a hard time vocalizing what I'm feeling sometimes, so music is helpful for me. It's just been really healing. I recorded the record quite some time ago."
If you're bummed about waiting almost another year to hear what Clarkson has been working on, then you might find solace in her 2021 release, which the singer dubbed a "Christmas breakup song." During Clarkson's Christmas special, she debuted "Merry Christmas (To The One I Used To Know)," a melancholy ballad about love lost. "When I wrote this next song, I was crying my face off, which happens even at Christmastime, everyone," Clarkson shared with the crowd. If this song in any way indicates the emotional punch of Clarkson's full breakup album, then you should probably get your tissues ready now.