Plastic Surgeon Decodes Khloé Kardashian's Transformation - Exclusive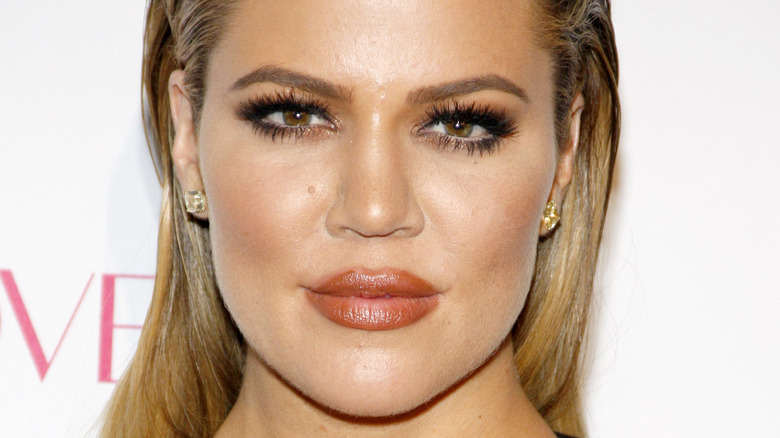 Tinseltown/Shutterstock
There was a time not so long ago when Kylie was the member of the KarJenner fam whose face appeared to have undergone the most marked — and organically questionable — changes. These days, however, that title most definitely belongs to Khloé Kardashian who, through the knife or through filters, barely resembles her old self anymore. We simply need to know: How much of Khloe's new face can be attributed to soft-lighting and makeup trickery and how much was acquired in a doctor's office?
So we decided to ask an actual plastic surgeon to weigh in. Cosmetic surgeon Dr. Sean Satey gives Nicki Swift the exclusive low-down on what procedures he can spot in Kardashian's face, from surgery to fillers to lasers to moisturizers. Not that he would necessarily do anything differently himself. "Looking at Khloe's most recent picture (without knowing what she looked like before), her results look natural," Satey said. "And, that's what it's all about."
Plastic surgery expert notes multiple procedures on Khloé Kardashian's face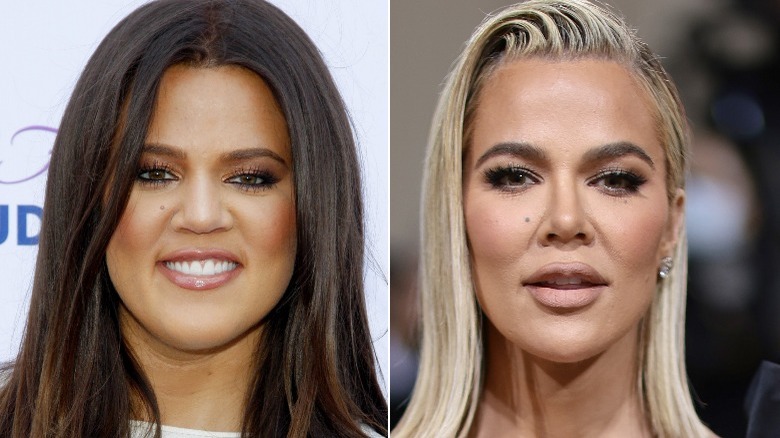 Dimitrios Kambouris/Getty & Tinseltown/Shutterstock
So far, Khloé Kardashian has admitted to having gotten exactly one nose job, and that's pretty much it. "For me, everyone says, 'Oh my gosh, she's had her third face transplant.' But I've had one nose job," she told Andy Cohen during the "Keeping Up With the Kardashians" reunion show in 2021 (via Us Weekly). "You're the first person in an interview that's ever asked me about my nose. I've done, sure, injections — not really Botox. I've responded horribly to Botox."
But Dr. Sean Satey tells Nicki Swift a slightly different story. He says it looks like Kardashian has gotten not just a nose job, but also "Buccal fat pad removal to slim the face and cheeks; fillers to her chin, jawline, cheekbones, lips, and undereyes to create more facial symmetry and add volume; Liposuction with skin tightening (Renuvion J Plasma versus Facetite) of her neck to get rid of the fat and tighten the skin; and Morpheus8 to the neck, jowls, face to tighten the skin and reduce the fat burden." 
All of this plus Botox, Satey thinks, as well as eyelash extensions, a healthy moisturizer, and "platelet rich plasma (PRP) to the face, neck and scalp to rejuvenate the skin and increase scalp hair growth." Not exactly a "face transplant," but it's definitely not nothing, either. 
Khloé Kardashian has not had a face transplant, however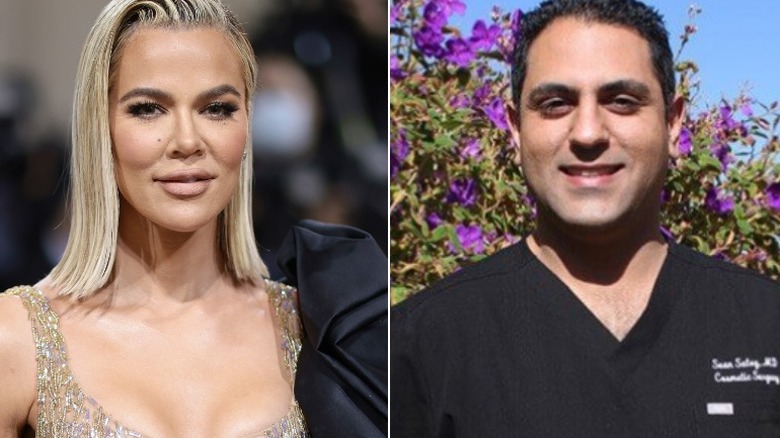 Gotham/Getty Images/Dr. Sean Satey
When asked what procedures were most noticeable on Khloe Kardashian, Dr. Sean Satey says the rhinoplasty (that would be the nose job), as well as "liposuctioning and skin tightening of her neck as it completely eliminates the fat, defines the jawline, and tightens the skin." More subtle, according to Satey, would include, "Botox (neurotoxins) since those are most noticeable with dynamic movement and not seen when static, like in a picture," and the PRP. 
Either way, it doesn't seem like Kardashian appreciates all the speculation. As she told Amanda Hirsch on her "Not Skinny But Not Fat" podcast (via People), "It didn't bother me. It offended me," when people accused her of, in her words, getting multiple "face transplants." She continued, "Like, I want everyone to know ... I don't care to lie about it. But the transplant thing, I just want to understand why."
We're not sure if full face transplants are a thing that exists, but if they are, we suppose the Kardashians would know about it.