Body Language Expert Says Queen's Coffin March Signifies Turning Point For Harry And William - Exclusive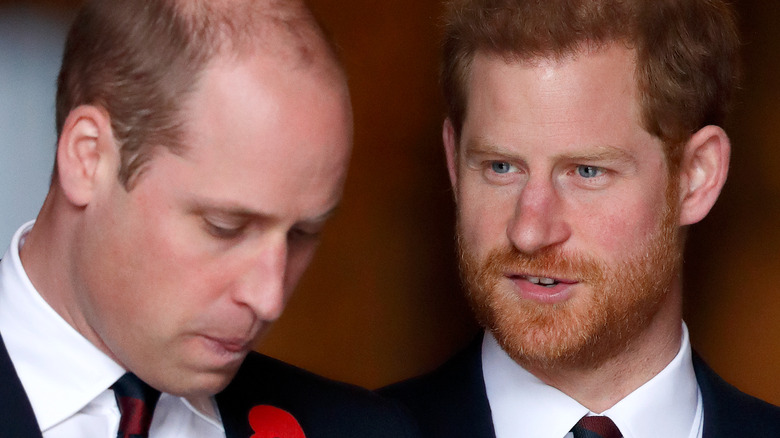 Max Mumby/indigo/Getty Images
On September 8, many across the world were saddened when the royal family's Twitter account announced Queen Elizabeth II passed away at 96. Since then, the remaining royals have somberly picked up the pieces in the wake of the matriarch's death while also stepping into new official roles. However, alongside their duties to the late queen, the family have also put aside their differences to form a united front –– specifically regarding Prince Harry and William, Prince of Wales.
Over the last two years, the brothers have navigated a tense relationship after Harry and Meghan stepped down from their royal duties. "We all know what the British Press can be like, and it was destroying my mental health," Harry told James Corden in 2021. "So I did what any husband and any father would do and be like I need to get my family out of here." There have been rumors William wasn't as supportive in Harry's efforts, while others have accused the younger royal of unfairly icing out his sibling.
While Harry and William have seemingly put their differences to rest over the last week, fans have speculated that the two are still embroiled in a feud after their latest appearance at the queen's coffin procession on September 14. However, a body language expert has shut down any rumors of tension.
Expert says William and Harry are on the same page
While some fans have celebrated William, Prince of Wales and Prince Harry's reunion, others have speculated their feud is still ongoing after the two appeared standing far apart during the queen's procession on September 14, keeping space as they marched along in a group which also included King Charles III and Prince Andrew.
However, body language expert, communication coach, and author of "A.W.E.S.O.M.E.," Jess Ponce III, says that couldn't be father from the truth. "During today's procession, onlookers saw the multigenerational family united together to honor the longest reigning monarch in British history," the author explained in exclusive analysis for Nicki Swift. "The brothers walked in unison... Their gazes remained appropriately forward, without interaction with one another." Ponce also said that publicly showing affection while transporting their grandmother's coffin is inappropriate due to the event having a "certain decorum as members of the Royal Family." Ponce also pointed to a potential turning point, highlighting, "If anything, today was the most appropriate and connected these two princes in recent days."
While fans may never know the exact intricacies of William and Harry's current relationship, the two did appear to meet up before the aforementioned event. According to Page Six, the duo and their wives — Catherine, Princess of Wales and Meghan Markle — shared a family meal together in Buckingham Palace.