Jada Pinkett Smith's Latest Selfie Brings Up Memories Of The Oscars Slap
Karwai Tang/Getty Images
Nearly six months after the slap heard 'round the world, people have finally stopped talking about it — except for Chris Rock. The comedian initially stayed quiet about his on-stage altercation with Will Smith at the 94th Academy Awards, saying, "I have a whole show, and I'm not talking about that until I get paid," per the Desert Sun. And he's certainly delivered on his promise. Rock has since discussed the incident throughout his Ego Death World Tour, most recently comparing it to the murder of Nicole Brown Simpson. Brown Simpson's sister Tanya Brown responded, telling TMZ that the joke was "distasteful" and "totally gratuitous."
Meanwhile, the Smiths have been laying low as they ride out the backlash. The last time Will Smith publicly acknowledged the slap was in a six-minute-long video posted on July 29, when he apologized to Rock and his mother, who also took offense. Smith concluded the video by saying, "I promise you, I am deeply devoted and committed to putting light, and love, and joy into the world." His wife Jada Pinkett Smith, who was involved in the slap by proxy, seems to be following in his footsteps — she's mostly focusing on "Red Table Talk," her show with mother, Adrienne Banfield-Norris, and daughter, artist Willow Smith. However, between promoting the latest episode, Pinkett Smith has posted a selfie that's sure to reignite the chatter.
Jada Pinkett Smith says bald is beautiful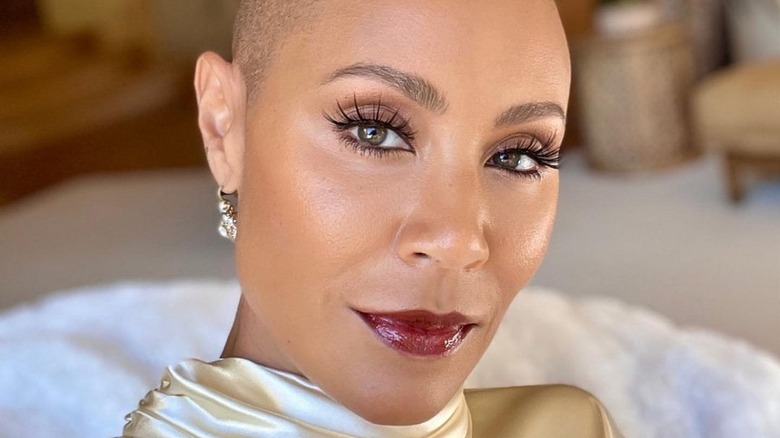 After she was called "G.I. Jane" by Chris Rock in the Oscar joke that led to the slap, Jada Pinkett Smith is turning an insult into something inspiring. On September 13, the actor posted a stunning selfie via Instagram alongside the caption, "Happy Bald is Beautiful day to all my brothers and sisters with no hair." Before and after the incident, Pinkett Smith has been vocal about experiencing alopecia areata, the medical term for patchy hair loss. She even dedicated a "Red Table Talk" episode to the condition in 2018, saying, "It was one of those times in my life when I was literally shaking with fear ... My hair has been a big part of me."
While Pinkett Smith didn't mention Rock or acknowledge the slap at all, the post still evokes the drama of months past. After the Oscars, there was considerable debate over whether or not Rock knew about her alopecia when making the joke. Although he had previous beef with Pinkett Smith, it's unclear if he kept up with her enough to hear about it. Either way, she's chosen to redefine the moment and spin it into something positive.
Between Rock's comedy tour and Pinkett Smith putting her confidence on display, two out of the three parties involved in the slap have successfully bounced back. All that's left is a comeback for the Fresh Prince — time will tell if and when that happens.