King Charles' Favorability In America Is Becoming Crystal Clear
Wpa Pool/Getty Images
While King Charles III is inheriting a throne, it appears that he isn't inheriting the goodwill that his late mother earned with the American people. Months before Queen Elizabeth II's death, a YouGov poll of U.S. citizens found that the queen was the most popular living royal across the pond. All of Charles' children polled ahead of him as well, with the only royals he finished in front of being his wife Camilla Parker Bowles and his disgraced brother Prince Andrew.
The Guardian observed former American presidents on opposite ends of the political spectrum, Barack Obama and Donald Trump, both seemed to hold the queen in high regard, and the Independent noted that current President Joe Biden paid tribute to her by ordering the country's flags to be lowered to half-mast. In short, Charles has a big crown to fill.
Unfortunately for the king, Americans are already becoming hyper-critical of his behavior. Video footage of Charles expressing his frustration with a leaky pen became a hot topic on Twitter, where one viewer opined, "Somehow, I don't think he'll be easy to work with. His patience level seems nil." According to the Express, "GB News" host Patrick Christys seemed miffed by Americans' reactions to the video. "Why are Americans just queuing up to tarnish our Royal Family?" he asked royal expert Paul Duddridge. The answer may be linked to the queen's popularity in the U.S.
Why aren't more Americans happy about Charles being in charge?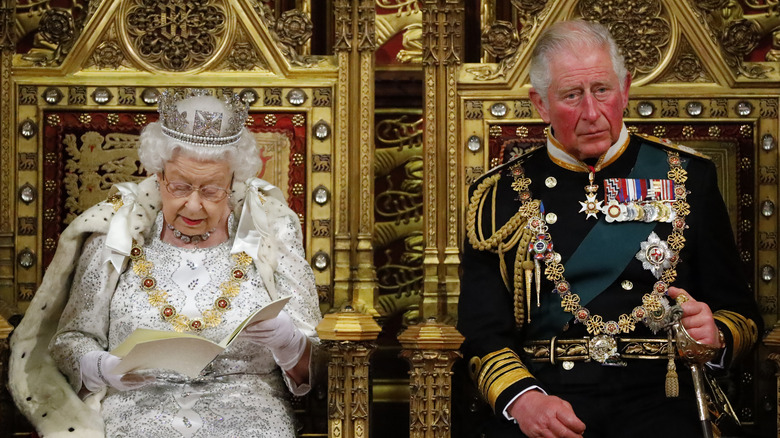 Wpa Pool/Getty Images
Days into his reign, King Charles III was rewarded with a negative headline from Intelligencer accusing him of hating Americans, which will certainly do him no favors in the eyes of readers. Meanwhile, Politico suggested Americans might return the sentiment because Charles is more politically active than his mother was. The outlet pointed to his efforts to warn the public about the cost of failing to take action on climate change as an example of behavior that might rub some Americans the wrong way.
Then there's that 2022 YouGov poll. It found that Charles' late ex-wife, Princess Diana, was Americans' favorite royal, living or dead. Many of those who revere the late Lady Di probably haven't forgotten Charles' admission to being unfaithful to her before their divorce.
On "GB News," royal expert Paul Duddridge also pointed out that Americans couldn't help but compare Charles to Queen Elizabeth II when he let something as minor as a leaking pen get under his skin. "The Americans are used to 70 years of serenity basically, they're used to unflappability from a monarch," said Duddridge, per the Express. "Supporters of the UK and the Royal Family are kind of shocked at the seeming petulance." So when Charles makes his first visit to the U.S. as king, he might want to invest in some leak-resistant writing implements.