Cardi B Is Closing The Book On Her Latest Legal Snafu
Tinseltown/Shutterstock
Cardi B, whose legal name is Belcalis Marlenis Almánzar, appeared in court on September 15 to plead guilty to two misdemeanor charges for her involvement in a 2018 fight that broke out in a New York City strip club. 
While the Grammy Award-winning rapper wasn't the only member of her entourage physically involved, she was accused of participating in a fight (and urging an acquaintance to participate) against two bartenders. According to The New York Times, the "WAP" rapper thought that one of the bartenders was romantically involved with her husband, Offset.  
Joseph Tacopina, the lawyer representing the bar employees accused Cardi B of purposefully orchestrating the attack, per The New York Times. In April 2019, the rapper rejected a plea deal which have kept her out of jail, according to NBC News. However, Cardi B changed her tune just days before her case was to go to trial. And though the last few months have left Cardi B's future a bit uncertain, things are definitely looking up for her now. 
Cardi B has to do community service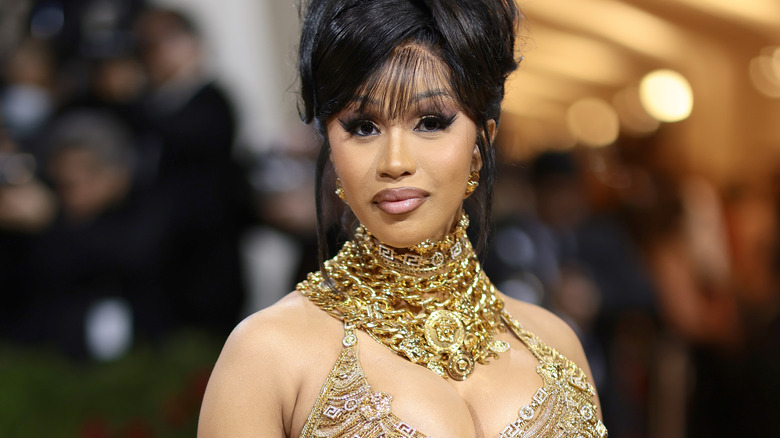 Dimitrios Kambouris/Getty Images
A guilty plea is not usually a cause for celebration. However, Cardi B's plea, which involved her admitting to paying her friend $5,000 to attack the bartenders, per News.com, helped her to avoid possible jail time, according to TMZ. 
In a statement given to the publication, the rapper took accountability for her actions and shared a more positive outlook regarding her future. "Part of growing up and maturing is being accountable for your actions," wrote the rapper. "As a mother, it's a practice that I am trying to instill in my children, but the example starts with me. I've made some bad decisions in my past that I am not afraid to face and own up to." She added that "these moments" are not necessarily "reflective" of her current self and that she's ready to get back to music and her fans.
Given this win, Cardi B, who was still immaculately dressed in an all white ensemble set against fiery red hair, stopped by the San Gennaro festival and celebrated her legal victory with sausage and peppers and a diet soda, per The Daily Mail.