Inside Dax Shepard's Fixation With Cars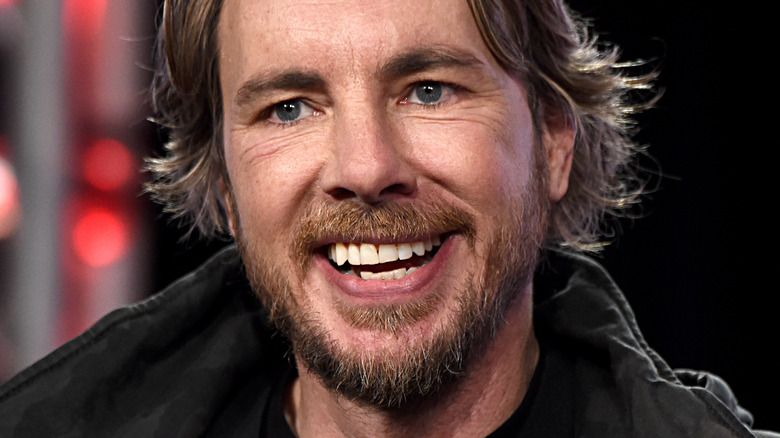 Amanda Edwards/Getty Images
Dax Shepard is a proud gearhead who has taken his love of cars to the big and small screens — fans can see him playing an ex-getaway driver who drives some souped-up rides in the 2012 movie, "Hit and Run," and he fuels his passion for turbo-charged vehicles even further as a co-host of the automotive series "Top Gear America."
Shepard's wife, Kristen Bell, is his co-lead in "Hit and Run," but she told ComingSoon.net she had some reservations about Shepard's need for speed when they first met. However, after she witnessed his skill behind the wheel, she felt better. "I got over my fear of him with anything with a motor in about six months of knowing him," she stated.
Bell has indulged her husband's obsession with automobiles by allowing him to spend some of their money on adding to his car collection, but she doesn't always show his rides the respect he thinks they deserve. In 2020, Shepard Instagram-shamed his wife for peeing in a cup inside his brand new Dodge Charger Hellcat. "The car is 36 hours old!!!! So much disrespect that I almost have to respect it," he wrote. But Shepard told People he's teaching the two daughters he shares with Bell to appreciate automobiles like he does, and it seems that a veneration for vehicles is in their blood.
Dax Shepard's obsession with cars began at a young age
Dax Shepard grew up in Michigan, a state synonymous with the auto industry — and it kept his family employed. His father sold cars; his mom worked for General Motors; and his stepfather was a Corvette engineer. On the "Filling the Void" podcast, Shepard said his mom only went on her first date with his dad because she was impressed with the '68 Chevelle he owned. "I was a car nut, like, immediately out of the womb. Anything with cars, I loved," Shepard told Complex. It was through his stepdad that Shepard was introduced to high-powered sports cars like the Ferrari 308. However, in an interview with MotorTrend, he revealed that it was his mother who let him get behind the wheel of her car when he was still in grade school.
At age 15, Shepard bought his first vehicle. "[It] was a 1976 Pontiac Catalina that I got on the side of the road in northern Michigan for $400," he recalled. He told ComingSoon.net that he was still in high school when he hopped behind the wheel to help his mom do photoshoots for her business producing GM auto shows. Around that same time, he also started drag racing in an '84 Mustang GT, per MotorTrend. But it was a 1967 Lincoln Continental that would become his most cherished ride. When he became a first-time father, he paid tribute to the car in a major way.
Dax Shepard named his daughter after a car
Dax Shepard wrote the screenplay for "Hit and Run," which was inspired by his passion for cars. His customized 1967 Lincoln was featured prominently in the film, and Kristen Bell told ET Canada that he performed all of the driving stunts his beloved ride was used for. "He does not let anyone else including me touch his cars," she revealed. But, one day, Shepard plans on letting his oldest daughter get behind the wheel of the Lincoln, which he purchased back in college. Per MotorTrend, it was a hunk of junk at the time but Shepard sunk a lot of time and money into turning it into a speedy hot rod.
When Shepard and Bell welcomed their first daughter in 2013, they decided to name her after the car that was so dear to her dad. Shepard told People that the sedan is Lincoln's "birthright," and he revealed that she and her younger sister, Delta, are gearheads in the making. "They always make my day when we're on the road and they know cars," he gushed. The girls have also seemingly inherited their dad's daredevil DNA — they can't wait to take his menacingly-named Hellcat out for a spin.
At age 7, Lincoln could already drive a small dune buggy. "I sit in the passenger's seat and she just hauls, off-roading," said Shepard. So, if he ever needs a stunt driver for a future film, he knows just the girl for the job.