The Meghan Markle Funeral Conspiracy Everyone Can't Stop Talking About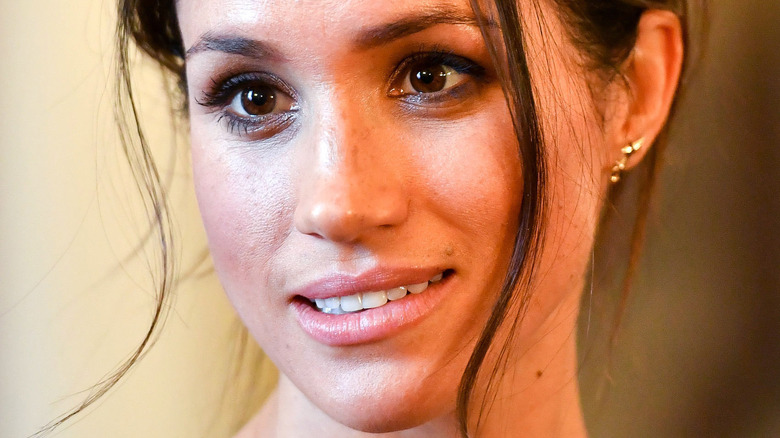 Wpa Pool/Getty Images
Prince Harry was in Europe when he learned that Queen Elizabeth II was in poor health back on September 8, according to The New York Times. He quickly made arrangements to head to Scotland to see his grandmother, but she died before his arrival. Over the past week, the Duke of Sussex has been on-hand to honor the queen's life alongside the rest of his family.
Prince Harry and his wife, Meghan Markle, have been distant from the royal family since deciding to step down as senior members back in 2020. The two moved to the United States and have been living their lives on their own terms, out of the public eye and far from Harry's home in the UK. The move caused a rift between Harry and his family, and things have been unsteady ever since. Harry and Meghan are believed to have kept in relatively close contact with the queen, even jumping on a video call with her to introduce her to their daughter Lilibet Diana, who was born in June 2021, according to People magazine. In the months that followed, reports of strife between Harry and his family continued. 
Following the queen's death, both Harry and Meghan have been in the UK. At one point, the two were seen greeting people outside of Windsor Castle alongside William, Prince of Wales, and Catherine, Princess of Wales — Harry's brother and sister-in-law — according to People. On September 19, both Harry and Meghan attended the queen's funeral, and social media users noticed something curious during the service.
Meghan Markle was hidden by a candle during the queen's funeral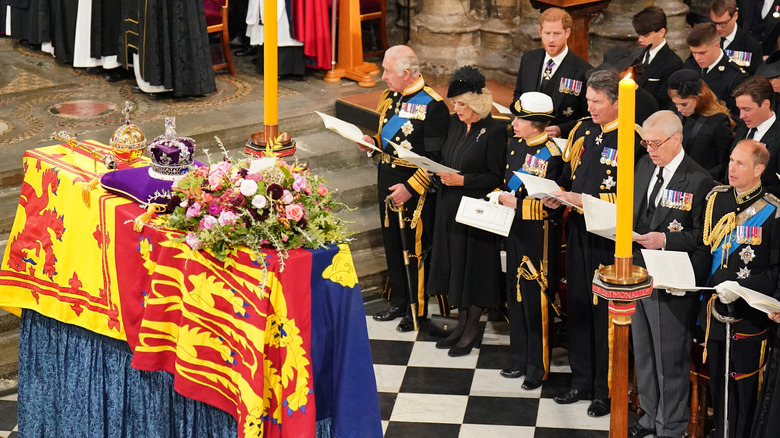 Wpa Pool/Getty Images
Prince Harry and Meghan Markle were seated in the row behind King Charles III, his wife, and the rest of Queen Elizabeth's children next to the queen's casket. Harry stood directly behind his father, with Meghan standing behind Camilla Parker Bowles, however, Meghan was obscured by one of the large candles that was placed around the casket inside Westminster Abbey. People tuning in to watch the funeral from home could barely make out Meghan, whose hat was the only thing visible in the majority of the camera shots. It didn't take long for social media to notice this, many wondering if the camera angles were purposely positioned this way in an effort to block Meghan from view.
"I don't want to be a conspiracy theorist but that candle is totally blocking the view of Meghan," one Twitter user wrote. "Did the BBC place the candle there to avoid having to show Meghans face every time they cut over? (I am a fan btw – Harry and Meghan have comported themselves beautifully in the face of horrendous press and public abuse)," another tweet read. "BBC footage shows a candle blocking the view of the Meghan Markle. If this is not poetic justice... I don't know what it is," a third Twitter user said. Indeed, no one else was completely hidden behind the large yellow candles, and the rest of the royal family, including Princess Anne, Prince Edward, and Prince Andrew could all be seen without any obstruction.
Meghan Markle paid tribute to the queen by way of her accessories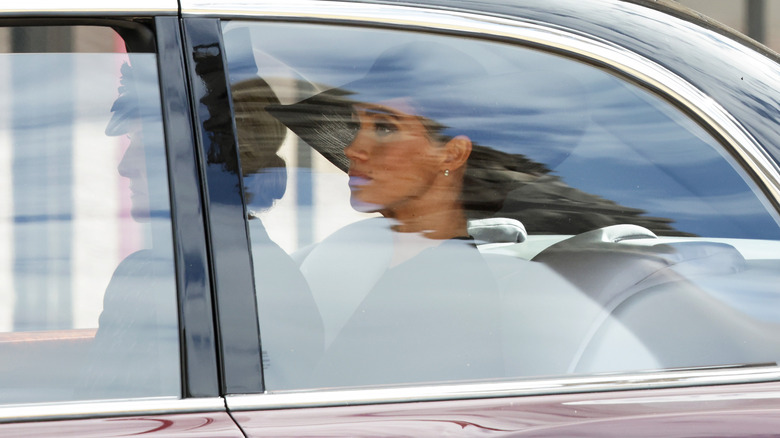 Chris Jackson/Getty Images
Meghan Markle chose an all-black caped dress designed by Stella McCartney for Queen Elizabeth's funeral service, according to the Evening Standard. The Duchess of Sussex paired the dress with a wide brimmed black hat and a pair of pearl and diamond earrings that were gifted to her by the queen, according to the Independent. Meghan walked out of Westminster Abbey alongside her husband before getting into an awaiting car with Sophie, Countess of Wessex, to continue the procession. 
Shortly after the queen's death was confirmed, Prince Harry and Meghan changed the landing page for the Archewell website to a black screen. In the days that followed, Harry penned a tribute to his grandmother that was posted on the site. "Granny, while this final parting brings us great sadness, I am forever grateful for all of our first meetings," Harry wrote, recalling some fond memories that he had shared with his grandmother. "I cherish these times shared with you, and the many other special moments in between. You are already sorely missed, not just by us, but by the world over," he continued, adding that he would honor his father in his new role as king.
The queen will be buried at King George VI Memorial Chapel in Windsor, alongside her husband, Prince Philip, who died in April 2021, according to the New York Post.