Why Didn't Pippa Middleton Go To The Queen's Funeral?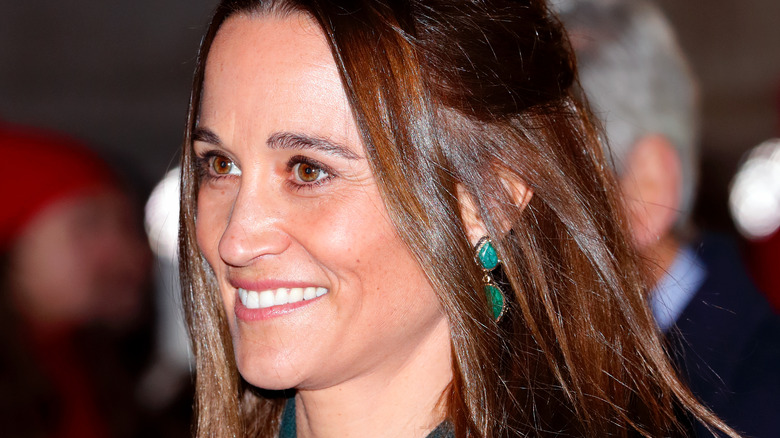 Max Mumby/indigo/Getty Images
The funeral of Queen Elizabeth II on September 19 was a pivotal moment in the country's history and marked one of the largest-ever security operations in the history of the United Kingdom, with royal biographer Robert Hardman describing the event to Global News as "an order of magnitude we simply haven't seen before." To that point, the funeral was packed world leaders, with over 500 heads of state from across the world attending — not least among them President Joe Biden, French President Emmanuel Macron, and the Prime Ministers of Canada, New Zealand, and Australia. 
Of course, also at the queen's funeral was her immediate and grieving family — most prominently King Charles III, his wife, queen consort Camilla, William, Prince of Wales, and Catherine, Princess of Wales, and their two eldest children, Prince George of Wales and Princess Charlotte of Wales. Other members included the queen's other children — Princess Anne, Prince Andrew, and Prince Edward — as well as Charles' younger son, Prince Harry, and his wife Meghan, also known as the Duke and Duchess of Sussex. 
However, there was one notable absence from the processions: Kate Middleton's younger sister, Pippa Middleton. Although the reason behind her absence has not been made public, there are several possibilities which royal observers have speculated, all of which make perfect sense. 
Pippa Middleton's absence might have been due to space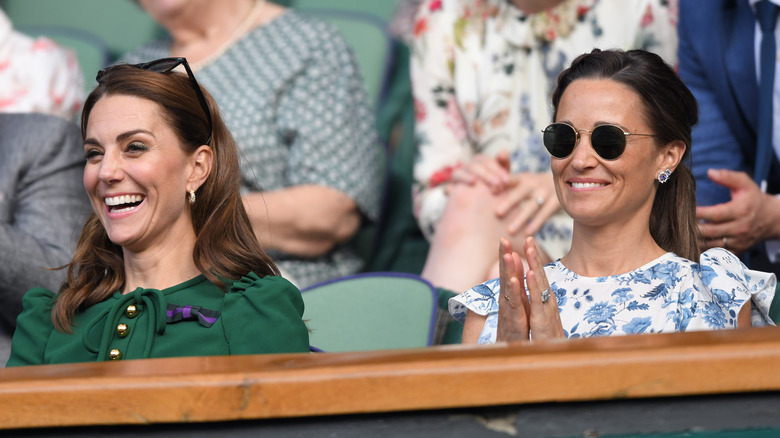 Karwai Tang/Getty Images
According to Hello! Magazine, among the several potential reasons why Kate Middleton's sister Pippa did not show up to the funeral of Queen Elizabeth II is because — due to the unusually high expected turnout – Buckingham Palace directed each family household (and indeed, any guest from around the world) from obtaining more than two tickets. 
Of course, another potential reason why Pippa Middleton may not have shown up to her brother-in-law's grandmother's funeral is because of events going on in her personal life — most notably, the recent birth of her youngest child. In July, People reported that Pippa Middleton and her husband, James Matthews, welcomed their third child — a girl — a few weeks prior. With three young children at home (Pippa and James' eldest, Arthur, will turn 4 in October, while their second-born, Grace, is around 18 months), perhaps the couple decided that it was for the best that they sit this one out and enjoy it from the television at home. 
Outside of raising kids, the couple  the couple According to Hello! Magazine, in 2020, Pippa and James — who is a financier – purchased a 70-acre deer and safari park in Berkshire, in Southeast England, called Bucklebury Farm, where they continue to live today. In addition, Pippa is also an author and blogger for her mother's mail-order business, Party Pieces, meaning that her hands may have simply been too full to attend such a massive event as the funeral. It was a long day, after all!
Kate Middleton's parents did attend the funeral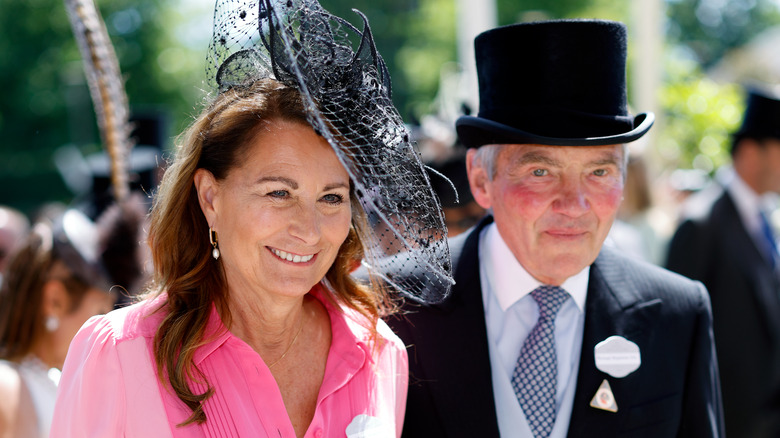 Max Mumby/indigo/Getty Images
Although neither of Kate Middleton's younger siblings — neither her sister Pippa nor her brother James — attended the funeral of Queen Elizabeth II, some of her famous family members were there. Most notably, her parents: Carole and Michael. The two were photographed on September 19 entering the cathedral shortly before the service began. 
Given how their daughter is likely to one day become queen herself, Carole and Michael are no doubt touched by the death of such an important monarch. In fact, Michael and Carole — through her company Party Pieces — posted a heartwarming condolence message on the company's Instagram page. "We are deeply saddened by the death of Her Majesty The Queen," the post read, alongside a picture of Elizabeth II in a stylish pink dress and hat. "For over 70 years she dedicated her life to service for the people of the United Kingdom and the Commonwealth. We offer our heartfelt sympathy to The Royal Family at this time of great sadness."
In addition, although Pippa has been relatively quiet since the queen's passing, her brother James did release a heartfelt statement after the monarch's death on September 8. "Queen Elizabeth II, the epitome of steady grace, resolve and reassurance. Our constant in a world of change," he wrote in a touching Instagram tribute the day after her death, alongside a slide of photos featuring the queen with her beloved corgis. "Thank you for a lifetime of service & leadership." So clearly, even though not all of the Middleton family members were there, they clearly loved the queen as a whole.