Grimes' Bizarre Cosmetic Procedure Is Sure To Turn Heads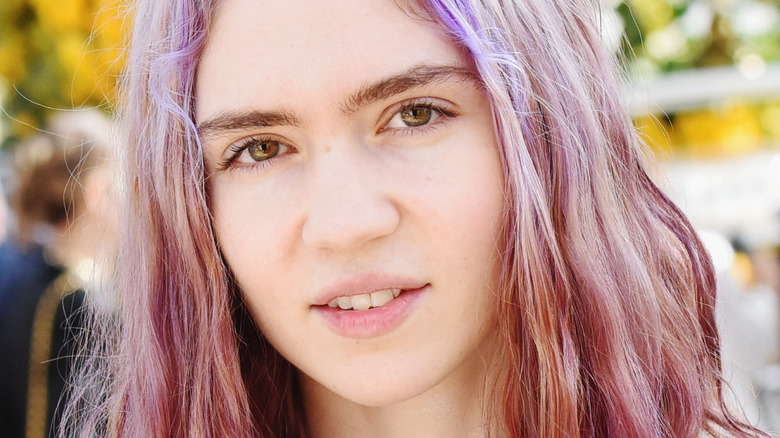 Vivien Killilea/Getty Images
Canadian performance artist Grimes (born Claire Boucher) is well-known for her dynamic musical style and eccentric personality. However, despite her extensive musical career, which extends back to the early 2010s, she also gained fame for meeting business magnate and social media blowhard Elon Musk on the very site he would later attempt (and subsequently fail) to takeover: Twitter. They both made the same pun regarding Rococo and Roko's basilisk in 2018, per Insider (something which Grimes referenced in a tweet September 18), and welcomed two children together before they broke up in 2022. 
However, things took a dramatic turn (even for Grimes) back in August, when she announced on Twitter that she was considering undergoing some serious cosmetic procedures to include "elf ear mods" and "vampire teeth caps." She also expressed concern over how the surgery might affect her ear cartilage, as well as her career. "Im scared about ear cartilage having a hard time healing," she tweeted. "Especially as a musician this surgery seems risky but I've wanted it my whole life."
Now, there is an update on Grimes' bizarre cosmetic saga, and it is sure to turn some heads. 
Did Grimes go through with the elf ear procedure?
On September 17, Grimes sent out a tweet which immediately started turning some heads. "I did smthn crazy!" she wrote, alongside a picture of her in a hospital gown, and her head bandaged in what appeared to be the aftermath of some kind of surgery. Given how she has previously expressed a desire to modify her head to have elf ears, her tweet immediately sent fans into a flurry of emotion, ranging from excitement to fear. 
"YOU DID THE EARS??" one fan replied in shock. Another simply said, "Girl what," while others expressed fear. "Ooh I don't like what an seeing am scared," another fan wrote in response. 
Grimes has not yet updated her fans on this possible procedure since her tweet, so it is unknown yet whether or not she actually underwent the desired "elf ear mod" surgery, and if so, to what extent. But given Grimes' close relationship with her fans, she's sure to reveal the full extent of her actions soon enough.