RHONJ: How Are Caroline Manzo And Jacqueline Laurita Related?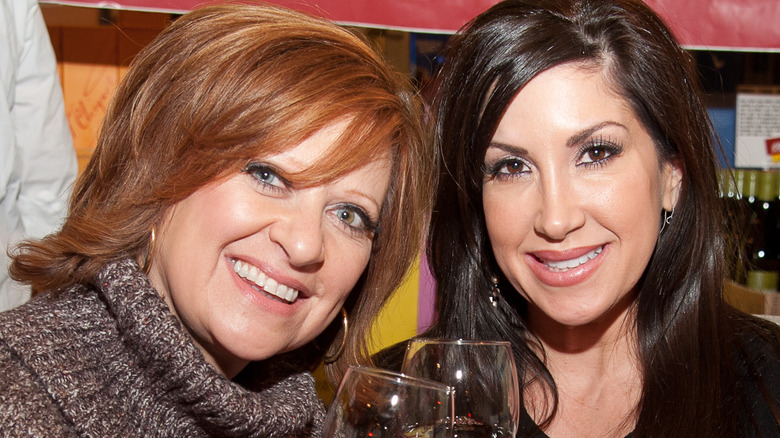 Dave Kotinsky/Getty Images
Former "Real Housewives of New Jersey" stars Caroline Manzo and Jacqueline Laurita were fan-favorites on the Bravo series, but exited the franchise years ago, per Us Weekly. The reality stars are not blood-related, but are technically considered family through marriage. Jacqueline married Caroline's brother, Chris Laurita, and therefore the former reality stars are sister-in-laws, according to Bravo's The Daily Dish.
The very first season of "RHONJ" featured the Manzos and Lauritas, as well as Teresa Giudice and the series' "villain" Danielle Staub, per IMDb. Caroline's blood-related sister, Dina Manzo, was a housewife as well. At the time, Caroline and Dina were married to two brothers, Tommy and Albert. This, of course, made them both take the last name Manzo after separately tying the knot. Confusing!
Unfortunately, Dina and Caroline have been estranged and not spoken to each other in years, according to The U.S. Sun. According to Dina, it all started with jealousy. She explained on "Jeff Lewis Live" (via Reality Blurb), "I don't think she loved it too much when I kinda came to her level, as far as like 'I have a range rover, I got a house in Franklin Lakes,' so I think that's where it started." After Dina went through a tumultuous divorce from her husband Tommy Manzo, the sisters' already strained relationship only further deteriorated. Unfortunately, it appears blood isn't always thicker than water. While Caroline has cut off her sister, she has remained close with her sister-in-law, Jacqueline.
Caroline Manzo and Jacqueline Laurita both quit RHONJ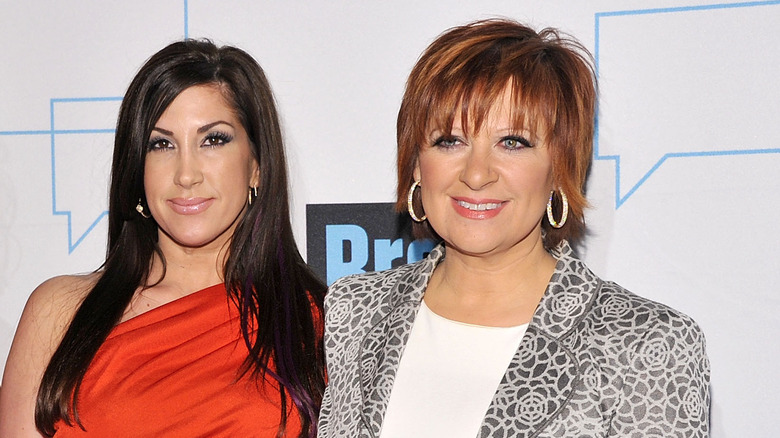 Mike Coppola/Getty Images
Caroline Manzo and Jacqueline Laurita may not be on "The Real Housewives of New Jersey" anymore, but they still continue to support each other online and have maintained a strong friendship. Manzo exited "RHONJ" after five seasons, according to E! News, and did not return for Season 6. A few years later, Laurita revealed that she would not return to the show for Season 8 after some explosive arguments with co-star Teresa Giudice and Giudice's sister-in-law Melissa Gorga. The network offered Laurita the role as "a friend of" the other housewives, but she ultimately thought it didn't feel right and decided to exit the series altogether. Laurita told ET, "I think the feeling [from the network] is that I no longer have an authentic connection with two of the season's cast members. I think they feel I no longer fit in with the group."
In 2018, there were rumors that Manzo and Laurita may return to the series, but nothing ever came into fruition. Manzo was given a spin-off show on Bravo called "Manzo'd With Children," but the series ended in October 2016 after three seasons, per Us Weekly. After the sisters-in-law decided to step away from the network, it quickly became clear that "RHONJ" was heading in a new direction that left their roles in the past.
The former RHONJ stars have each others backs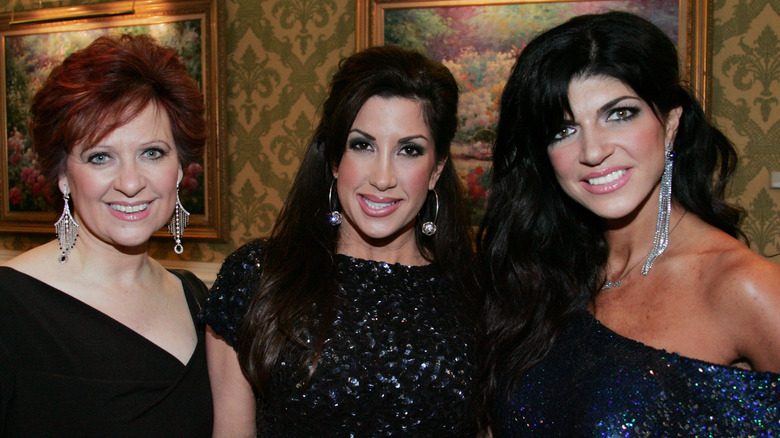 John W. Ferguson/Getty Images
In 2018, rumors began circulating again that Caroline Manzo was potentially rejoining the cast of "The Real Housewives of New Jersey." In an interview with E! News, Teresa Giudice spoke poorly about Manzo and was clearly not excited about the former reality star's potential return to the show. Jacqueline Laurita, however, came to her sister-in-law's defense and was in full support of her returning to "RHONJ" if that's what she wanted. During an appearance on Albie Manzo's podcast, "Dear Albie" (via Page Six), Laurita said, "You [Caroline] are the REAL queen of that show and Teresa knows it! That's why she doesn't want you back and is always talking bad about you publicly. She's scared of you."
Manzo revealed that she was asked to come back to the show as "a friend of," but not as a featured housewife, so she declined. She demanded that she was paid what she believed she deserved and seemed to want the official "housewife" title back as well. However, the network and Manzo evidently never reached an agreement as she never made her return to the series, but the drama didn't stop there.
In May, Manzo said on "Dear Albie" (via E! News) that she would be happy "to go smack the bully," meaning Giudice. Giudice later accused Manzo of only talking about her to gain clout and promote her son's podcast, per TMZ. Despite all of the drama surrounding Laurita and Manzo, the sisters-in-law seem appear to be as close as ever.