Tom Brady Gives Telling Insight Into His Current State Of Mind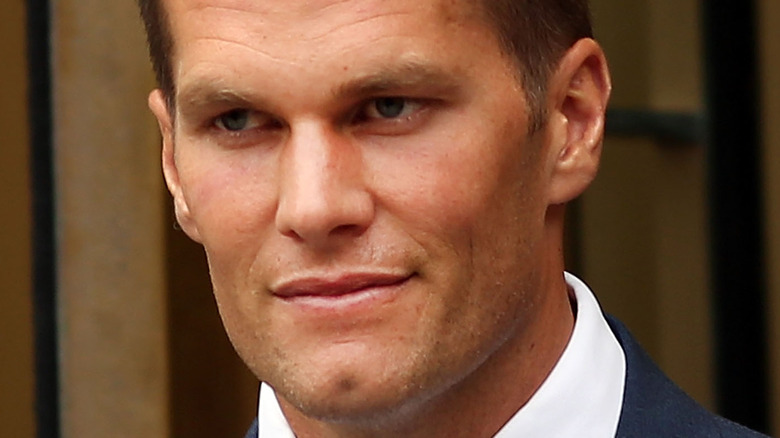 Spencer Platt/Getty Images
Fans are speculating this could be Tom Brady's final season — but whether or not the QB wants to deliver his swan song, it hasn't gone smoothly thus far. That's because Brady can't seem to stop making headlines for reasons other than his throwing arm. On September 18, he was involved in an on-the-field brawl after exchanging words with New Orleans Saints running back, Marshon Lattimore. In the same game, Brady spiked a tablet in frustration as the Saints held the Tampa Bay Buccaneers to a field goal late in the third quarter. When the Bucs eventually prevailed, Brady took to Twitter to apologize for his actions. "Sorry for breaking that tablet," he told fans. "I think that's going to be another Twitter meme or something like that."
But if it isn't his on-the-field antics, then it's his personal life. Ever since Brady took time off in the pre-season, the NFL veteran has been dogged by rumors that his marriage to Gisele Bündchen is on the rocks. According to People, the model isn't happy that Brady retracted his retirement to once again take the field for the Bucs. Currently, "Gisele is busy with her own life now, and has spent time away from Tom in Miami and New York," another source told People. As the couple attempt to work things out, and as Brady's tablet-spiking behavior continues to go viral, many fans are questioning TB12's current state of mind.
Tom Brady is re-evaluating his head space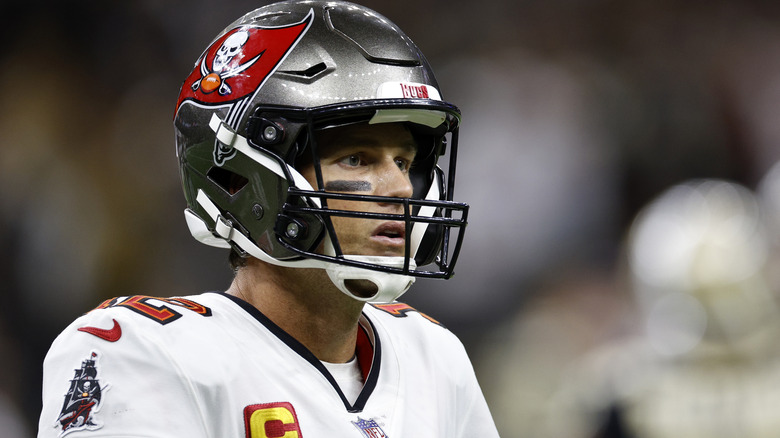 Chris Graythen/Getty Images
Tom Brady is aware that fans have flagged his recent unsportsmanlike conduct. Following the game against the Saints, Brady (uncharacteristically) shared some insight into his emotions on a September 19 episode of the "Let's Go!" podcast, which he hosts with Larry Fitzgerald and Jim Gray. "I didn't do a very good job of [staying calm] and I've gotta be really mindful of that going forward and getting my emotions in a good place so it allows me to be the best player I can be," Brady said. "I think there are points where you can become too overly emotional, which I definitely think I was [on Sunday]. I've got to find a better place to be at so I can be at a better place for my teammates." The seven-time Super Bowl champ also joked that his job is demanding. "The fact that I have worked weekends for the last 23 years, I do deserve one day off a week," he added.
While Brady is known for his incredible work ethic, he seems to be prioritizing family over the field this go-around. Per NFL News, he announced his intent to take a veteran day off every Wednesday, which is a new practice for the player. This came following a September 11 appearance on "Let's Go!," in which he noted that the consistent schedule of the game gives life some "simplicity" and that he's getting better at juggling his work and personal life.