Lip Reader On What Prince William And Prince Harry Said During The Queen's Funeral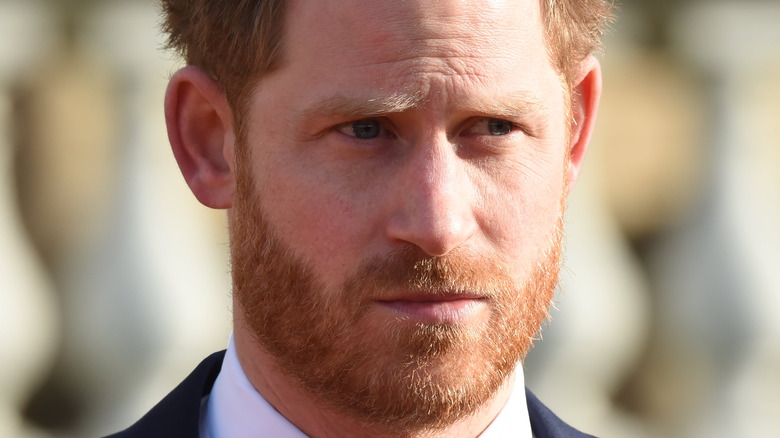 Wpa Pool/Getty Images
Since they were born, Prince William, Prince of Wales, and Prince Harry, Duke of Sussex have been immersed in the spotlight. Throughout their childhood, teen years, and early adulthood, the popular brothers presented a united front as they navigated the slippery tabloid world. However in 2018, their once close relationship reportedly began to crack after the two made headlines for their tense interactions. According to Vanity Fair's royal insider Katie Nicholls, one of their early disagreements was due to Prince William's attitude towards Prince Harry's wife, Meghan Markle, during the holiday season. "Harry felt William wasn't rolling out the red carpet for Meghan and told him so," a mutual friend of the princes told her. "They had a bit of a fallout, which was only resolved when Charles stepped in ..."
Following the reported incident, the two princes seemingly put aside their differences and were relatively on good terms. But in 2020, it all came to a head when Harry and Meghan announced that they would be stepping away from their royal duties. "After many months of reflection and internal discussions, we have chosen to make a transition this year in starting to carve out a progressive new role within this institution," the couple said in an official statement. Shortly after the surprising news made headlines, Us Weekly reported that Prince William was "blindsided" and "incredibly hurt" over Prince Harry and Meghan's departure. After being separated for two years, fans hoped the two would reconcile in light of Queen Elizabeth II's passing. While they appeared to exchange words at the queen's funeral, it seems as though the brothers have yet to formally reconcile.
Prince Harry and Prince William shared a few words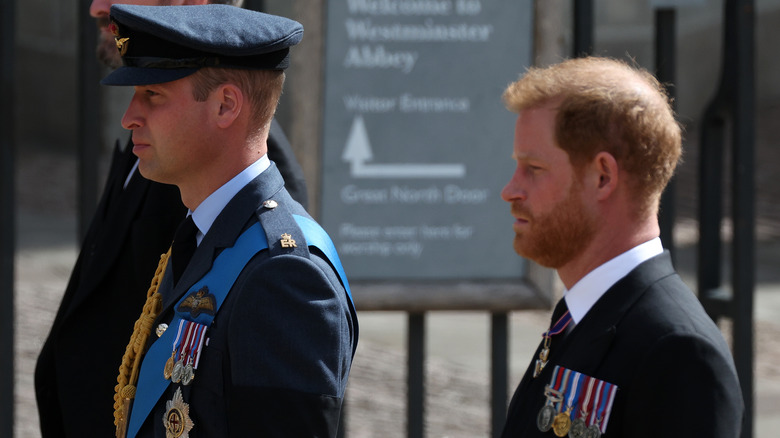 Wpa Pool/Getty Images
On September 8, the world came to a halt when Buckingham Palace announced the death of Britain's longest-reigning monarch, Queen Elizabeth II. In the days following, every sector of the royal family came together to celebrate, honor, and lay to rest the beloved queen. However, one of the biggest surprises to come out of the 12-day-long mourning period was the reunion between Prince William, Prince of Wales and Prince Harry, Duke of Sussex.
On September 11, the duo reunited outside Windsor Castle to greet mourners. While Prince Harry and Prince William's united front was a surprise to royal enthusiasts, a source revealed to The Times that it was intentional. "The Prince of Wales thought it was an important show of unity at an incredibly difficult time for the family," they explained. A source told ET that William invited Harry and Meghan to the event via text only an hour beforehand. It was the first time they had seen each other since their grandmother's death.
In the days following their initial reunion, the two were seen together honoring their late grandmother and participating in official royal obligations. During the queen's funeral, fans spotted the two brothers partaking in a conversation –– with some taking the interaction as a sign of reconciliation. However in a statement to the New York Post, a lip reader revealed that William and Harry were merely exchanging formalities regarding the seating order. "Shall we go through first?" Harry reportedly asked the Prince of Wales, to which William responded, "Yes." William then told Kate Middleton, Princess of Wales, to "let [Harry and Meghan] go through first, to which Kate said, "Ok."
Will Prince Harry and Prince William ever be on good terms?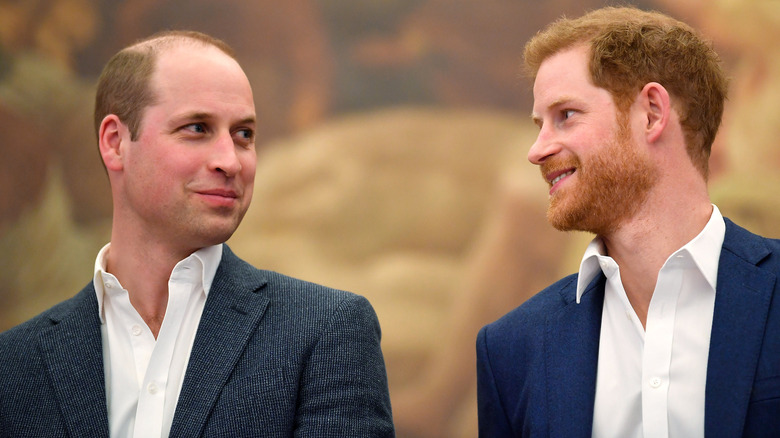 Wpa Pool/Getty Images
With Queen Elizabeth II's funeral officially completed, royal fans have turned their full attention to Prince Harry and Prince William, Prince of Wales. Due to the brothers spending a large amount of time with each other during the funeral proceedings, fans have hoped that they would put their differences aside. However, royal experts have seemingly crushed any ideas of the two reconciling anytime soon. "There is still a serious amount of distrust in the air, and there hasn't been any cause for that to change," a source told the Mirror. "The feeling is very much that there is little point in pursuing a repair in relations until all the cards are on the table."
While a reunion may not happen in the near future, another royal expert claimed that Prince Harry has been filled with "regret and sadness" regarding his relationship with Prince William. "During the [funeral] service [Harry] was dabbing tears as well as tending to look around a lot, and there were at least two occasions when his gaze that was more of a stare appeared directed at William," body language expert Judi James revealed to The U.S. Sun. "His expression suggested sadness and possible regret." The expert went on to say that Harry put on an "emotional display" after his brother and sister-in-law [Catherine, Princess of Wales] refrained from glancing at him. James added, "His face seemed to pucker into a more intense signal of grief, and his lips sucked in again."