Fans Theorize Unexpected Family Member Leaked The Name Of Kylie Jenner's Son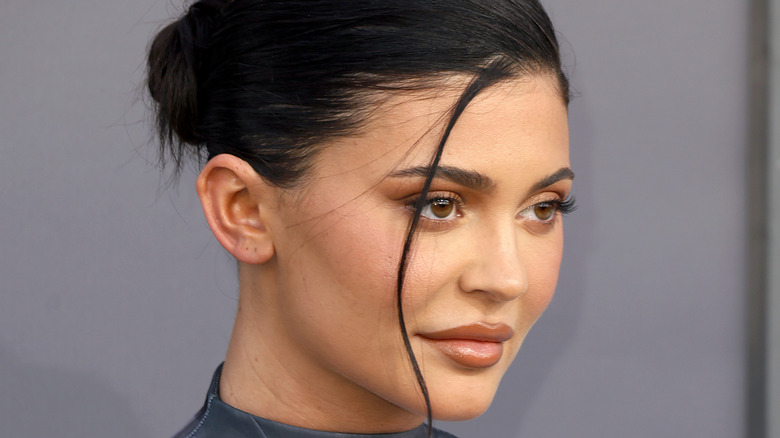 Frazer Harrison/Getty Images
Kylie Jenner welcomed her second child — a boy — back in February. While she's been keeping his name (and face, for that matter) a secret, fans think they may have finally figured out the truth.
While Jenner and partner Travis Scott initially revealed their son's name was "Wolf," the Kylie Cosmetics founder changed her mind about that name. "FYI our sons name isn't Wolf anymore," she shared in a post on Instagram. "We just really didn't feel like it was him. Just wanted to share because I keep seeing Wolf everywhere." Jenner later revealed on "The Late Late Show with James Corden" that her son's name was legally still Wolf, but that's not what she and the rest of her family called him. She at least let the public know that the boy wasn't named after an animal.
With fans already wondering what this mysterious son's name really is, a member of the Kardashian-Jenner family may have unintentionally blown the secret.
Did Khloé Kardashian's daughter True spill the beans?
On the Season 2 premiere of "The Kardashians" on Hulu, Khloe Kardashian saw her surrogate (who remained offscreen) give birth to her son with Tristan Thompson. Page Six revealed that, moments later, Kardashian's daughter, True Thompson, may have unintentionally shared the name of Kylie Jenner's son. When Kardashian let True see the baby on a FaceTime call, True exclaimed, "Hi Snowy!" Her mom quickly corrected her, "His name's not Snowy."
That split-second moment has fans debating online on whether "Snow' or "Snowy" is the name of Kylie Jenner's son. "Is it just me or True just gave us a hint? Storm[i], Snowy...?" one fan speculated. "Stormi and Snow, or Snowy, feel[s] on brand for Kylie anyway. I can't stop thinking about it," a Twitter user shared. Others felt that the theory was a bit of a reach. "A TikTok showed a clip with True and they think "Snowy is the name of Kylie['s] baby boy, Snowy and snort sound[s] cute, but I doubt [it]." another user tweeted.
Earlier in the episode, Kardashian revealed True was also telling random people that she was having a baby brother, which was the truth. So maybe this little 4-year-old is right. Time will tell!