Why Charlize Theron Didn't Get Along With Tobey Maguire At First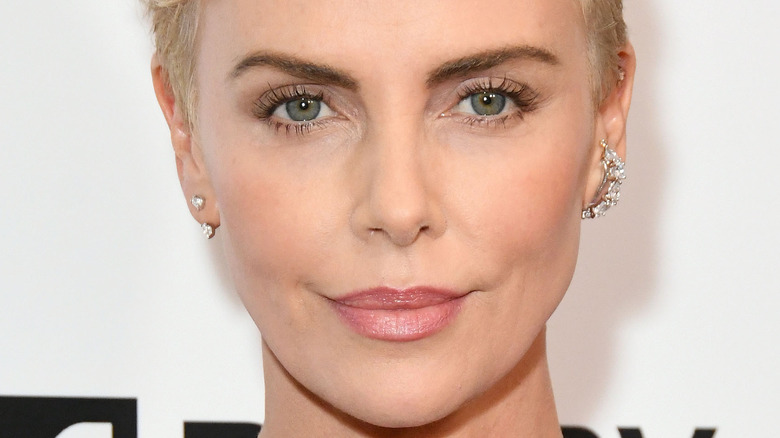 Quinn Jeffrey/Shutterstock
The two didn't get along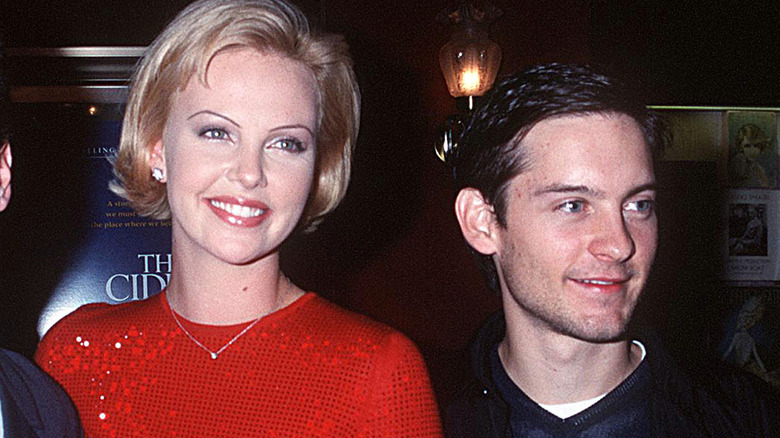 Robin Platzer/twin Images/Getty Images
Long before Charlize Theron's infamous row with Tom Hardy on the set of George Miller's "Mad Max: Fury Road," she was bumping heads with Tobey Maguire while filming the coming-of-age drama, "The Cider House Rules," in 1999. The actor was surprisingly candid about her rift with Maguire during an interview with V Magazine, where she revealed that there were a couple of days when the two "had a bit of a rough time" while filming. "It was a difficult movie. Every day is completely different for a completely different reason. Whether it's the weather, or the writing isn't there, or you don't get along with your castmate, you have to be able to go to something else that's just as powerful," she told the mag.
While she didn't get into specifics, it sounds like their aversion was mutual — which proved challenging while filming a few of the film's more intimate scenes. "We had some really intimate moments. Tobey and I didn't feel that way about each other, so I had to figure something else out," she explained. It would appear that the actor doesn't "feel that way" about anybody right now, as she recently told Drew Barrymore (via Independent) that she hasn't "dated anybody for over five years."
Her quarrel with Tom Hardy was much worse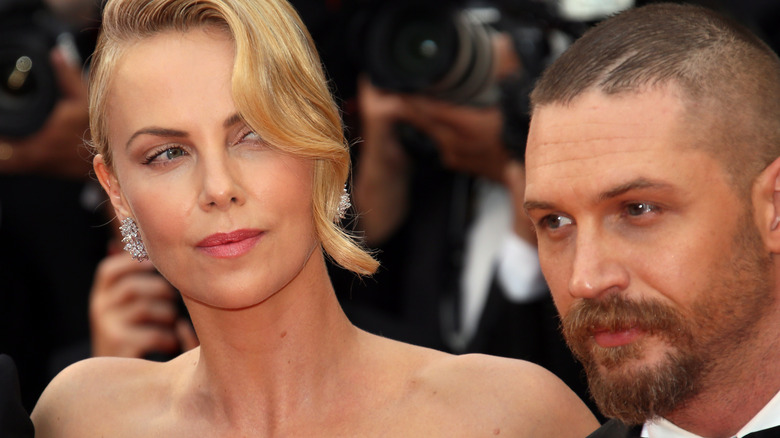 Denis Makarenko/Shutterstock
Charlize Theron may have had a "rough time" on set with Tobey Maguire, but she felt downright "threatened" while working with Tom Hardy. The actor starred opposite Hardy in the post-apocalyptic thriller "Mad Max: Fury Road," and apparently there was no shortage of animosity between the two. "It was like two parents in the front of the car. We were either fighting or we were icing each other — I don't know which one is worse — and they had to deal with it in the back. It was horrible!" she revealed during an interview with Vanity Fair, adding that the two "should have been better."
A new book, "Blood, Sweat & Chrome: The Wild and True Story of Mad Max: Fury Road," details one particularly tense moment after Hardy showed up on-set more than three hours late. According to Decider, the actor was berated by his co-star after finally arriving on set, who asked, "How disrespectful are you?" She reportedly told producers to "fine the f***ing c*** a hundred thousand dollars for every minute that he's held up this crew." As the story goes, Hardy wasn't happy about being confronted and responded by "charging up to her." Yikes, the fury between the two makes Theron's spat with Maguire look like a cakewalk.