Brooklyn Beckham Has Two Incredibly Famous Godparents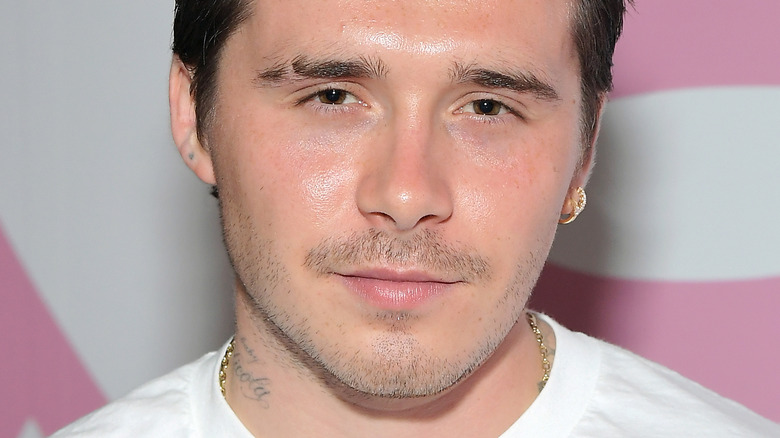 Charley Gallay/Getty Images
As the oldest son of two of the most photographed people in Britain, Brooklyn Beckham was famous before he was even born. His dad, David Beckham, was a midfielder for the likes of Manchester United, Real Madrid, and the England national team — while his mom, Victoria Beckham, sang and danced her way to fame as one-fifth of the Spice Girls. In 2008, David told Ellen DeGeneres that he knew he wanted to marry Victoria after seeing the Spice Girls on TV. "I was in a hotel room with my best friend, who was my best man at my wedding," he said. "I remember turning around — before I'd even met Victoria — and said, 'I want to marry that one.'" When it came to David, Victoria likewise experienced insta-love. "Love at first sight does exist," she wrote to her younger self in Vogue U.K. "It will happen to you in the Manchester United players' lounge."
Clearly, Posh and Becks are meant to be together. Since tying the knot in 1999, they've welcomed four children (including Brooklyn), expanded their empire via fashion and beauty companies, dabbled in acting, and taken the modeling industry by storm. Hilariously, Brooklyn remained blissfully unaware of his parents' fame until his teenage years, but still ... Media attention like that is bound to come with plenty of perks. In Brooklyn's case, it has enabled him to rub shoulders with other members of the rich and famous sect, including his two incredibly famous godparents.
Elton John and Elizabeth Hurley are Brooklyn Beckham's godparents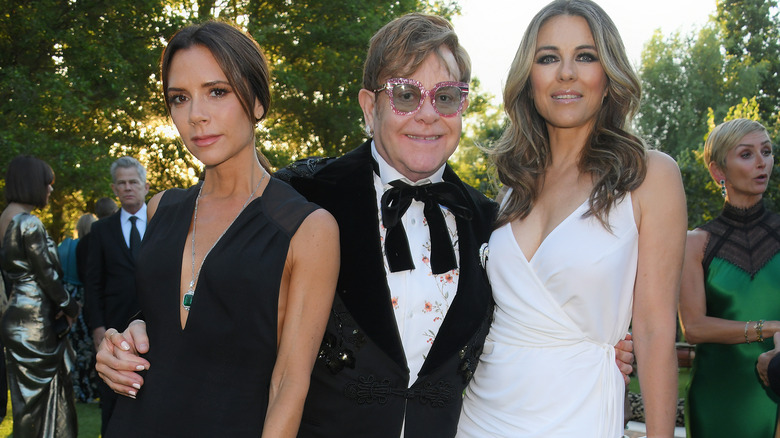 David M. Benett/Getty Images
According to the Mirror, David and Victoria Beckham named singer Elton John, his husband David Furnish, and model-actor Elizabeth Hurley as their son Brooklyn Beckham's godparents. Elton John in particular is a close friend of the Beckham brood, and his friendship with Victoria dates back to her days with the Spice Girls. In a letter she penned to herself in Vogue U.K., the fashion designer explained that it was Elton who inspired her to leave the group. "Remember years ago, watching your dear friend Elton John on stage in Las Vegas ... you realized this was like oxygen for him. It was a life-changing moment — while singing and dancing was fun for you, it wasn't your passion. That day, you started your quest to uncover your own dreams," she wrote.
On the flip, the "Tiny Dancer" hitmaker even vacations with the famous family, per The U.S. Sun. He is so close with the Beckhams that they lovingly refer to him as "uncle." In 2020, David posted an Instagram of Brooklyn's younger brother playing the piano, alongside the caption, "Watch out uncle Elton @cruzbeckham learnt this in one day."
As for Hurley, she's close with Elton John and the Beckhams. In 2015, David gushed over her, telling E! News, "She's very talented and an amazing woman as well, and a good mom." Page Six reported that Hurley was on hand to celebrate Brooklyn's wedding to Nicola Peltz, while Elton couldn't make the festivities due to prior commitments.
Brooklyn Beckham's godparents caused some familial tension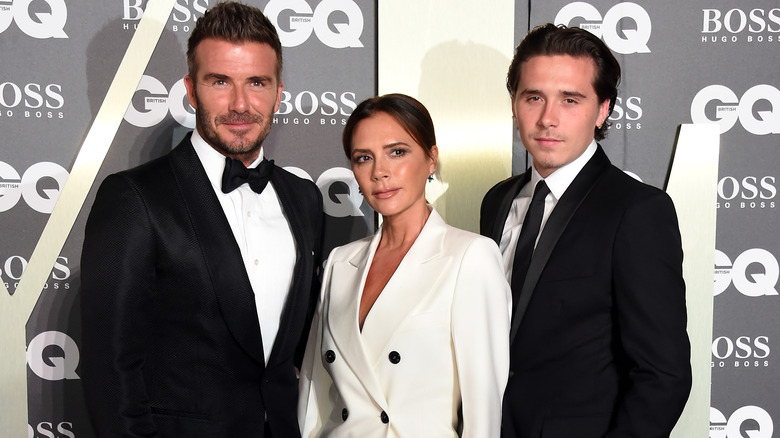 David M. Benett/Getty Images
Brooklyn Beckham is far from the only Beckham child to have famous godparents. Harper and Cruz Beckham count "Desperate Housewives" alum Eva Longoria and singer Marc Anthony as godparents, respectively, per E! News. However, Brooklyn's godparents seem to be the only ones who caused a fight within the Beckham household. That's because, per the Mirror, Victoria Beckham's brother and sister were included in godparent duties, while David Beckham's side of the family was not. "You have to ask yourself why it is that Liz Hurley and Elton John have asked to be godparents when David's own flesh and blood have been excluded," a source told the Daily Mail in 2004. "David's dad has had a real go at him about it but he just shrugs his shoulders and has more or less said that there is nothing he can do about it."
Thankfully, it may have all worked out for the best, as Brooklyn has fostered a close relationship with both his dad's family and his famous godparents. In 2014, the budding photographer attended his godfather's wedding to David Furnish, documenting the day on Instagram. "Amazing day with family and special friends. Congratulations Uncle Elton and Uncle David #ShareTheLove," he wrote (via Hola!). And thanks to Brooklyn's relationship with Elizabeth Hurley, the Beckhams named her godmother to their youngest son Romeo, according to Good Housekeeping. From his parents media know-how, to his godparents' industry connections, Brooklyn is covered with plenty of guidance.