Teresa Giudice Puts Ramona Singer On Blast Over Wedding Drama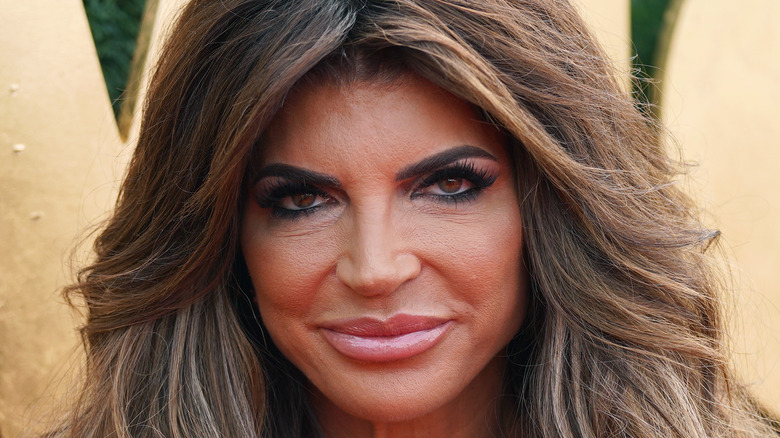 Presley Ann/Getty Images
Aside from death and taxes, one thing guaranteed in life is that Teresa Giudice consistently delivers the drama. Wherever "The Real Housewives of New Jersey" star roams, theatrical histrionics are guaranteed to follow. However, Giudice doesn't save her table flipping, catfighting, and feuding for her Garden State costars; she also wages war on her franchise frenemies.
The latest target of Giudice's ire is Ramona Singer, although, in fairness, she's not alone on that front. Screen Rant reports fans are baying for Singer's blood and calling for her to be axed from "The Real Housewives of New York City." However, Giudice doesn't take offense at Singer's acerbic and controversial personality. She's furious at the reality star for spilling the tea on her much-heralded wedding day. Per E! News, Singer scored an invite to Giudice's over-the-top nuptials and promptly posted it on her Instagram, revealing "the ceremony date, venue, wedding website, and passcode." Oops.
Giudice didn't hold back on Singer for the wedding invite leak. She let loose during an appearance at the Live! Casino & Hotel in Philadelphia (via Page Six). Giudice said her immediate reaction was, "are you f****ing kidding me?" Then she flew into attack mode, demanding Singer remove the post immediately. Giudice complained she had to splash out more cash to pay for extra security guards to keep away her fiancé Luis "Louie" Ruelas' "crazy f***ing exes." And it's not over yet as Giudice has put Singer on blast over wedding drama once again.
Teresa Giudice was happy Ramona Singer skipped her nuptials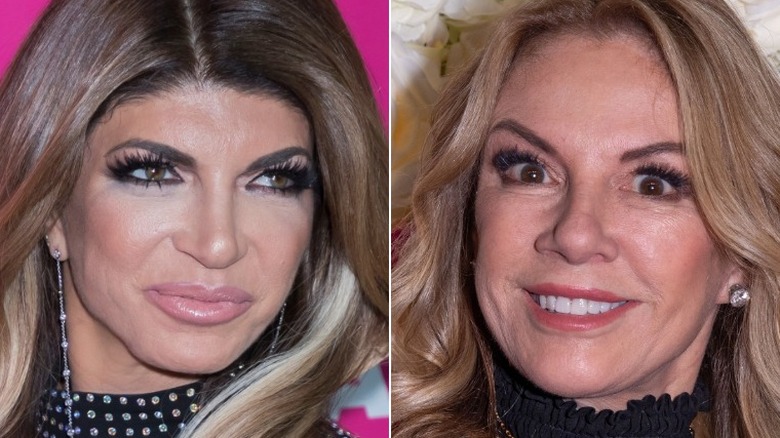 Sam Aronov & Ron Adar/Shutterstock
After all the tears and tantrums that Ramona Singer's invite leak caused, she didn't even bother to attend Teresa Giudice's wedding. Page Six reports she chillaxed at her Hamptons mansion instead. Apparently, Giudice couldn't have cared less. Still, she was keen that everyone knew it was Singer's choice, not hers. "No, she was not disinvited," Giudice told Us Weekly's "Getting Real with the Housewives" podcast. "[Singer] didn't even come to the wedding, and you know what? I'm glad she didn't," the reality star insisted.
Still, she already had plenty of experience with no-shows and rejections. Two very important guests skipped Guidice's wedding — her brother Joe Gorga and his wife, Melissa. Giudice and Melissa have had a decidedly fiery relationship, to say the least, often forcing Joe to step in and take his wife's side against his sister, causing multiple family dramas and disputes.
Us Weekly claimed the couple nixed the nuptials because of a "blowout fight" between Melissa and the blushing bride-to-be. "Teresa may not forgive Joe after this and vice versa," a source said. "[She] continues to attack Melissa, and Joe isn't standing for it." Like the outspoken and hot-headed Giudice, Melissa has never been one to hold back when it comes to telling it like it is. However, when Melissa revealed her current take on Giudice's wedding drama, she was uncharacteristically quiet, diplomatic, and even gracious. "[Teresa] looked beautiful," Melissa told Entertainment Tonight. "And it was a beautiful wedding."