Inside Adam Levine's Complicated Relationship With His Brother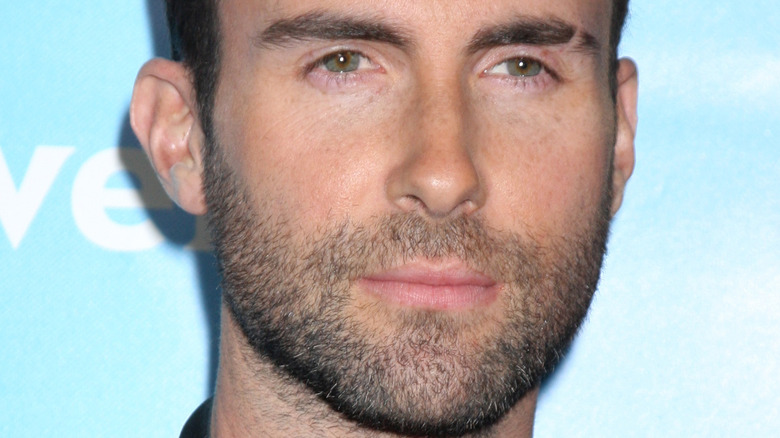 Kathy Hutchins/Shutterstock
It's no secret that Adam Levine knows how to make a headline or two. The Maroon 5 frontman has hit been in the gossip columns multiple times over his career for some nice, and, well, not so nice reasons. Case and point? When the former "The Voice" coach had everyone talking for all the wrong reasons in September when Instagram model Sumner Stroh went viral on TikTok for a video (which was released shortly after Adam and his wife, Behati Prinsloo, announced they were expecting their third child together) claiming she'd allegedly had an affair with the married musician as she exposed flirty messages she claimed were from the "Payphone" hitmaker. After that, multiple other women came forward and also claimed they'd chatted with Adam via Instagram, though the singer vehemently denied having an affair in a statement issued to TMZ.
But it's not just his apparent affiliation with a few models that have had Adam's name in a few people's bad books over the years. It turns out Adam has a brother, Michael Levine, who isn't exactly the biggest fan of something Adam revealed about him in an interview a few years ago.
Adam Levine's brother called him out on Facebook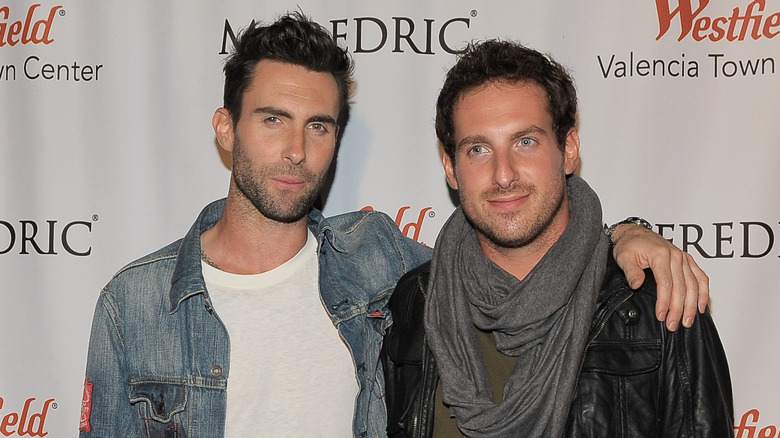 Charley Gallay/Getty Images
Michael Levine made it very clear on social media that he wasn't exactly the biggest fan of his brother, Adam Levine, outing him to the world. This family drama appeared to begin after Adam spoke candidly about Michael during an Out interview back in 2011, telling the LGBTQ+ outlet, "I can single-handedly dispel any ideas that sexuality is acquired. Trust me, you're born with it. My brother is gay, and we knew when he was two. We all knew." He then opened up about how his family supported his brother, though Michael apparently wasn't thrilled about the public comments regarding his sexuality.
In 2016, Michael (who you can see posing with his brother in the snap above) shared a since deleted Facebook post which read in part (via OK!), "Since the article I've been featured all over the internet and in magazines because of my sexuality and I never wanted this. To this day, I still get tweets and it makes me extremely uncomfortable. This is definitely an instance where I wish I could hit a life undo button." Michael added that he didn't think Adam was really thinking about the impact his comments would have on him when he spoke to the outlet.
But did Adam's loose lips sink their close brotherly bond?
Adam Levine reportedly never meant to his brother
It sounds like Adam Levine never had the intention to upset Michael Levine with his comments. A source dished on the situation between the brothers to Life & Style, claiming (via OK!), "He loves Michael to death and would never have done anything to hurt him."
Although Adam has made some mistakes with his family (and, hey, who hasn't?) Iit seems there's no real lasting bad blood between the brothers over Adam's blabbermouth. In fact, Adam sweetly had Michael's back in 2017 when he took to Twitter to urge his followers to donate to a very good cause on his brother's behalf by sponsoring him for a charity walk to raise funds for Multiple Sclerosis. The Maroon 5 frontman shared a link to his brother's fundraising page, helping Michael to raise a very impressive more than $2,500.
It seems like, for good reason, Adam has pretty much refrained from saying too much about Michael in subsequent interviews — which is probably a good idea on the "Memories" singer's part — though Michael has proven he's on good terms with his brother too. Though Adam doesn't appear regularly on his brother's social media accounts, in January 2019 he shared a sweet throwback snap on Instagram in celebration of the 18th birthday of their other brother, Sam Levine, which showed all three siblings posing together.