Kanye West Is Still Throwing Stones At Kim Kardashian's Fashion Sense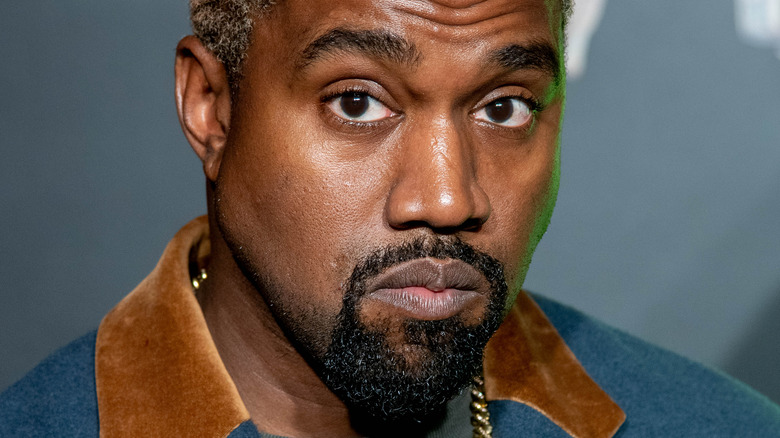 Roy Rochlin/Getty Images
Kim Kardashian and Kanye "Ye" West have been through many ups and downs in their relationship, and fans have been right there with them for the rollercoaster ride. The pair wed in 2014, but Kardashian ultimately pulled the plug on the relationship by filing for divorce. The reality star famously rebounded from their marriage with "Saturday Night Live" alum Pete Davidson and Ye never shied away from sharing his opinions on the relationship — whether Kardashian liked it or not.
But it also seems like Ye can't stop commenting on Kardashian's sense of style, too. According to W Magazine, Ye served as Kardashian's fashion coach when they were married, and the SKIMs founder chatted about the dynamic with sister Kourtney Kardashian on an episode of their Hulu show. "I got to a point where I would ask his advice for everything down to what I wear," Kim confessed. "Even now I'm having panic attacks, like what do I wear?" 
Obviously, Kim has figured out how to dress herself, but that hasn't stopped Ye from commenting. According to the outlet, Kim sported a curve-hugging brown leather dress and a pair of trendy lizard-skin boots for an event, but Ye wasn't a fan. "He called me afterwards. He told me my career's over, and then he showed me a picture of Marge Simpson wearing something similar," Kim said of what Ye thought was a fashion snafu. Now, he's hitting her with another wild critique.
Kanye West trolls Kim Kardashian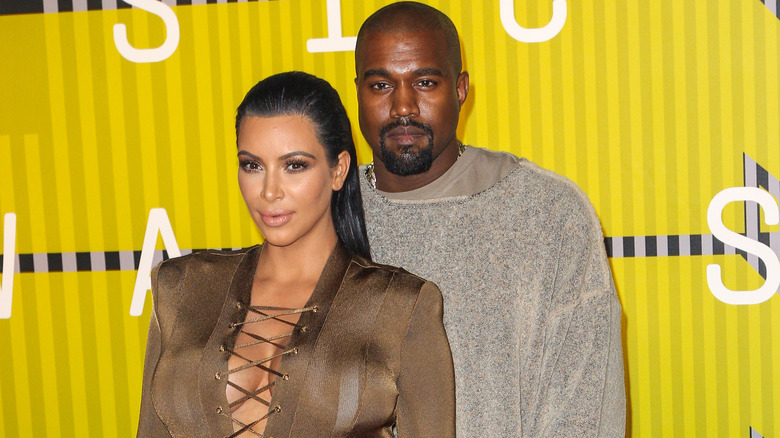 Press Line Photos/Shutterstock
Kanye "Ye" West isn't one to hold back his feelings, especially when it comes to topics that he's passionate about. While Ye is a rapper first, he's also become a style icon thanks to his clothing line and unique sense of fashion. So in true Ye fashion, if someone's wardrobe game is not up to par, then there's no stopping him from speaking his mind. During a recent episode of the Hulu hit "The Kardashians," Kim Kardashian shared a text message from her ex-husband, in which he critiqued her fashion choices. "The orange look made me so mad, would've went to jail before I went out in that," Ye wrote in a text to his ex, after seeing Kardashian sport an orange Prada jumpsuit (via Page Six).
But, Kardashian took it in stride, and she seems to be used to the critiques that come from the rapper. "While we're here in Milan, Kanye has the kids at home, and he can't help himself," she told fans in the show's confessional. "We can laugh about things we like or don't like. No matter how crazy things are sometimes, we're always going to be family." Kardashian also acknowledged that she quips back from time to time, especially when Ye wears the same boots for a few days in a row.
Ye has also found himself on the other end of the controversy, however, especially when he decided to sell his pricey Gap collab in what looked like trash bags (via Billboard).