Here's Why Adrienne Maloof Left Real Housewives Of Beverly Hills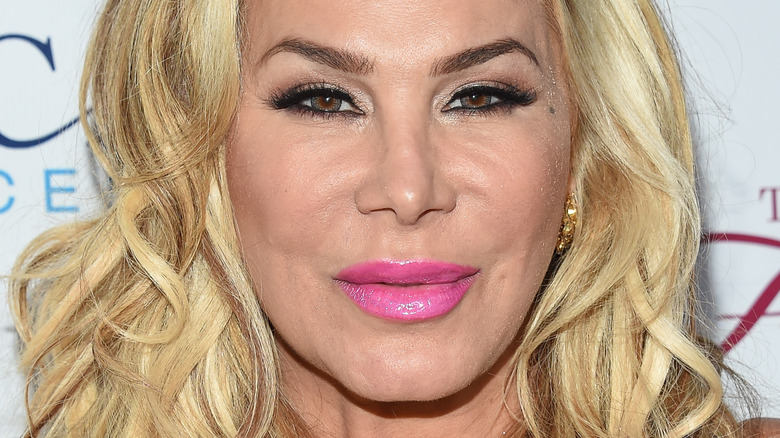 DFree/Shutterstock
For nearly two decades, the "Real Housewives" franchise has ruled the reality TV sphere. From the OG series, "The Real Housewives of Orange County," to the recently released spin-off, "The Real Housewives of Dubai," pop culture fans have immersed themselves in the dramatic privileged lives of upper society women. However, "The Real Housewives of Beverly Hills" remains one of the most popular iteration's of the Andy Cohen-produced franchise.
Set in the most recognizable zip code in the world, the show has featured an array of notable cast members, including Lisa Vanderpump, Denise Richards, and Garcelle Beauvais. However, one of the most prolific housewives to grace the series is Adrienne Maloof. During her time on the show, the reality star was involved in various feuds with her cast mates and underwent a high-profile divorce from "Botched" star Paul Nassif. However before the Season 3 finale, Maloof shocked viewers one last time when she opted out of the reunion. "She doesn't need that kind of negativity in her life," a source told Us Weekly at the time.
Due to her absence from the dramatic finale, Cohen announced that Maloof would no longer be a housewife during the aforementioned episode (via Today). "Adrienne won't be here to tell her side of the story. Not only is she absent tonight, but she won't be on the show next season," Cohen said. "Adrienne Maloof's final act as a Housewife was not showing up tonight." But why did Maloof exit the franchise?
Adrienne Maloof had major beef with co-star Brandi Glanville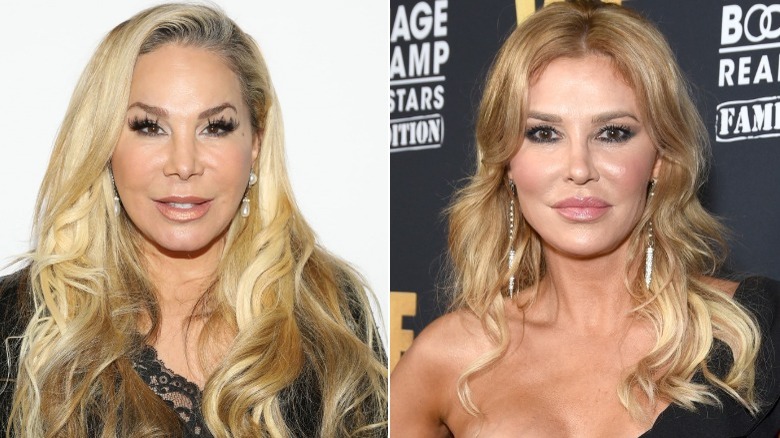 Presley Ann & Monica Schipper/Getty
During her three-season run on "The Real Housewives of Beverly Hills," Adrienne Maloof endured quite a bit of controversy regarding her personal life and relationships with the other ladies. However, one of her most explosive feuds involved former housewife Brandi Glanville. At the beginning of the series, the two started out as friends. But, during Season 3, their relationship turned sour after Glanville made a shocking statement about Maloof during a dinner party –– which was edited out of the episode at the time.
It was later revealed that Glanville told other ladies Maloof used a surrogate for her twins after she experienced pregnancy issues in the past (via the Daily Mail). Due to the invasion of privacy, the two former friends remained at odds for the rest of the season — and well after their departures from the popular franchise, too. In a 2014 interview with Life&Style, Maloof said that Glanville "took away something so precious" from her family. She also accused the "Brandi Glanville Unfiltered" podcast host of "destroying her family" and marriage with former husband, Paul Nassif.
However, despite their colorful history, the two have seemingly squashed their beef. During her stint on the second season of "The Real Housewives Ultimate Girls Trip", Glanville revealed to Taylor Armstrong that she's "very close" with Maloof (via BravoTV). "Adrienne and I are cool... we've been fine for so long," she said in confessional.
Adrienne Maloof has expressed regrets over shocking exit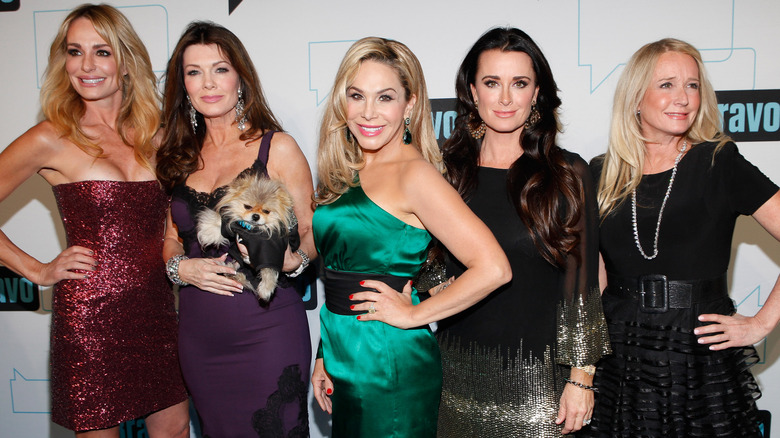 Cindy Ord/Getty Images
For fans of the "The Real Housewives" franchise, the departures of lead cast members are a regular occurrence. While some housewives leave the series unscathed, others have exited in a more dramatic fashion. For Maloof, her run on the show concluded after she decided not to attend the Season 3 finale. At the time, her absence was frowned upon not only by producer Andy Cohen, but also her fellow co-stars, like former housewife Lisa Vanderpump. "I think you have to understand when you sign up for something, it's a job, you know?" she told Us Weekly. "The reunion is where you go, and everything comes to fruition, and you hash it out."
Since leaving the franchise as a lead cast member, Maloof has remained relatively quiet regarding her departure. However, in 2020, the reality TV star said she regretted her reunion no-show during an interview with After Bravo. "There was so much going on at the time. When I think back, it would have been better to just plow through it, get it over with," she explained. Maloof also addressed Vanderpump's statements regarding her absence before she called out the PUMP owner for doing the same in Season 9. "It's a little bit condescending. When I look at what I was going through and what she was going through, there's no comparison," she added. While her time on the reality series was short, it's safe to say she had an unforgettable time.