Sharna Burgess Had Brian Austin Green By Her Side For Pivotal Life Moment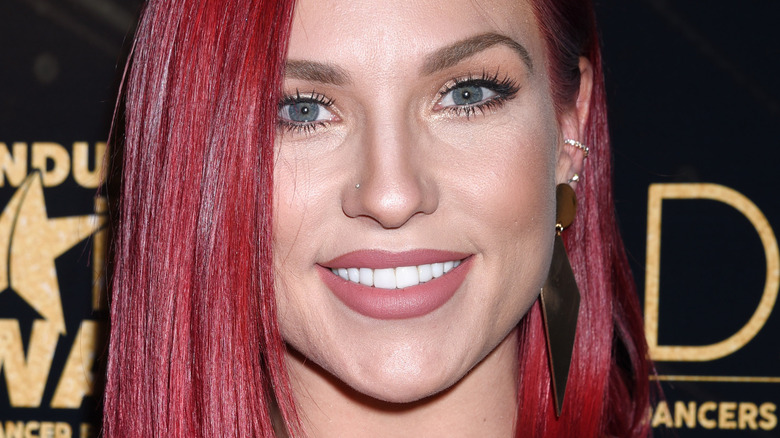 Ga Fullner/Shutterstock
Sharna Burgess recently celebrated a huge personal milestone with the help of her boyfriend, Brian Austin Green. Over the last few years, pop culture enthusiasts have followed the romantic relationship between the "Dancing With the Stars" professional dancer and "90210" actor. Back in December 2020, the two lovebirds first made headlines when they were spotted vacationing in Hawaii (via Us Weekly). "First vacation in a long time, best vacation in a lifetime," Burgess wrote on Instagram. The sweet moment was the first time Green was spotted with another woman after his very public divorce from Megan Fox in May 2020, according to People.
In the years following their public debut, the Australian dancer and "Desperate Housewives" star have remained open about their happiness and landmark moments as a couple. "I'm excited for this time in life... and I'm excited that she's in my life. I think she's amazing. My kids love her. It's a win-win right now," he told Entertainment Tonight in June 2021. In February, the two took their relationship to the next level when they announced they were expectingwith their first child, which was initially confirmed by E! News. Now, it looks like the two are celebrating another milestone in their relationship with Burgess' latest accomplishment.
Sharna Burgess is officially a U.S. citizen
On October 6, Sharna Burgess surprised fans when she revealed that she was officially a United States citizen. For those unaware, the "Dancing With the Stars" regular is originally from Australia, but has been living abroad since she was 18, per Page Six. Taking to Instagram, Burgess celebrated the monumental moment by sharing the video of her ceremony. "Today something really amazing happened," she wrote. "I had no idea that this would feel emotional for me. This has been my home for nearly 12 years now." Burgess went on to say that, before landing her citizenship, she was always "searching for belonging" and was "afraid to [stay] in one place" before finding her home in the U.S.
The dancer's post also featured a photo of her alongside longtime boyfriend Brian Austin Green, who seemed delighted about her achievement. Burgess' citizenship news comes only months after the couple welcomed her first child. The new mom announced the news on social media on June 30. "Zane Walker Green... My heart is now forever outside of my body," she wrote in a heartfelt Instagram post. It's safe to say Burgess and Green are having a spectacular year.