The Performance Beyoncé Considers The 'Defining Moment' Of Her Career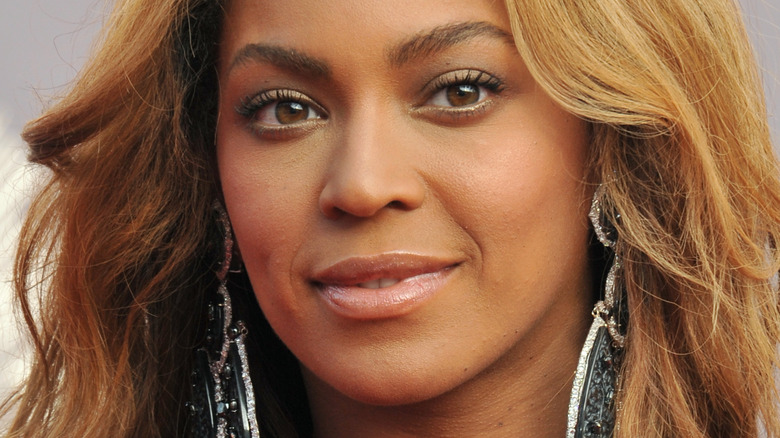 Featureflash Photo Agency/Shutterstock
When you think of Beyoncé, you likely recall her incredible live performances, full of fierce vocals and choreography. Of course, that's why she named her alter-ego for when it comes time to own the stage, Sasha Fierce. From her time in Destiny's Child to her solo career, the singer has been famous for working extremely hard when preparing for a performance.
Saying that Beyoncé is a perfectionist would be an understatement. One of the choreographers for her 2018 Coachella set, JaQuel Knight, described the "Formation" singer's intense rehearsal process. "Beyoncé's going to rehearse every day," Knight told The New York Times. "We have rehearsal every day — forever — until the show: 'Do it again, do it again. O.K., one more time. O.K., I'm gonna go, maybe y'all can do it once more and send me the tape.' She just wants the show to be tight."
Over the span of her career, Beyoncé has produced too many iconic performances to count, but what does Beyoncé actually consider to be the one "defining moment" of her on-stage career?
Young Beyoncé was motivated by her loss on Star Search
Did you know that Beyoncé was in another girl group before Destiny's Child? Well, technically Destiny's Child is the evolution of the original group named Girls Tyme, which Beyoncé and her father helped form in 1990, per Britannica. The OG Girls Tyme members – Beyoncé, Kelly Rowland, La Tavia Roberson, Támar Davis, Nikki Taylor, and Nina Taylor — trained in singing, rapping, and dancing.
In 1992, the group decided to compete on the talent competition TV show, "Star Search," which is famous for serving as a platform for young acts who later became celebrities, like Britney Spears. Beyoncé and crew performed their song, "Talking 'Bout My Baby," against their opponent, a band called Skeleton Crew. Sadly, Skeleton Crew beat Girls Tyme and their stint on "Star Search" was over.
In the documentary for Beyoncé's 2013 self-titled album, the Grammy-winning singer opened up about how this failure deeply impacted her. "I was only 9 years old, so at that time, you don't realize that you could actually work super hard and give everything you have, and lose!" she reminisced. "It was the best message for me."
Beyoncé called the experience a "defining moment" in her upbringing, and even included the soundbite from Girls Tyme losing on "Star Search" in her 2013 song "***Flawless."
When will we see the Queen B on stage again?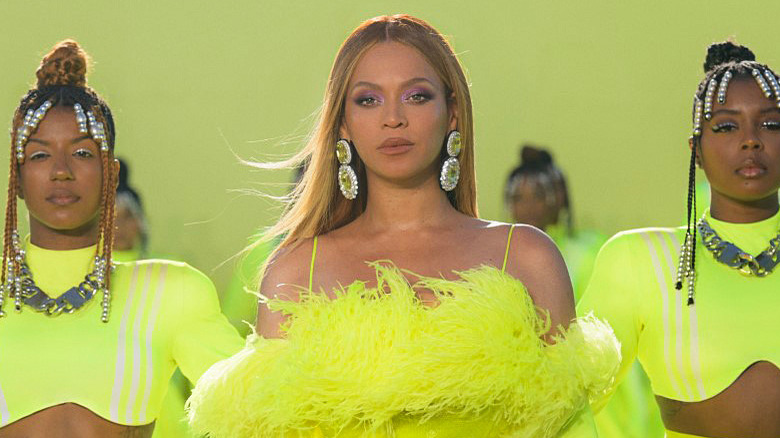 Handout/Getty Images
Considering that Beyoncé has performed at Super Bowls, inaugurations, Grammy ceremonies, and several world tours, it's remarkable that a defeat so early in her career is so significant to her. But that just speaks to her undeniable talent and work ethic, which has led to her whopping 28 Grammys and record-breaking career.
Speaking of, many have been wondering when we'll see Queen B live on stage next. Of course, with the COVID pandemic and other world events, performing live has been a hassle for all artists. Her last major performance was a pre-recorded music video for the song "Be Alive" at the 2022 Oscars in March.
But with the release of her most recent masterpiece, the album "Renaissance," fans are preparing for a possible world tour in the future. Page Six reported in September that their sources claim Beyoncé is planning to tour the world in the summer of 2023. Basically, it's time to get your wallets ready for that inevitably steep ticket price!