Who Is Charlie Woods' Mom?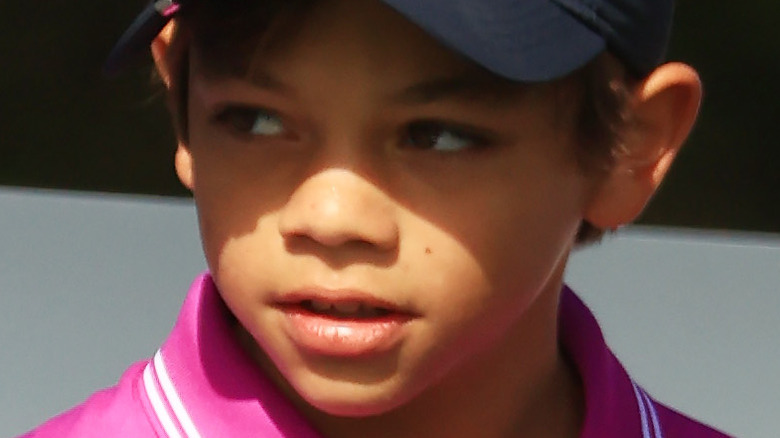 Mike Ehrmann/Getty Images
Clearly, golf is in Charlie Woods' blood. Charlie has been hitting the headlines for rising through the ranks of the sport that made his dad, Tiger Woods, a superstar, having shown himself to be one to watch on the green. Charlie was very much following in his famous father's footsteps in late September when he scored a career-low for a round during a Notah Begay III Junior National Golf Championship qualifier, per Golf Magic. That score? A very impressive 68. Clearly, having Tiger by his side as his caddie was good for his game!
It seems like Tiger was on hand to give a little advice to his protégé offspring, too. "Dad told me to stay patient. Just play steady golf. Just stay patient, play, focus on each shot, don't look too far ahead. Stay in the game," Charlie said in a video posted to the competition's Twitter account. "I couldn't have done it without him. Some shots I would have been so off!"
Of course, we know all about Charlie's dad Tiger (and the many highs and lows he's experienced as one of the biggest stars in sports), but what about his mom? Well, her name has hit the headlines a few times over the years too...
Tiger Woods shares son Charlie Woods with Elin Nordegren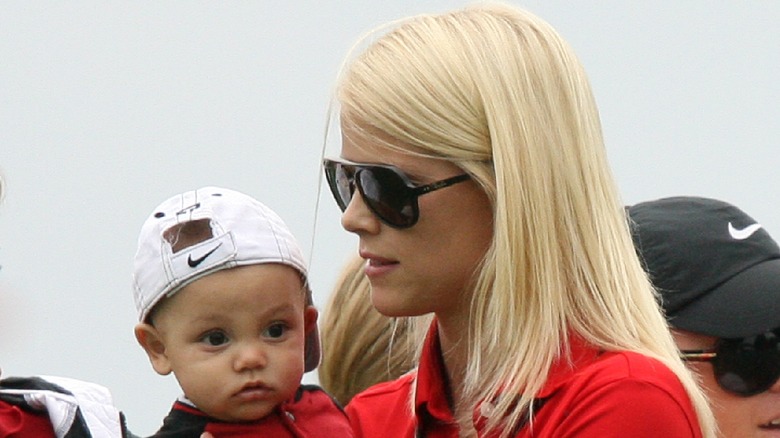 Hunter Martin/Getty Images
Charlie Woods, also known as Charlie Axel Woods, is Tiger Woods' only son and second child with his former wife, Elin Nordegren (the twosome are also parents to a daughter, Sam Woods). Charlie was born in February 2009, with Tiger issuing a sweet statement to confirm his birth. "Elin and I are thrilled to announce the birth of our son, Charlie Axel Woods. Both Charlie and Elin are doing great and we want to thank everyone for their sincere best wishes and kind thoughts," he said, per CNN. "Sam is very excited to be a big sister and we feel truly blessed to have such a wonderful family," he added, thanking all the medical professionals who helped to deliver Charlie and keep him and Nordegren safe. "We look forward to introducing Charlie to you at the appropriate time, and again thanks from all of us for your kindness and support."
Sadly though, it was mere months later when Tiger and Elin's marriage exploded, with the former couple hitting the headlines after Tiger's multiple infidelities came to light. Woods held a press conference in February 2010, apologizing to his family and announcing he would be taking a break from golf to work on himself. "I was unfaithful. I had affairs. I cheated. What I did is not acceptable. And I am the only person to blame. I stopped living by the core values that I was taught to believe in," he said.
How Tiger Woods and Elin Nordegren are co-parenting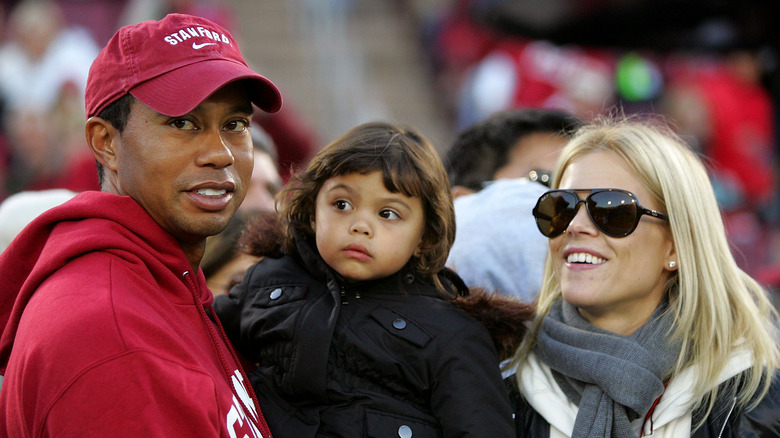 Ezra Shaw/Getty Images
In the wake of Tiger Woods and Elin Nordegren's divorce (when it's thought Nordegren was awarded a whopping $100 million), Tiger has spoken out about how the two work hard to amicably co-parent Charlie Woods and Sam Woods. "We love them so much that we are going to do whatever it takes to make that work," Woods shared during a 2016 appearance on "The Late Show with Stephen Colbert." "We communicate so much better now, it's incredible. I wish we would have done that earlier on, but it's been incredible to have a best friend like that," he added.
Tiger's confession about staying friends with Nordegren in such difficult circumstances came a few months after he opened up about how he told Charlie and Sam about his indiscretions, getting candid about the fact their divorce was down to him. "[I] told them up front, 'Guys, the reason why we're not in the same house, why we don't live under the same roof, Mommy and Daddy, is because Daddy made some mistakes,'" he told Time. As for why he got so honest with his young children, he explained he wanted them to hear the story from him rather than reading about it on the internet.
It seems all that honesty worked well, too. While Charlie is clearly proud to have his dad on the golf course with him, Sam (pictured above with her parents) has shared some gushing words about her dad, too.