Julia Roberts Gets Candid On Living Her Biggest Dream Outside Of Acting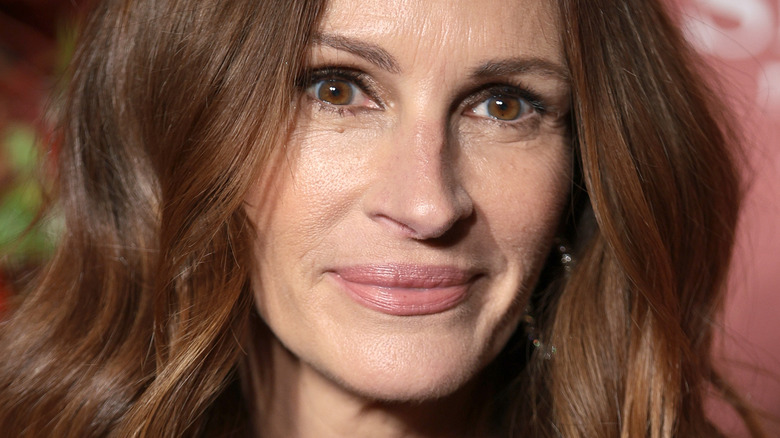 Dimitrios Kambouris/Getty Images
Julia Roberts has been called "America's Sweetheart" on plenty of occasions, and she's starred in some of the most memorable films in Hollywood, like "Pretty Woman," "Erin Brockovich," and "Steel Magnolias." In her most recent gig, Roberts teams up with George Clooney in the film "Ticket to Paradise," but this isn't the first time the actors have played opposite one another. The two have co-starred in plenty of other films, like "Ocean's Eleven" and "Money Monster."
According to the movie's IMDb page, Clooney and Roberts play divorced parents who travel to Bali to try and stop their daughter from getting married because they believe she's making the same mistake they did. The actors have been doing their press junket to promote the film, and they talked about their dynamic on "Today" and how it's kinda awkward to lock lips on-screen. "It's kinda ridiculous," Roberts told Hoda Kotb. "It is like kissing your best friend." Clooney quickly clapped back, thanking his pal for her kind words, while reminding her of a particular award. "You know I was a two-time 'Sexiest Man Alive?'" 
But during the interview, things came full circle when Roberts connected herself and Clooney with their family life. "I met Danny when I was ready," she shared. "You met Amal when you were ready. And then we call these children into our lives when we're ready to best partner with them." In a separate interview, the star gushed about life at home even more.
Julia Roberts loves being a mom and wife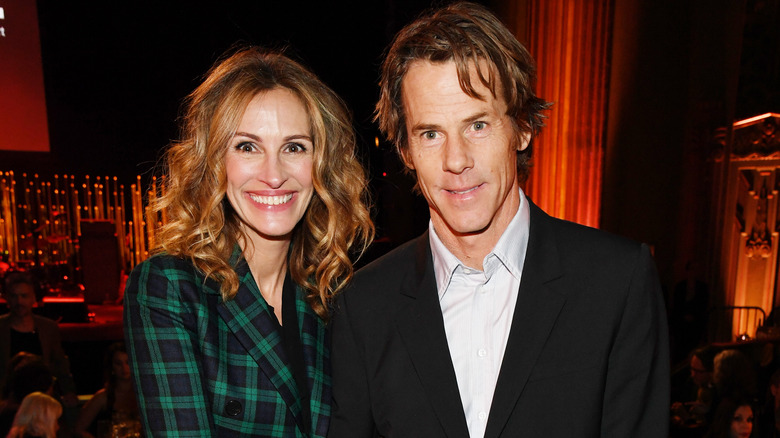 Kevin Mazur/Getty Images
Julia Roberts may be one of the biggest names in Hollywood, but to some, she's just mom. The actor sat down for an interview with CBS Sunday Morning to promote "Ticket To Paradise," but while she was there, it wasn't all business. Roberts also chatted about her family life with her husband, Danny Moder, and their three children — Hazel, Phinnaeus, and Henry — sharing that being a mom and having a family is so rewarding. "Acting is my dream, but it is not my only dream come true," she confessed.
The star elaborated even further, saying that, while her personal life is not always "rainbows and kittens," she still finds "a lot of joy" hanging with her hubby and three kiddos. "It's just never consumed me, being an actor. It is my dream come true, but it is not my only dream come true," the "Sleeping with the Enemy" actor continued. "The life that I have built with my husband [and] the life that we've built with our children, that's the best stuff. To come home at the end of the day, triumphantly, to them." She also revealed that Moder still writes her love letters, which is enough to make us swoon.
In April, Roberts talked a little more about life at home, telling Extra that it makes her "a little lightheaded" thinking about the twins going to college, but she's still "completely excited for them" to have that college experience that she never had herself.