Julia Roberts Explains Why She's Excited For Her Twins To Get Out Of The House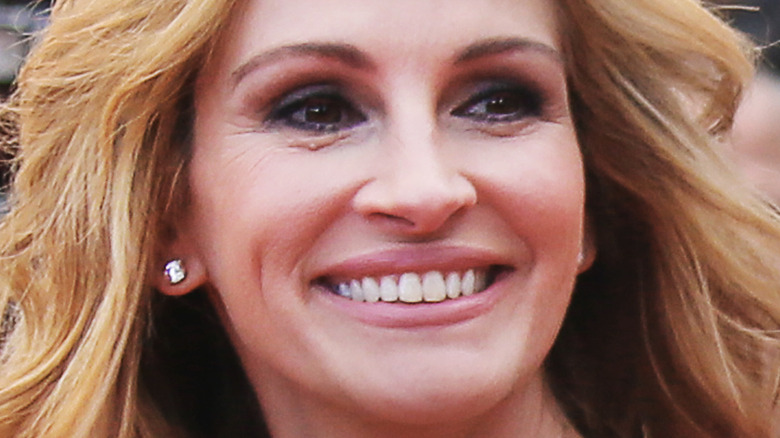 Denis Makarenko/Shutterstock
While most of us know Julia Roberts as America's Sweetheart, a select few just know her as "Mom." Roberts has become somewhat of an icon in Hollywood, starring in some of the biggest films in the '90s, including "Pretty Woman," "My Best Friend's Wedding," and "Stepmom," to name just a few. However, when she's not giving it her all in front of the camera, you'll likely find Roberts hanging at home with her family.
The actor married cinematographer Danny Moder in July 2002 after meeting on "The Mexican" set in 2001. That means that the pair has enjoyed 20 years of wedded bliss, defying the odds in Hollywood and perhaps poising themselves to be the next Tom Hanks and Rita Wilson. Though Roberts is extremely private, she's made her feelings for her man pretty clear. "Getting married to Danny, that was the first, like, my life will never be the same in the most incredible, indescribable way ... He truly, to this day, to this minute, is just my favorite human," she told Gwyneth Paltrow on her "Goop" podcast in 2018. How stinking cute!
The couple shares three children — twins Hazel and Phinnaeus and son Henry. Roberts loves playing the role of mom, and in a 2018 interview with Harper's Bazaar UK, she insisted that she's just a "soccer mom." "If I wasn't here today, I'd be in the carpool lane ferrying my kids to school," she told the outlet. It's hard to believe her twins are almost ready to leave the nest, and Roberts is ready to push them out.
Julia Roberts wants her kids to have the college experience that she didn't
It's hard to believe Julia Roberts has twin 17-year-olds! The notoriously private star doesn't talk about her personal life a lot, so when she does, many people are very interested in what she has to say. During an appearance on Extra! to promote "Gaslit," the star chatted about twins Hazel and Phinnaeus and how they're about to embark on the journey of a lifetime in college.
"I mean, it makes me a little lightheaded ... I'm completely excited for them. It's really thrilling, and I wasn't lucky enough to have a college experience," Roberts told the outlet. "And so to see how it's happening for them is really fascinating. And yeah, I'm just, I'm excited for them." The actor also revealed that the family made another significant change — moving from the Los Angeles area to Northern California, though she didn't specify exactly where. "I think moving with three teenagers during a pandemic is not for the faint of heart, but we have pulled it off, and everyone seems good and happy," she dished.
Roberts and her family have always maintained a private life outside the spotlight, so the move is no big surprise. In 2014, the "Pretty Woman" actor opened up about the family and their private life in Malibu, California. She shared that her brood just blends in there and is like "any other family." And for that? She is "grateful."