Ed Sheeran Has Way More Tattoos Than You Might Think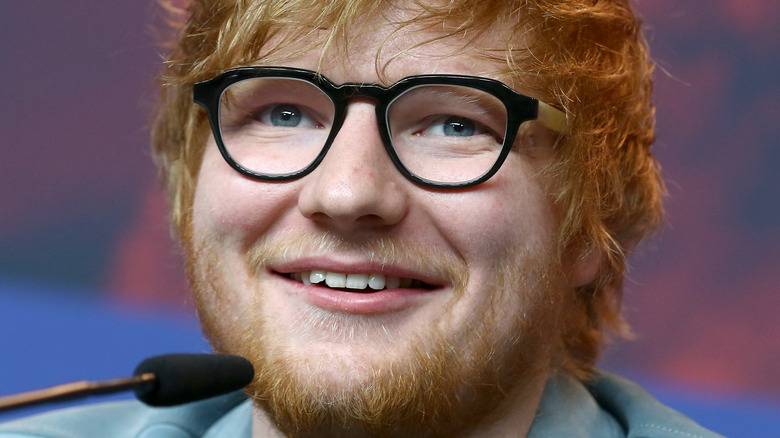 Thomas Niedermueller/Getty Images
Ed Sheeran is famous for releasing heartstring-tugging ballad after ballad, but what most people don't know about the crooner is that he's fond of tattoos. He has more body ink than Grammy nominations and awards, and it doesn't look like he will stop getting them anytime soon — even if some of them are, for the lack of a better term, questionable.
In 2017, when actor Saoirse Ronan appeared in the music video for his track "Galway Girl," he wanted to commemorate it by having the star's handwriting tattooed on his arm. Ronan deliberately misspelled it, but he had it inked anyway. "When we were filming it, I meant to get a tattoo of her handwriting saying Galway Girl," he said at a concert in Glasgow (via Glamour). "It actually says Galway Grill... G-R-I-L-L... I'm actually kind of proud of it. It's the kind of thing that I would do."
Sheeran has adorned his body with tons of meaningful and quirky tattoos that the number of his inks now rival that of his pal Harry Styles'. And as of writing, the singer apparently has over 60 tattoos.
Ed Sheeran has more than 60 tattoos
Ed Sheeran is a big fan of body art, so much so that he has over 60 of them, per Body Art Guru. He admits that some of them may appear odd to other people, but he doesn't regret having any of them.
"I am completely covered in the weirdest, most colorful tattoos, and that is the thing no one can get their head around, apart from my wife," he told The Sun in 2021. "Everyone says I look like a melted crayon. But I love them. I love that any time something random happens, I put it on my body."
But sometimes, it's not just "random" objects that he chooses to have inked. He also gets tattoos of the places he's been or symbols of significant milestones in his career. "I get tattoos for landmarks," he shared with MTV News in 2012 (via Capital FM). "When my album came out all around the world I got the world tattooed... If I'm going to be on tour with this album for six months, I thought that would be quite a big part of my life." 
Ed Sheeran's tattoo artist says some of the singer's tattoos 'aren't very good'
Ed Sheeran's tattoo artist would be the first one to admit that some of his client's inks can be quite absurd. In 2019, tattooist Kevin Paul told The Mirror his honest thoughts about the singer's body art.
"I agree with most of it, his tattoos aren't very good. And I take the piss out of Ed all the time, when I'm with him, that they are s***," he confessed, adding that he's aware that a good number of them have deeper meanings. "They are! But every single thing that he's got is personal to him. Him and Harry Styles had Pingu tattooed on them and they had it done because that was the cartoon they liked as a child."
In another interview with British GQ, Paul also revealed that a few of Sheeran's tattoos are even designed by famous artists. "Everything that Ed has had done is a bit odd to most people," he said. "A lot of people mock his tattoos, especially on his front, but what they don't realize is that Damien Hirst himself has designed quite a few of them. He's had a few on his upper back designed by him too." Guess that balances it all out then!