Lawyer Hints At Hidden Motive In Cheryl Burke And Matthew Lawrence's Dog Custody Feud - Exclusive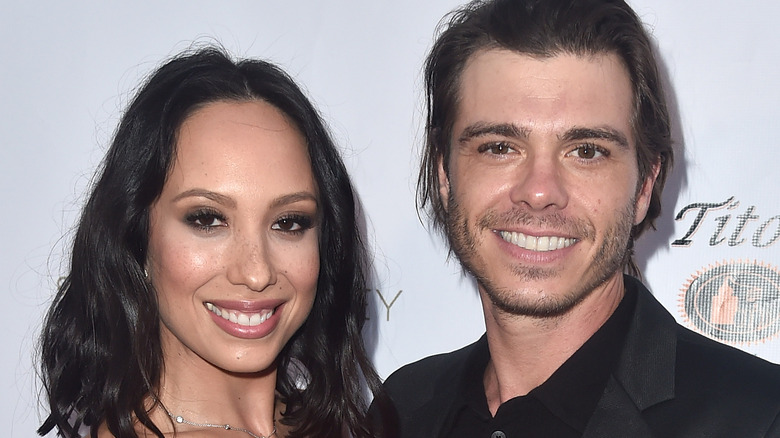 Alberto E. Rodriguez/Getty Images
Cheryl Burke and Matthew Lawrence's divorce has become even messier now that their dog is involved. Burke and Lawrence split after three years of marriage, and instead of going their separate ways as peacefully as they can, they're going to trial over their pet.
In an episode of the "Burke In the Game" podcast, Burke shared how heartbroken she was that they're even fighting over the dog, which she treats as if it was her daughter. "I'm a dog mom. And that's it," she said of the French bulldog. "I can't even imagine my life. I mean, I could just cry right now but, like, couldn't imagine my life without her."
The dancer also told ET that she thought it was "cruel" that her ex was even trying to take ownership of the pet. "It sucks because, for me, it's just cruel," she said. "She's my dog, and it was a gift from my ex, and I hope that this soon, you know, dies down, and he calls it off. Because you're taking, like, my daughter away from me." Now, she may end up losing Ysabella if the court determines that Lawrence is the better caretaker. A legal expert exclusively breaks down to Nicki Swift what the dog custody drama really means for the splitting spouses.
Lawyer says the dog custody trial may be Matthew's way of staying in contact with Cheryl
While Cheryl Burke thinks that Matthew Lawrence's insistence to keep the dog is "cruel," a legal expert says that it may be his way to remain connected to her after the divorce. Family law attorney Holly Davis of Austin-based Kirker Davis LLP, who has extensive experience in high-net-worth divorce cases, exclusively told Nicki Swift that, more often than not, one party only asks for dog custody so as not to totally sever ties with their former partner.
"I find that oftentimes a doggie possession schedule is simply a way to remain connected to a person after a breakup," Davis noted. "There are many challenges logistically to sharing a pet after divorce that become obvious when a person moves, gets a new dating partner, or simply wants to limit their interactions with a person they have divorced and have no children with."
Ultimately though, it all boils down to who can better take care of the pet. Per Davis, a couple has to be "realistic and not simply idealistic." A court is not likely to award custody to the person who "didn't take care of the dog on an everyday basis" just because they want to "start being involved now." She added, "Aspirational desires are typically not entertained in the face of evidence supporting the day in and day out care that the other parent provides."
How dog custody works
Celebrities fighting over pets is nothing new. Miranda Lambert and Blake Shelton reportedly worked out an agreement regarding their pets when they split, as did Liam Hemsworth and Miley Cyrus, who once shared seven dogs, three cats, two horses, two mini horses, and one pig, per Us Weekly. Family law attorney Holly Davis told Nicki Swift that it is "not at all uncommon," and usually, couples try and figure out where the pet ends up living. In case they fail to reach an agreement, "a Court will decide who gets the dog."
Davis also shared that legal custody over a pet largely hinges on the laws of each individual state. But they are "essentially considered property" and are even "assigned a property value" at times. Judges and lawyers, however, understand that they're much more than that, considering how divorcing couples are willing to go to lengths litigating who gets to take the pet home.
When it comes to determining who's the better pet parent, Davis said the court "considers the evidence presented, typically in the form of testimony and documents, and then makes the final decision at the end of the hearing." Other assets and debt are also apparently taken into account in figuring out who ends up getting the pet.