Sylvester Stallone And Jennifer Flavin's Reconciliation Came With The Help Of Those Close To Home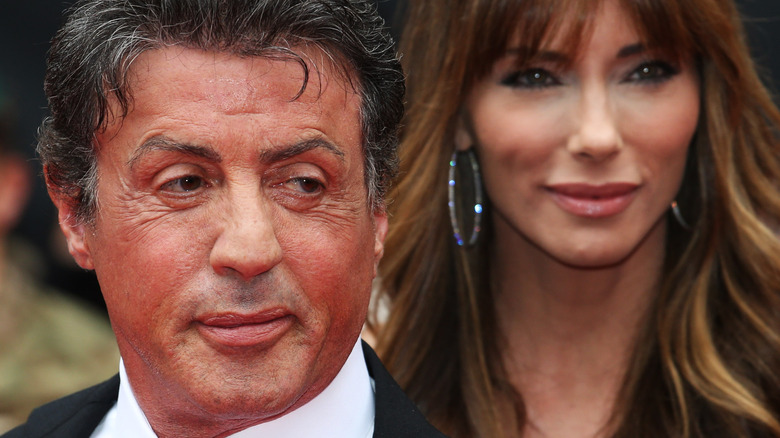 Chris Jackson/Getty Images
Every relationship has its rocky patches, but when it looked like Sylvester Stallone was potentially plotting a marriage escape plan, his wife of 25 years, Jennifer Flavin, drew first blood by filing for divorce in August.
According to the Daily News, one possible early sign that Stallone's marriage was in trouble was his decision to get his tattoo of Flavin's face covered with the likeness of his character's pet pooch from the "Rocky" movie. "When you replace your wife's beautiful face with a dog, it's over," one insider opined. But Stallone's rep said that the canine cover-up was simply meant to hide some unsatisfactory touch-up work, and in divorce filings, Flavin cited money matters as the reason she was ready to walk away. Closer Weekly obtained legal docs that said, "The Husband has engaged in the intentional dissipation, depletion and/or waste of marital assets which has had an adverse economic impact on the marital estate."
Stallone denied Flavin's claims in his own filings, per People, and he made it clear that he was ready to fight his wife's request to basically have him barred from residing in the Palm Beach, Florida, property they share. But just when it seemed like their marriage was out for the count, it made a miraculous comeback just one month later, per Page Six. And the couple reportedly have some very special mediators to thank for their reconciliation.
How their daughters reportedly helped them save their marriage
Sylvester Stallone and Jennifer Flavin are the parents of three daughters: Scarlet Stallone, 20, Sistine Stallone, 24, and Sophia Stallone, 25. The parents showed their support for their kids by appearing on Sophia and Sistine's podcast, "Unwaxed," in January, and Sylvester used some dark imagery to illustrate how much he loves his wife. "If she was out of my life, it would be mass suicide — which infers that I have multiple personalities," he said. The episode was titled "Family Therapy," and according to Hollywood Life, Sylvester and Flavin's daughters used their own form of therapy to convince their parents to call off the grudge match and give their marriage another shot.
First, the girls reportedly talked to each parent one-on-one and reached the realization that there was still a lot of love there. "In a way, they almost acted like messengers and worked together to help address, and eventually mend, the issues that were between Sly and Jennifer," said an insider. The source added that the girls' mediation led to the couple having an epiphany worthy of one of their dad's movies: "What they had was worth fighting for."
Sylvester and Flavin eventually had their own heart-to-heart. "They talked and were able to work out their differences," Sylvester's rep told Page Six. According to Hollywood Life, the couple's girls believe that they deserve some credit for their parents deciding that their marriage isn't expendable.