The Way Sylvester Stallone Once Described Potential Divorce From His Wife Is Devastating Now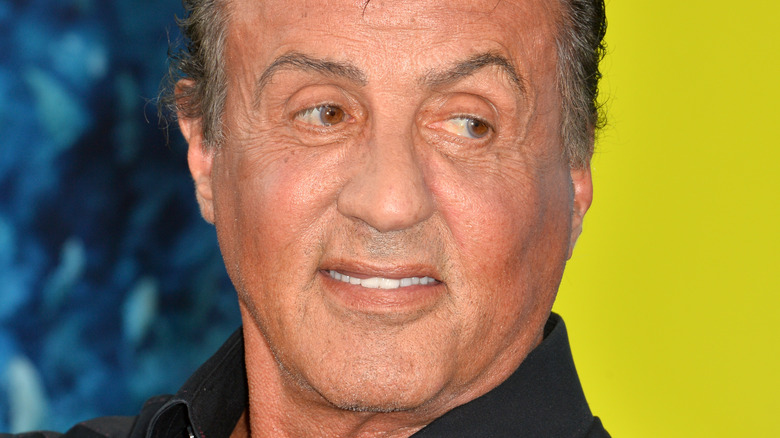 Featureflash Photo Agency/Shutterstock
After 25 years of marriage, Sylvester Stallone and Jennifer Flavin seemed like they'd be together forever, despite getting off to a shaky start. They began dating in 1988 but split in 1994 due to Sylvester's affair with Janice Dickinson. He finished with Flavin via the early '90s version of a text dump. He couriered a "Dear Jen" by FedEx. "He sent me a six-page handwritten letter, in pen," Flavin told People. "It hit me like a ton of bricks."
However, following a timeout, the bell rang for round two. According to Us Weekly, the couple welcomed Sophia Stallone in 1996, and a year later, they said, "I do." Sistine Stallone arrived in 1998, followed by Scarlet Stallone in 2002. Sylvester told The Express in 2019 that he was as far as you can get from his cinematic tough guy persona when at home as a husband and a dad. He was the only man in the house — even the dog was female — and claimed to be "a pussycat dominated by his wife and three daughters."
Everything seemed peachy — until it wasn't. Speculation about what was going on with Sylvester's marriage started after the Daily Mail ran photos showing Sylvester's bicep tattoo of Flavin's face had been inked over. She added fuel to the fire by throwing some serious Instagram shade. Then, per TMZ, Flavin delivered a TKO by filing for divorce in August. Given the news, the way Sylvester Stallone once described potential divorce from his wife is devastating now.
Sylvester Stallone said he couldn't live without his wife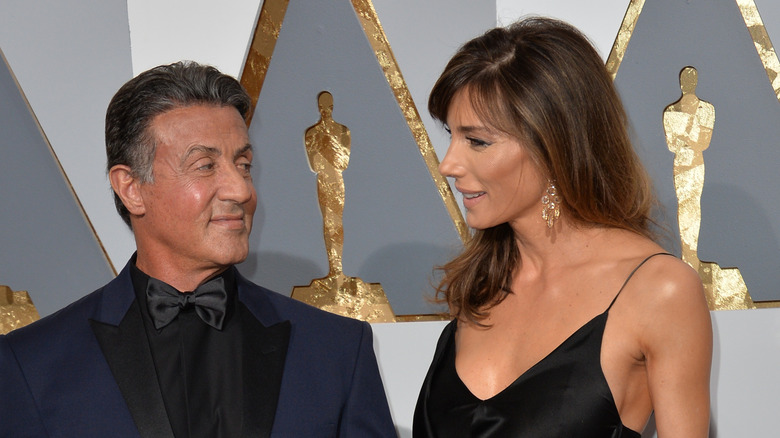 Featureflash Photo Agency/Shutterstock
When Jennifer Flavin filed to end her marriage after 25 years, the gossip mill went into overdrive. The rumored reason for Sylvester Stallone and Flavin's divorce was odd, even by Hollywood standards. TMZ claimed they split because of a fight about Sylvester wanting a Rottweiler. The report was immediately shot down, though. "We did not end the relationship on such a trivial argument," he told TMZ.
Sylvester set the record straight about what really led to the divorce, claiming it was distance, not dogs. "We just went in different directions," he said, blaming their bi-coastal living and the time spent apart while he was filming on location. Meanwhile, Flavin told People she'd "always cherish" their time together and was "sad" it was over. An interview the couple gave on their daughters' podcast, "Unwaxed With Sophia and Sistine Stallone" earlier this year makes the split even sadder.
Flavin agreed she and Sylvester were "polar opposites" but "literally cannot live without one another." He seconded the emotion. "If she was out of my life, it would be mass suicide — which infers that I have multiple personalities," Sylvester said. Flavin admitted that she did pretty much everything for her husband, but what kept them going was his ability to make her laugh. "Sly is the funniest man I've ever met," Flavin said. "I think she's fantastic," Sylvester raved. "She's an amazing woman. I tell her that every day."