How Much Money Did Anderson Cooper Inherit From His Mom Gloria Vanderbilt?
lev radin/Shutterstock
Most celebrities are rich in their own right, but there are also celebrities that would probably make it okay without their fame. You'd be surprised to know that there are a number of stars that were born into wealthy families and have been rich from the get-go.
A prime example is Julia Louis-Dreyfus, whose great-great-grandfather founded the Louis Dreyfus Group, a shipping conglomerate. Her father, Gerard Louis-Dreyfus, ended up being its top boss, and at the time of his death in 2016, he was worth a whopping $4 billion. It's safe to say that Dreyfus herself is worth a huge amount even without the "Seinfeld" and "Veep" royalties. Meanwhile, super-rich celebrity sisters Kate and Rooney Mara are descendants of NFL royalty. Their great-grandfathers, Tim Mara and Art Rooney, Sr., both founded football teams: the New York Giants and the Pittsburgh Steelers. And if there's anything to know about football, there's plenty of money to go around.
Anderson Cooper, the brooding, talented news anchor, also comes from a crazy wealthy clan. His mother happens to be heiress and fashion icon Gloria Vanderbilt, the great-great-granddaughter of railroad tycoon Cornelius Vanderbilt. And for a time, the Vanderbilts were one of the wealthiest families in America, having more money than the U.S. Treasury at one point, per Forbes. And so it really wasn't surprising that Cooper had gotten a considerable inheritance from his mother when she passed away in 2019.
Anderson Cooper inherited $1.5 million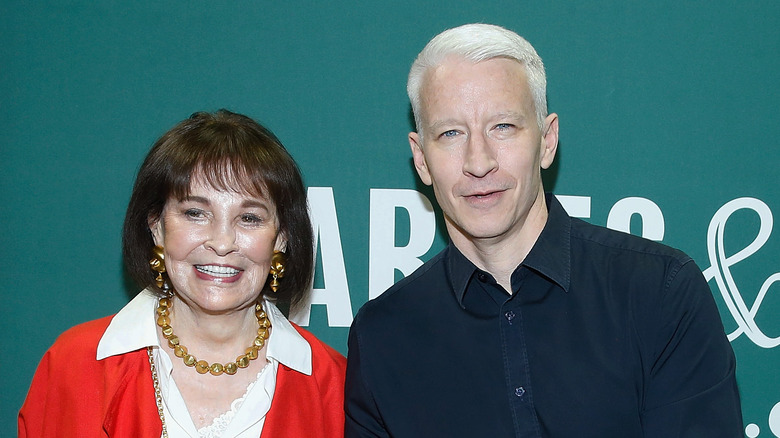 John Lamparski/Getty Images
Anderson Cooper is already considered wealthy thanks to his successful career in broadcasting, but his mother Gloria Vanderbilt reportedly still left him $1.5 million at the time of her passing. When she died in 2019, it was assumed that Cooper would inherit an amount in the neighborhood of $200 million, which was believed to be her net worth. However, probate documents obtained by Page Six showed that the news anchor would only receive less than $1.5 million, the total value of Vanderbilt's estate at the time. 
It's unclear where most of Vanderbilt's money had gone, but The New York Times noted that her fashion brand, Gloria Vanderbilt Apparel, which popularized designer jeans, was worth $100 million at one point. But she reportedly lost interest and sold it, yet continued to live lavishly. She also owed $2.7 million in back taxes, forcing her to sell her homes in Southampton and on the East Side. 
Per Cooper himself, he wasn't expecting to receive any inheritance at all as Vanderbilt taught him the value of working for your own money. "My mom's made it clear to me that, like, there's no trust fund," he shared on "The Howard Stern Show" in 2014 (via Today). And besides, he believes wealth is an "initiative-sucker" anyway, saying "from the time I was growing up, if I felt that there was some like pot of gold waiting for me, I don't know that I would have been so motivated."
Anderson Cooper's current feelings on money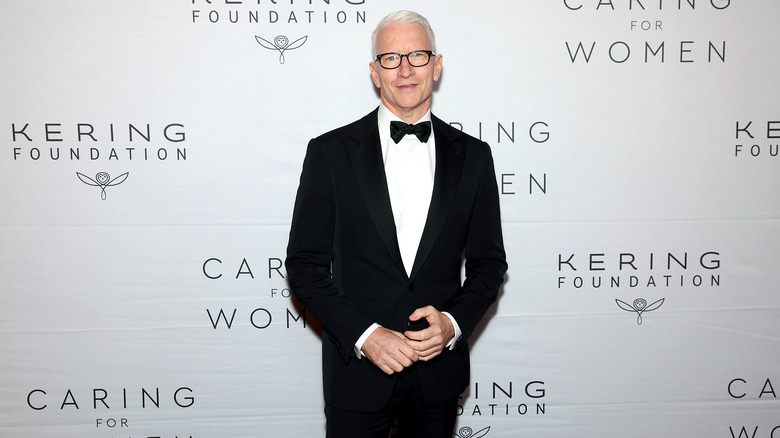 Monica Schipper/Getty Images
Anderson Cooper has managed to boost his net worth due to his hard work, with Celebrity Net Worth reporting that he is worth $50 million as of writing. Aside from his $12 million annual salary as a journalist, he also earns revenue from other projects, like hosting talk shows and writing books — including "Vanderbilt: The Rise and Fall of an American Dynasty." And while he now has quite the fortune, he's not interested in leaving it all to his son, Wyatt.
"I don't believe in passing on huge amounts of money. I don't know what I'll have," Cooper said in Air Mail's "Morning Meeting" podcast in 2021, while explaining that he'd pay for his child's education, but that's the extent of his financial support. "I'm not that interested in money, but I don't intend to have some sort of pot of gold for my son ... I'll go with what my parents said, which is, 'College will be paid for, and then you gotta get on it.'"
Cooper also revealed that being linked to the Vanderbilt name is a curse, because it comes with preconceived notions of wealth. "When somebody learned who my mom was ... you could see the calculations going on in their mind, even if they hid it very well," he added. "And I didn't like that change in how I was viewed and I realized early on, like, no good can come of having this Vanderbilt association."