Taylor Swift Gushes Over A Highly-Anticipated Collaboration On Her New Album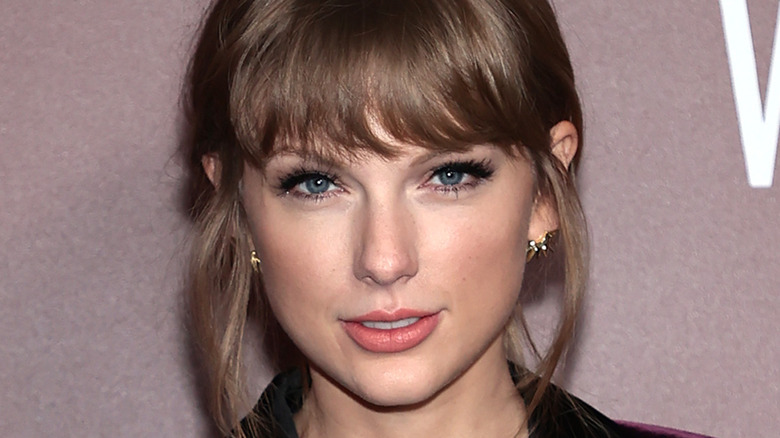 Dimitrios Kambouris/Getty Images
Back in August, Taylor Swift announced at the MTV Video Music Awards that her 10th studio album, "Midnights," would be released, per Entertainment Weekly. "I thought it might be a fun moment to tell you that my brand new album comes out on October 21," she said while accepting the video of the year award. Shortly after her surprising announcement, Swift started her "Midnights Mayhem with Me" TikTok series to announce the title of each track on the highly anticipated album.
"It's me, hi. I know that I have a habit of dropping cryptic clues and easter eggs when giving you information about new music, and I'm not here to deny that, but I am here to defy that," she said during the first episode. While each episode proved to be a hit with fans, her final track announcement left Swifties truly gagged. After much anticipation, Swift revealed that alt-pop music icon Lana Del Rey would be joining her on Track 4 of the album, which is titled "Snow on the Beach." With the "Midnights" release date right around the corner, Swift expressed her gratitude for the collaboration in a new Instagram video.
Taylor Swift says she's 'grateful' for Lana Del Rey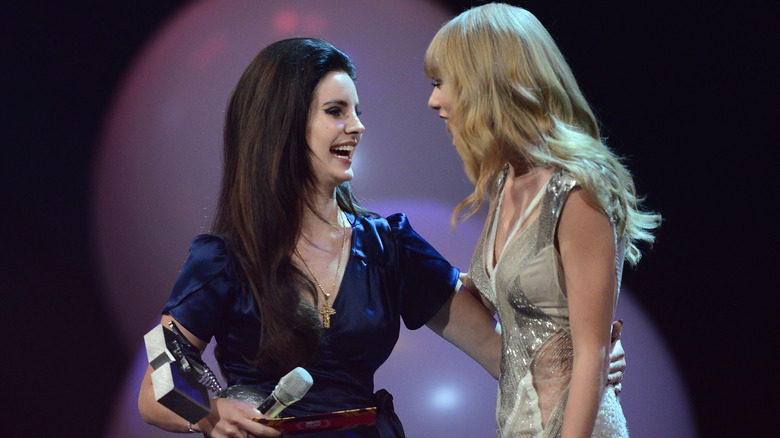 Dave J Hogan/Getty Images
On October 21, music enthusiasts will finally get to immerse themselves in Taylor Swift's new album "Midnights," which includes a sure-to-be iconic collaboration with Lana Del Rey. In an Instagram video, the "Evermore" artist gushed about Del Rey and their new track. "'Snow on the Beach' featuring Lana Del Rey is track four on 'Midnights,' and I cannot get through that sentence without grinning because I am such a massive fan of Lana Del Rey," she said. Swift then explained the meaning behind the track, which portrays "the cataclysmic, fated moment" when two people fall in love, as unbelievable as snow falling on the beach. After her brief but detailed description of the record, the "Folklore" singer reiterated her appreciation for Del Rey, calling her "one of the best musical artists ever."
"The fact that I get to exist at the same time as her is an honor and a privilege, and the fact that she would be so generous as to collaborate with us on this song is something I'm gonna be grateful for for life," she added. This isn't the first time Swift has praised Del Rey for her artistry. During her 2019 acceptance speech for Billboard's Woman of the Decade Award, the "Cardigan" singer described the "Ultraviolence" talent as the "most influential artist in pop." Swift added, "Her vocal stylings, her lyrics, her aesthetics, they've been echoed and repurposed in every corner of music."