Seth Green Alleges Another Instance Of Bill Murray's Unsettling On-Set Behavior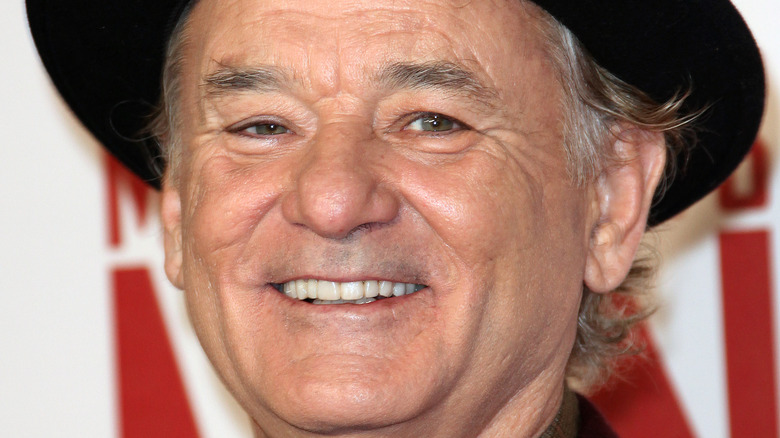 BAKOUNINE/Shutterstock
Although Bill Murray may be one of America's most recognizable and admired actors, he also has a famous history of unsettling behavior, both among castmates on-set, and in his personal life. In 2008, for instance, his wife Jennifer Butler filed for divorce, accusing Murray of domestic violence, infidelity, and addiction to alcohol, marijuana, and sex. The prior year, he had been pulled over by police in Sweden for driving a golf cart drunk.
Among his colleagues, Murray is known for his volatile mood swings, with fellow actor Dan Aykroyd famously labeling him "The Murricane." Among other harrowing events, he has tossed a producer into a lake during an argument, got into a physical fight with Chevy Chase, screamed at Richard Dreyfuss and threw an ashtray at him while drunk, allegedly headbutted "Charlie's Angels" director McG, and verbally provoked actor Lucy Liu so much so that she threw punches at him. Most recently, in April 2022, production of Aziz Ansari's comedy-drama film "Being Mortal" was suspended after a complaint was filed against Murray for "inappropriate behavior," which was later revealed to be sexual misconduct against a female production assistant. 
Now, there is yet another accusation being made against the famed film star, this time by actor Seth Green, regarding an incident which took place when he was a child. 
Seth Green recalls horrifying incident with Bill Murray
On October 13, Seth Green appeared on the Good Mythical Morning YouTube show, in which he did not hesitate when asked, "Who is the rudest celebrity you've ever met?" Green recalled an incident while on the set of "Saturday Night Live," when Green was a child and Bill Murray, a former cast member, was hosting (Green said he was nine, but the Christmas-themed episode he was referring to was likely Season 7 Episode 8, when Green was in fact seven, and Murray was 31). Green said that, while backstage, he was sitting on the arm of a sofa, and Murray came in and "made a big fuss about me being in his seat." 
The 7-year-old Green, indignant at being told to move off the arm chair of a couch, apparently refused to move, which prompted Murray to pick him up by his ankles and drop him in a trash can. "The trash goes in the trash can!" Green recalled Murray saying amidst his own screams. "I was horrified," Green said, prompting him to run away and hide under a table.
At that point, Green said, "SNL" cast members Eddie Murphy and Tim Kazurinsky approached the young and terrified Green, and told him, "Hey, everyone knows Bill's a d***. He's hosting the show, he's probably really nervous about it." Murphy and Kazurinsky apparently then convinced Green to perform his bit in the show. As for Murphy, Green says he hasn't seen him since.