How Meghan Markle Got Close With Amal Clooney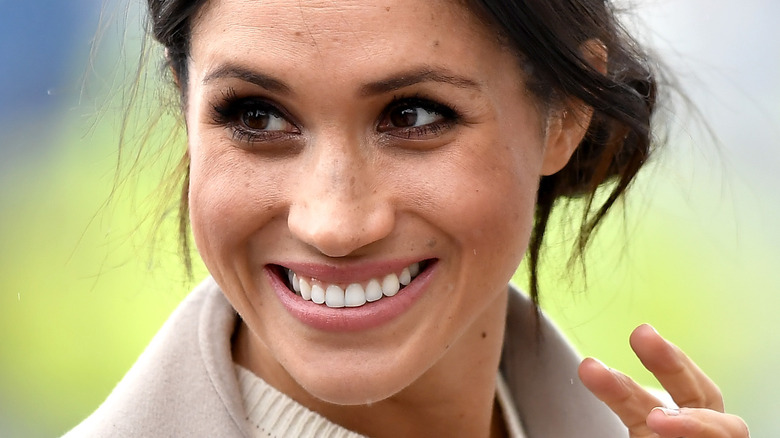 Charles Mcquillan/Getty Images
When Meghan Markle made the decision to join the royal family, she had to sacrifice a lot. For one, she had to leave her acting career behind and abandon Hollywood entirely. For another, she had to move across the pond and cut off some so-called friends in her life.
"A lot of Meghan's friends haven't heard from her. In some cases, she sent a mutual friend to explain she would no longer be in touch," a royal insider told Grazia Magazine (via Daily Star). "People understood as soon as it became clear how serious her relationship with Harry had become." Another source added, "Meghan is sociable but her life has changed and certain friendships can't go on."
Fortunately, the Duchess of Sussex managed to build a new circle of friends who became a pillar of support as she navigated her new life as a royal. Apparently, one of those friends is none other than Amal Clooney.
Amal Clooney helped Meghan Markle acclimate to her new life in London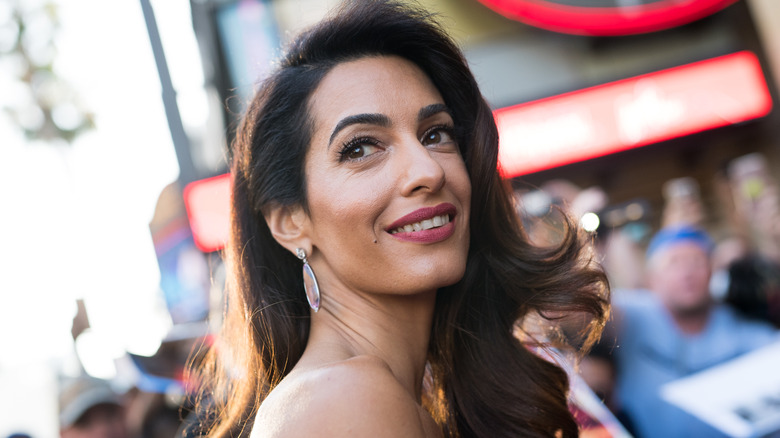 Emma Mcintyre/Getty Images
Meghan Markle's transition to living in London probably wouldn't have been as smooth if it weren't for Amal Clooney's help. The two reportedly met through their husbands and hit it off right away. Aside from introducing Meghan to her hairstylist, Amal apparently also helped the royal get used to living in England's capital.
"When he started getting serious with Meghan, Harry introduced her to George [Clooney] and Amal, and the couple quickly started hanging out regularly," a source from Kensington Palace told the Evening Standard. "It was a natural friendship from day one." Another source told People that they share "many interests," and Amal made the effort to "help Meghan settle into London life."
George corroborated this story, telling the Daily Mail in 2019 that he and Amal often hangout with Markle and Prince Harry. "We live not too far from one another and we have dinners and stuff and we're friends with them for all the reasons that you're friends with anybody," he shared (via Harper's Bazaar). "They're just really nice, fun, kind people, they're a very loving couple, and they're going to be great parents."
Meghan Markle leaned on Amal Clooney during her pregnancy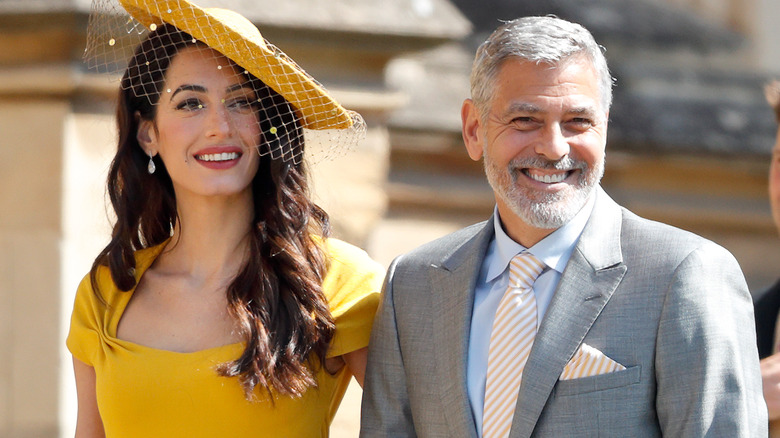 Max Mumby/indigo/Getty Images
Since Meghan Markle and Amal Clooney met, they have managed to form a close bond, to the point where Meghan relied on Amal for tips on pregnancy and motherhood when she first became pregnant. Per E! News, when Amal found out that Meghan and Prince Harry had a baby on the way, she was apparently "thrilled" to see her friend become a mom.
"Amal has been a wealth of knowledge on so many things and helped Meghan settle in," the source told the outlet. "She's given her advice on celebrity and living in the public eye... Meghan goes to Amal for many things and really trusts her instincts. Amal adores Meghan and is thrilled to see her become a mother. They will be living very close to one another and hope to see each other often. They have an understanding and common ground that has really helped Meghan and provided her with support."
Aside from dispensing advice, Amal also reportedly threw a baby shower for Meghan in New York City, along with Serena Williams. According to Tatler, the royal's closest circle of friends organized a celebration at the penthouse of The Mark, which costs a whopping $75,000 per night. Among the guests were fashion designer Misha Nonoo, hairstylist Serge Normant, NBCUniversal Cable Entertainment Group chairman Bonnie Hammer, Meghan's closest friends, Markus Anderson and Lindsay Jordan, and her friend from Northwestern University, Genevieve Hills. Must be nice being part of this group!